Kappes receives BIF Continuing Service Award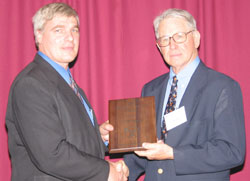 The Beef Improvement Federation (BIF) honored Steven M. Kappes with the Continuing Service Award at the 36th Annual Meeting and Research Symposium in Sioux Falls, S.D., on May 27. The award recognizes individuals whose service in the beef industry and BIF has had a significant effect on genetic improvement of beef cattle.

Kappes was raised on a purebred Simmental and grain farm in North Central South Dakota. He and his wife, Diane, have a daughter, Michelle, and a son, Matthew. He received a bachelor's degree in animal science in 1980 and a master's degree under the direction of L.A. Slyter in reproductive physiology in 1985 from South Dakota State University. From 1983 to 1989, he served as assistant manager of cattle operations, U.S. Meat Animal Research Center (MARC), Agricultural Research Service (ARS), U.S. Department of Agrilculture (USDA), in Clay Center, Neb., where he managed and supervised two to three cattle crews, coordinated reproduction, nutrition, and genetics experiments, and performed reproductive techniques including pregnancy diagnoses, semen collection and testing, artificial insemination (AI), and embryo transfers (ETs). He received his doctorate under the direction of R.V. Anthony in molecular biology at the University of Missouri in1992.

In 1992, Kappes returned to MARC as a research scientist. He played a key role in the research team that developed a comprehensive bovine linkage map and identified chromosomal regions influencing reproductive traits in beef cattle. In 1999, he joined the national program staff at ARS in Beltsville, Md., to serve as national program leader of Food Animal Production Research. From 2001 to the present, Kappes, has served as center director of MARC. In this role, he provides program and supervisory management leadership for 70 scientists and 225 support personnel engaged in multidisciplinary research efforts focused on food safety, waste management, genomics, and efficiency of production of beef cattle, swine and sheep. Kappes continues to provide leadership at the national and international level in bovine genomics. Presently, he serves as co-chairman of an international effort to determine the DNA sequence of the bovine genome with support or scientific input by the National Human Genome Research Initiative (National Institute of Health), the USDA, the National Cattlemen's Beef Association (NCBA), Texas and South Dakota cattle producers, the state of Texas, Texas A&M University, the University of Illinois, University of Baylor College of Medicine, as well as New Zealand, Australia, the United Kingdom, and Canada.

Kappes' research contributions are documented in more than 90 scientific and technical research papers, several of which have become recognized as landmark scientific contributions in genomics research. He has made many presentations at scientific and industry meetings, including BIF annual meetings and workshops. His contributions as a research scientist and an administrator have had significant effects on recommendations and guidelines being developed by BIF to incorporate molecular genetic approaches into genetic improvement programs for beef cattle.