Jenkins receives BIF Pioneer Award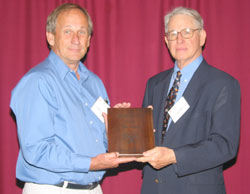 The Beef Improvement Federation (BIF) honored Thomas Jenkins with the Pioneer Award at the 36th Annual Meeting and Research Symposium in Sioux Falls, S.D., on May 27. The award recognizes individuals who have made lasting contributions to the improvement of beef cattle.

Jenkins was raised in west central Arkansas on a vegetable, swine and beef cattle farm. He and his wife, Barbara, have a daughter, Angela, and a son, Christopher. Following four years of military service, he received his bachelor's. degree in animal science from the University of Arkansas. He earned his M.S. degree in Animal Breeding under the direction of C. J. Brown at the University of Arkansas in 1973. In 1977 he received a doctorate in animal breeding under T. C. Cartwright at Texas A&M University. In 1978, Dr. Jenkins joined the USDA, Agricultural Research Service (ARS) at the U.S. Meat Animal Research Center (MARC), Clay Center, Neb., where he has made many significant research contributions affecting efficiency of production and genetic improvement of beef cattle.

Throughout his career, Jenkins has engaged in multidisciplinary research to quantify variation in energy requirements among diverse breeds or breed crosses of beef cattle associated with differences in genetic potential for growth, maintenance and lactation. Findings from this research have been incorporated into a decision evaluator for the Cattle Industry (DECI), a software package developed by Jenkins in collaboration with Charles Williams also at MARC, to aid cattle producers in making management decisions. Designed for personal computers, DECI provides managers with a tool for evaluating strategic management and breeding options.

Jenkins' research contributions have been reported in more than 170 scientific publications. In addition, he has made more than 100 presentations at industry meetings throughout the United States and in other countries including Canada, Great Britain, France, Switzerland, Argentina and Australia. He has served BIF as an invited speaker on numerous occasions, as a member of committees planning annual meetings, and as a member of committees responsible for development of guidelines and recommendations for trait measurement and genetic improvement of components of production efficiency.