Colorado to Host BIF's 50th
Registration now open for Beef Improvement Federation's 50th Annual Meeting and Research Symposium.
Registration is now open for the 2018 Beef Improvement Federation (BIF) Annual Meeting and Research Symposium. This year's event, themed 50th Anniversary in the Rockies, will be June 20-23 at the Embassy Suites Convention Center Hotel in Loveland, Colorado.
The early registration deadline is May 31. Attendees can save $80 by pre-registering. Online registration is available at www.beefimprovement.org.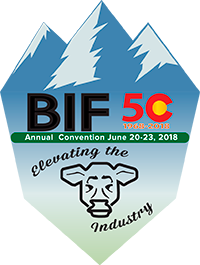 This year's BIF symposium features two and a half days of educational programming and a full day of tours. The first morning's general session — "Positioning for the Future of Beef Production" — will feature Dave Weaber, EMI Analytics vice president, beef analysis; Mark McCully, Certified Angus Beef LLC vice president; Sara Place, National Cattlemen's Beef Association senior director of sustainable beef production research; Dorian Garrick, Massey University professor and chief scientist; and John Pollak, Cornell University emeritus professor.
The second day's general session, "Decision Time: Who will own our industry?" will include presentations by Wade Small, Agri Beef Inc. livestock division president; Marty Ropp, Allied Genetic Resources; Matt Cleveland, Genus ABS Global beef product development director; Dan Moser, Angus Genetics Inc. president; Wade Shafer, American Simmental Association executive vice president; Larry Benyshek, Benyshek and Hough Consulting Services; and John Genho, Livestock Genetic Services LLC.
The afternoon breakout sessions both days will focus on a range of beef-production and genetic-improvement topics.
The conference also features a Young Producer Symposium Wednesday afternoon. The session is designed to network and equip young cattle producers with essential knowledge as they grow their role in the business. Wednesday evening attendees will also enjoy an opening reception.
For more conference details, including registration information, complete schedule and lodging information, visit www.beefimprovement.org.
Each year the BIF symposium draws a large group of leading seedstock and commercial beef producers, academics and allied industry partners. The attendance list is a "who's who" of the beef value chain, offering great networking opportunities and conversations about the issues of the day. Program topics focus on how the beef industry can enhance value through genetic improvement across a range of attributes that affect the value chain.
This site — www.bifconference.com — is compiled by Angus Media with the assistance of BIF and the event hosts to provide online coverage of the educational material presented. Prior to the meeting, visit the Schedule page to preview the meeting's agenda and the Travel Info for information on how to get to the meeting and where to stay once you arrive. The Archive contains coverage of BIF conferences since 2002. During and after the meeting visit the Newsroom and the Awards pages to see highlights of the event and announcements of the awards presented.
Editor's Note: The articles used within this site represent a mixture of copyrights. If you would like to reprint or repost an article, you must first request permission of Angus Media by contacting the editor at 816-383-5200; 3201 Frederick Ave., Saint Joseph, MO 64506. Angus Media claims copyright to this website as presented. We welcome educational venues and cattlemen to link to this site as a service to their audience.