Selection Index Development and Application
Would You Drive a Race Car Without Steering?
by Troy Smith, field editor
BROOKINGS, S.D. (June 19, 2019) — Using one of his favorite analogies, Lee Leachman likens cattle breeding to driving a race car. The Fort Collins, Colo.-based seedstock producer says no professional driver would consider entering a race without knowing that his car's steering mechanism worked properly. Without steering, he's headed for a wreck. To Leachman, genetic selection tools are the steering system for a cattle breeding program. However, he thinks some selection tools are faulty and can't keep commercial ranchers on track toward long-term profitability.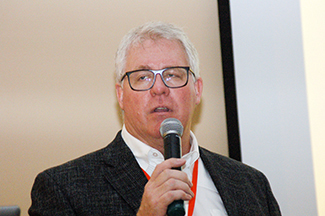 Lee Leachman
The industry is suffering a loss of profitable genetic gain because too many producers don't use selection indexes, or they misuse them, said Lee Leachman of Leachman Cattle of Colorado. Leachman served as the 2018-2019 BIF president.
For the past year, Leachman has served as president of the Beef Improvement Federation, which hosted its 2019 convention and symposium June 18-21, in Brookings, S.D. During a session devoted to application of technologies, Leachman shared his concerns regarding development and application of beef cattle genetic selection indexes. He said he recognizes the power of selection indexes, but fears they are steering many producers in the wrong direction.
"We believe in index-based selection. That's the philosophy of our breeding program," stated Leachman, noting that while the predictive power of expected progeny difference (EPD) values for individual genetic traits is "awesome," it's challenging to balance the numbers for so many important traits. Indexes allow selection based on a suite of traits, using a single number.
"But the beef industry doesn't use selection indexes well enough," added Leachman.
He explained three dollar-value selection indexes that his company developed for customer use. He explained how these indexes help commercial cow-calf producers apply downward pressure on traits associated with cost inputs, including mature cow weight and frame size, as well as feed intake. At the same time upward pressure is applied to traits associated with output, including calf weaning weight and carcass merit.
According to Leachman, the application of many breed association indexes carries the consequence of driving up cow size, feed intake and maintenance costs. Selection based on these indexes often promotes more production per cow, instead of more profit per acre devoted to cattle production. The latter, he emphasized, should be the goal.
Also noting growing societal concerns about the environmental impact of beef production, Leachman said, "A small cow, who still produces a heavy calf, has a more favorable carbon footprint, because she eats less and produces less methane. That could be increasingly important in the future."
Leachman said the industry is suffering a loss of profitable genetic gain, because too many producers don't use selection indexes, or they misuse them. Also part of the problem is that many of the available indexes aren't good enough. Leachman said that's because too many seedstock breeders don't really understand indexes, and geneticists don't really understand the cattle. Once selection indexes have been established, breed associations are reluctant to make adjustments.
"We devote less intellectual capital and financial resources to index development than any other activity in beef cattle selection," stated Leachman, challenging those in the BIF audience to steer a corrected course.
The 2019 BIF Annual Convention was hosted by South Dakota State University and the South Dakota Beef Breeds Council June 18-21 at the University Comfort Suites and Convention Center in Bookings. ANGUS MEDIA® provides comprehensive online coverage of the event at www.BIFconference.com. Visit the Newsroom for summaries, proceedings, PowerPoints, video and/or audio of the sessions and the Awards page for announcements and photos of award winners.
Editor's Note: This summary was written under contract or by staff of ANGUS MEDIA®. Through an agreement with the Beef Improvement Federation, we encourage reprinting of the articles to those who will adhere to the reprint guidelines available on this site. Please review those guidelines or contact Shauna Rose Hermel, editor, at 816-383-5270. PowerPoints are posted with permission of the presenter and may not be reproduced in whole or in part without the express permission of the presenter. We welcome educational venues and cattlemen to link to this site as a service to their audience.

For questions about this site, or to notify us of broken links, click here. Look for additional coverage in the Angus Journal, the Angus Beef Bulletin, the Angus Journal Daily, the Angus Beef Bulletin EXTRA and Angus TV.