The Ever-changing Cause of BRD
Bovine respiratory disease continues to evolve.
by Kaci Foraker, editorial intern
BROOKINGS, S.D. (June 20, 2019) — Stopping bovine respiratory disease (BRD) is going to take a combination of solutions, said Larry Kuehn and Tara McDaneld from the U.S. Meat Animal Research Center (USMARC). At the 2019 Beef Improvement Federation symposium, they shared their findings on bacteria that cause respiratory diseases.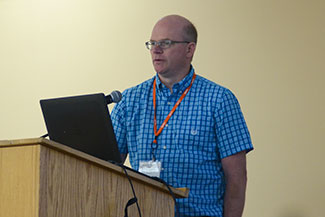 Larry Kuehn
Kuehn acknowledges many factors affect respiratory disease in cattle, which makes the issue much harder to treat. [Photo by Kaci Foraker]
"There might be measures that you're taking that are phenotypically doing a good job with diseases or pathogens that you happen to have that year," said Kuehn. "Trying to keep those pathways open to see what will keep working in years to come is really the challenge, but it's also an opportunity if we can get all these things to work together."
Kuehn acknowledges many factors affect respiratory disease in cattle, which makes the issue much harder to treat. Often the disease is caused by Mannheimia haemolytica or a similar bacteria, but other times these viruses aren't severe on their own and lead to something more significant. A number of other environmental stressors increase or decrease the incidence of illness. Add in the fact that it's difficult to diagnosis subclinical cases, and the treatment of respiratory issues just becomes that much more intertwined, said Kuehn.
McDaneld described her recent findings from a project at the USMARC that analyzed bacteria profiles found on cattle. Nasal swabs and blood samples were taken from cattle that were in three separate herds at the center. Samples were collected at prebreeding, preconditioning and weaning to evaluate changes in the bacteria profile over time. None of the cattle shared fencelines or had any type of interaction.
"The profiles of bacteria changed. As we start at prebreeding, we have a pretty diverse set of bacteria present," said McDaneld. "We move on to preconditioning, and the bacteria that really takes over is mycoplasma, which has been associated with respiratory disease. Then move into weaning, and there is still mycoplasma, but we have some other bacteria present that [are] associated with respiratory diseases."
Even analyzing the individual herd locations, McDaneld noticed some differences in the animals' bacteria profiles and how the amount of each bacteria changed from the first sample period to the last.
"It is complex," said Kuehn. "As a geneticist, if I do something that is going to control the entry of the virus into the cells, or something to that effect, through transmembrane proteins, that is going to fight the pathogen, but probably not solve the rest of the problem."
The 2019 BIF Annual Convention was hosted by South Dakota State University and the South Dakota Beef Breeds Council June 18-21 at the University Comfort Suites and Convention Center in Bookings. ANGUS MEDIA® provides comprehensive online coverage of the event at www.BIFconference.com. Visit the Newsroom for summaries, proceedings, PowerPoints, video and/or audio of the sessions and the Awards page for announcements and photos of award winners.
Editor's Note: This summary was written under contract or by staff of ANGUS MEDIA®. Through an agreement with the Beef Improvement Federation, we encourage reprinting of the articles to those who will adhere to the reprint guidelines available on this site. Please review those guidelines or contact Shauna Rose Hermel, editor, at 816-383-5270. PowerPoints are posted with permission of the presenter and may not be reproduced in whole or in part without the express permission of the presenter. We welcome educational venues and cattlemen to link to this site as a service to their audience.

For questions about this site, or to notify us of broken links, click here. Look for additional coverage in the Angus Journal, the Angus Beef Bulletin, the Angus Journal Daily, the Angus Beef Bulletin EXTRA and Angus TV.