Fertility Traits Gain Momentum
Improvement made in recording fertility traits; more to be done.
by Lindsay King, Angus Journal assistant editor
BROOKINGS, S.D. (June 19, 2019) — Fertility traits have quickly gained momentum as valuable considerations for making breeding decisions about cattle. Bob Weaber, Kansas State University (K-State) professor and cow-calf extension specialist, explained the current state and future advancement opportunities of the complex traits at the 2019 Beef Improvement Federation (BIF) research symposium in Brookings, S.D., June 18-21.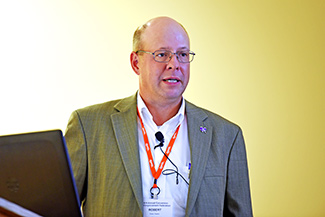 Bob Weaber
"We need to be careful how we record longevity, because it might pertain to several different traits," said Bob Weaber, Kansas State University cow-calf specialist. "We need to come to a consensus about what traits to incorporate and how to use that in a selection index." [Photo by Julie Mais]
"We need more fertility records and more estimates for both fertility and longevity traits," Weaber said. "I don't disagree with that or genomics being a tool we use to get there."

Getting from point A to point B is complex for a number of reasons, but mostly because fertility is hard to define.
"If I had given a talk over this topic 10 years ago, the list of breeds and traits for fertility records would have been much smaller," Weaber said. "That is the encouraging part."
While discussing the ideal traits of a beef cow, Weaber reminded the audience that cattle harvest grass first and foremost. Some of the other characteristics of the ideal cow include minimal maintenance, plenty of milk for a healthy calf, conceives on the first try every time and excellent maternal instincts.
"As we think about the idealness of a beef cow, reproduction is central to that," Weaber said. "It is influenced by a lot of things — environment, management, the bulls we turn out — but that shouldn't dissuade us from pursuing it."
There is quite a bit of data available on fertility traits. However, Weaber said progress for this topic starts with capturing new information and precisely deciding what is meant by "fertility traits."
One example Weaber presented pertained to the reasons producers might cull a cow. A cow might leave the herd because of disposition, reproductive ability, health and nutrition, or any number of other reasons.
"We need to be careful how we record longevity, because it might pertain to several different traits," Weaber said. "We need to come to a consensus about what traits to incorporate and how to use that in a selection index."
Consequently, the seedstock system presents mostly inaccurate longevity estimates simply because many females are culled at a young age. There isn't a great way to capture cow longevity currently. It's one of the challenges for fertility trait selection tools.
"We have made a lot of headway in the last 20 years as we moved either full or partial breed registrations to whole-herd reporting (WHR) or total herd reporting (THR)," Weaber said.

Simply put, the challenge is separating fertility and longevity. The latter undermines fertility by speaking to the cow's ability to calve year after year. When both are clearly defined and a method for data collection is established, the cattle industry will be set on this venture.
"There are plenty of opportunities to do more," Weaber said, "but all of them require more data submission."
The 2019 BIF Annual Convention was hosted by South Dakota State University and the South Dakota Beef Breeds Council June 18-21 at the University Comfort Suites and Convention Center in Bookings. ANGUS MEDIA® provides comprehensive online coverage of the event at www.BIFconference.com. Visit the Newsroom for summaries, proceedings, PowerPoints, video and/or audio of the sessions and the Awards page for announcements and photos of award winners.
Editor's Note: This summary was written under contract or by staff of ANGUS MEDIA®. Through an agreement with the Beef Improvement Federation, we encourage reprinting of the articles to those who will adhere to the reprint guidelines available on this site. Please review those guidelines or contact Shauna Rose Hermel, editor, at 816-383-5270. PowerPoints are posted with permission of the presenter and may not be reproduced in whole or in part without the express permission of the presenter. We welcome educational venues and cattlemen to link to this site as a service to their audience.

For questions about this site, or to notify us of broken links, click here. Look for additional coverage in the Angus Journal, the Angus Beef Bulletin, the Angus Journal Daily, the Angus Beef Bulletin EXTRA and Angus TV.