Foot Score EPDs
American Angus Association explains its two new structure EPDs.
by Lindsay King, Angus Journal assistant editor
BROOKINGS, S.D. (June 19, 2019) — The American Angus Association's Kelli Retallick posed the question, "Can we select for structure?" during the 2019 Beef Improvement Federation (BIF) Symposium in Brookings, S.D., June 18-21.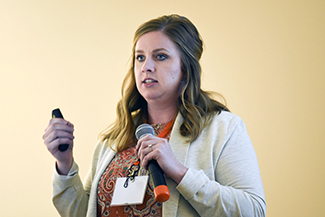 Kelli Retallick in Producer Application Committee Breakout
"Animals should be observed on a hard, flat surface — on concrete if possible," said Kelli Retallick, Angus Genetics Inc., offering tips for collecting foot scores. "All four feet should be evaluated independently, but not in a chute." [Photo by Julie Mais]
"The key is to build them from the ground up, correctly," said Retallick, who serves the Association as director of genetic services for Angus Genetics Inc. (AGI). "The question is: Can we build them from down low to be better up high?"
The legwork to answer this question started in 2015 when the Association asked its members to collect foot score data. Two years later, AGI began an in-house project to build a research expected progeny difference (EPD) from the ground up.
"We started with around 6,000 scores in the initial run, but our Board of Directors asked that we get more data because we needed more variation," Retallick said. "After that data was collected, we moved into another research run, and then those EPDs were released on May 31."
Retallick explained some of the guidelines for data collection:
Score before trimming.
When there is variation among an animal's feet, score the worst foot.
Score yearling bulls (320-440 days) and heifers (320-460 days).
Older females can be scored at any time during their mature life.
Large groups of 18-month-old or 2-year-old bulls can also be submitted.
"Animals should be observed on a hard, flat surface — on concrete if possible," she said. "All four feet should be evaluated independently, but not in a chute."
Ideally, foot scores will be collected on every animal as many times as possible throughout their lifetime, Retallick said. This will allow the EPDs to be exponentially more accurate. The initial research through the Association members was primarily done on yearlings. The second data set mostly sought older females. This added validity to the evaluation.
"But will it work? I think we can all agree there is variation," Retallick said. "I absolutely think it can work, and we can make genetic change when we talk about using these two individual foot scores."
The American Angus Association released two foot score EPDs as a result — claw set and foot angle. The correlation between the two is 0.2, Retallick reported, which is why they needed to be evaluated as separate traits and consequently get their own EPD. Each EPD is evaluated on a scale of 1-9.
"We don't use the 1-4 scores because we do not see enough cattle that are straight up through their pasterns or divergent between their toes to allow us to interpret that data in a genetic evaluation," Retallick said. "Everything turned in as a 1-4 is being ignored for the time being."
Retallick emphasized that producers still need to submit the animals that score on the lower end of the scale (1-4). At some point, the evaluation may need to be adjusted to include those.
These scores affect longevity of a cow and were included in the maternal weaned calf index ($M) released by the Association June 1.
"Seedstock breeders really respond great once you put a blank box on a paper," Retallick said. "They step up to the plate and get us those data points so we can produce EPDs for them."
The 2019 BIF Annual Convention was hosted by South Dakota State University and the South Dakota Beef Breeds Council June 18-21 at the University Comfort Suites and Convention Center in Bookings. ANGUS MEDIA® provides comprehensive online coverage of the event at www.BIFconference.com. Visit the Newsroom for summaries, proceedings, PowerPoints, video and/or audio of the sessions and the Awards page for announcements and photos of award winners.
Editor's Note: This summary was written under contract or by staff of ANGUS MEDIA®. Through an agreement with the Beef Improvement Federation, we encourage reprinting of the articles to those who will adhere to the reprint guidelines available on this site. Please review those guidelines or contact Shauna Rose Hermel, editor, at 816-383-5270. PowerPoints are posted with permission of the presenter and may not be reproduced in whole or in part without the express permission of the presenter. We welcome educational venues and cattlemen to link to this site as a service to their audience.

For questions about this site, or to notify us of broken links, click here. Look for additional coverage in the Angus Journal, the Angus Beef Bulletin, the Angus Journal Daily, the Angus Beef Bulletin EXTRA and Angus TV.