Decision Support Influences Selection
Breed's upward trajectory only continues if breeding decisions are fact based.
by Lindsay King, Angus Journal, assistant editor
BROOKINGS, S.D. (June 19, 2019) — More often than not, selection decisions are merely a function of cash flow. At the 2019 Beef Improvement Federation (BIF) research symposium in Brookings, S.D., June 18-21, Matt Spangler, University of Nebraska–Lincoln (UNL), explained why this should not be the case.
"The improvement you make in female fertility is related to the bulls you use," Spangler said. "That's the driver of progress."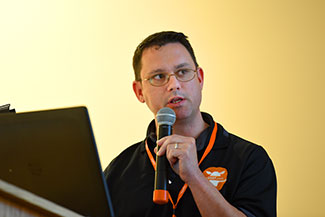 Matt Spangler in Producer Applications Committee
More often than what breeders would like to admit, selection decisions aren't made on what matters most in a cattle enterprise: the cow herd, said Matt Spangler, University of Nebraska geneticist. He presented an overview of a web-based decision-support tool to help breeders make better selection decisions. [Photo by Julie Mais]
At best, sire selection only comes around once or twice a year. Some smaller-scale operations may not even choose bulls annually. Spangler argued that the value of sire selection is determined only at the time when it is needed.
"If I cut $8 corn, I am going to go out and buy expensive bulls," Spangler said as he set up an example scenario. "That is not the way we want to value genetic selection decisions. They should be determined by breed, breeder and individual bulls."
More often than what breeders would like to admit, selection decisions aren't made on what matters most in a cattle enterprise: the cow herd. Spangler presented the example where a bull was the perfect match for his herd genetically, but he had an ugly head.
"He may also be the best buy, too, but by golly we don't want to look at that ugly head every day," Spangler said, eliciting laughter from the crowd. "Some of us laugh at that, but others don't because we know it happens every day."
It essentially boils down to an optimization game, where the objective of the cow herd needs to be at the forefront. At the same time, the person purchasing the bulls also needs their desires met to be happy with the purchase.
"If we are honest with ourselves, those two don't always point us in the same direction," Spangler said.
He repeatedly emphasized that bull buying and semen purchasing need to be economically based decisions — that is, if the operation is profit-focused.
The current strategy for selecting a bull involves a sale book or two chalked full of notes about which animals will work in a program and which ones will not. Where producers run into problems with this method is when those animals look better on paper than they do in the pen.
"Producers have thresholds for five or six magical traits that they cross out and select bulls from the book based on them meeting that standard," Spangler said. "If one of the bulls originally crossed out looks better than the one the buyer thought he wanted, then the threshold changes so that bull meets the standards."
Plain and simple, Spangler said this is all far too complicated. Selection indexes are a step in the right direction for making "easier" holistic decisions about sire selection.
"Selection indices were designed to improve commercial-level profitability," Spangler said. "They were not designed to improve a breed or correct a breed deficiency. That is a fundamental misconception about them."
Ultimately, the bull-selection decision should be unique to each herd, their production setting, goals and available inputs. Past researchers have attempted to build the bull-buying easy button, but the complexity of the situation kept them from being widely adopted.
Spangler presented UNL's proposed solution: iGENDEC. A USDA grant, awarded last April, is funding the development of a web-based decision support tool to help breeders make those selection decisions.
After building the program, the team is charged with training the key technology adopters to accurately and efficiently use it.
"Part of that is filling existing knowledge gaps as they may relate to breed and heterotic effects for things that simply do not exist in the literature today," Spangler said.
The program is intended to be used by commercial and seedstock buyers, as well as seedstock sellers. The team has already worked on the project for the last year and they have not quite two full years left to perfect and refine it for use within the industry.
"The impetus for this project is not the belief that currently available indices are so inherently flawed that they are of little value," Spangler said. "They are extremely useful." The project is driven by the idea that the decision-making process can be improved across breeds. Engaging users during the development of the program is geared toward increasing the rate of adoption for the new technology.
"We really encourage people to contemplate bull-buying decisions as the capital investment that they are," Spangler said. "Our goal is to enable these decisions and alleviate the cumbersome — if not near impossible — task of combining everything that needs to be contemplated so we can optimize the genetic selection decision."
A beta-test version of the program is expected to be available in early 2020.
The 2019 BIF Annual Convention was hosted by South Dakota State University and the South Dakota Beef Breeds Council June 18-21 at the University Comfort Suites and Convention Center in Bookings. ANGUS MEDIA® provides comprehensive online coverage of the event at www.BIFconference.com. Visit the Newsroom for summaries, proceedings, PowerPoints, video and/or audio of the sessions and the Awards page for announcements and photos of award winners.
Editor's Note: This summary was written under contract or by staff of ANGUS MEDIA®. Through an agreement with the Beef Improvement Federation, we encourage reprinting of the articles to those who will adhere to the reprint guidelines available on this site. Please review those guidelines or contact Shauna Rose Hermel, editor, at 816-383-5270. PowerPoints are posted with permission of the presenter and may not be reproduced in whole or in part without the express permission of the presenter. We welcome educational venues and cattlemen to link to this site as a service to their audience.

For questions about this site, or to notify us of broken links, click here. Look for additional coverage in the Angus Journal, the Angus Beef Bulletin, the Angus Journal Daily, the Angus Beef Bulletin EXTRA and Angus TV.