Hypertension in Cattle
Pulmonary hypertension in cattle is becoming a concern for feedlots.
by Kaci Foraker, editorial intern
BROOKINGS, S.D. (June 19, 2019) — Colorado State University's Milt Thomas has heard it called brisket disease, high-mountain disease, feedlot heart disease or late-feedlot death, but from his findings there is not a lot of knowledge surrounding pulmonary hypertension in feedlot cattle. At the Beef Improvement Federation symposium in Brookings, S.D., the interim head of CSU's Department of Animal Sciences explained the misnomers of the disease and shared recent research about the issue.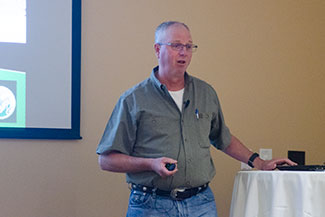 Milt Thomas
"Once cattle get into a hypoxic state, it gets really variable," said Milt Thomas. High PAP can have a terrible impact on one animal, while others will tolerate it. It's similar to humans with high blood pressure. One may not "feel the best," while another really struggles with the condition. [Photo by Kaci Foraker]
"A lot of people think that everything we do in Colorado has to do with high altitude," said Thomas. "Some of that is true when we talk about cow-calf operations and developing bulls and heifers for breeding programs in the mountains, but we also need to realize that we have a great high plain across the United States. There is a huge plain that starts around Lubbock, Texas, and goes up to Cheyenne or maybe farther north that contains a big chunk of the U.S. feedlot industry."
It's certainly easier for an animal in higher altitudes to have issues with pulmonary hypertension or hypoxia, since the partial pressure of oxygen will decrease with higher altitudes. However, there are other ways for an animal to become hypoxic, said Thomas. Endurance sports, major lung diseases that cause serious damage, anemia or blood flow restrictions caused by infected fescue are all ways an animal could become hypoxic.
Identification
Pulmonary arterial pressure (PAP) is a measurement that can indicate whether an animal would be at a high risk to develop hypertension at high altitudes. PAP can be measured by inserting a catheter into the animal's jugular vein and feeding it through the right side of the heart into the pulmonary artery. A PAP of 42 millimeters (mm) of mercury or less is considered low-risk, scores of 42 to 49 are moderate-risk and scores above 50 are considered high-risk.
"Once cattle get into a hypoxic state, it gets really variable," said Thomas. High PAP can have a terrible impact on one animal, while others will tolerate it. It's similar to humans with high blood pressure. One may not "feel the best," while another really struggles with the condition.
Thomas noted that compared to humans or other animals, cattle average a higher PAP. Humans have a PAP around 25 mm, but a Bos taurus bovine's PAP in southwest Colorado is usually substantially higher, with a score of 54 mm.
"When you have an animal that already has a pretty high pulmonary arterial pressure, they are not going to tolerant very many stresses or it will put them in a state of pulmonary hypertension," said Thomas. "There is nothing positive or negative about that. That's just the way cattle are that we work with."
The start
In the past 10 years, recorded deaths from congestive heart failure in feedlots have doubled, said Thomas. It's uncertain if this increase is because more people are aware of pulmonary hypertension or because the rate has truly grown. He said many people blame selection for growth as the main culprit for the development of the disease.
"We found the relationship between PAP and growth may be slightly positive, but it's not much, which is really good for people in the western U.S., because we can continue to select for growth and PAP without one driving us into the other one," said Thomas.
In a recent study, more than 200 genes were found to be different between animals designated into high-PAP and low-PAP groups. Thomas found that categorizing the genes allowed for a better understanding of the data.
"Most of the genes had to do with inflammation, and that's not inflammation because of disease," said Thomas. "Also, a lot of genes dealt with metabolism as they're changing from aerobic metabolism to anaerobic metabolism. Lots of genes changing have to do with tissue remodeling, which makes sense as the arteries and veins are becoming inflamed."
He said another study revealed that as PAP increased, carcass weight decreased.
Since PAP is a highly polygenic trait, Thomas said there is no single gene or cause to completely stop the detrimental effects of pulmonary hypertension.
The 2019 BIF Annual Convention was hosted by South Dakota State University and the South Dakota Beef Breeds Council June 18-21 at the University Comfort Suites and Convention Center in Bookings. ANGUS MEDIA® provides comprehensive online coverage of the event at www.BIFconference.com. Visit the Newsroom for summaries, proceedings, PowerPoints, video and/or audio of the sessions and the Awards page for announcements and photos of award winners.
Editor's Note: This summary was written under contract or by staff of ANGUS MEDIA®. Through an agreement with the Beef Improvement Federation, we encourage reprinting of the articles to those who will adhere to the reprint guidelines available on this site. Please review those guidelines or contact Shauna Rose Hermel, editor, at 816-383-5270. PowerPoints are posted with permission of the presenter and may not be reproduced in whole or in part without the express permission of the presenter. We welcome educational venues and cattlemen to link to this site as a service to their audience.

For questions about this site, or to notify us of broken links, click here. Look for additional coverage in the Angus Journal, the Angus Beef Bulletin, the Angus Journal Daily, the Angus Beef Bulletin EXTRA and Angus TV.