UGC Update
Ultrasound Guidelines Council exec offers update, brings forward 'bucket list' of issues for consideration.
by Troy Smith, field editor
BROOKINGS, S.D. (June 20, 2019) — The purpose of the Ultrasound Guidelines Council (UGC) is to ensure the quality of ultrasound data used by the beef industry for the genetic evaluation of carcass traits. All major breed associations require that ultrasound images be collected by technicians certified by the UGC, which developed guidelines to ensure technicians collect images in a consistent manner. To be certified, a technician must pass a test demonstrating his or her ability to correctly and accurately collect ultrasound images.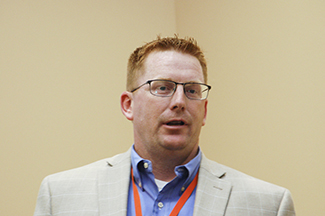 Patrick Wall
UGC Executive Director Patrick Wall announced changes to the guidelines and presented a "bucket list" of issues of which BIF should be aware. [Photo by Troy Smith]
UGC Executive Director Patrick Wall presented a report to the Advancements in End Product Improvement Committee during the 2019 Beef Improvement Federation Annual Convention hosted June 18-21 in Brookings, S.D. Wall announced changes to the guidelines and presented a "bucket list" of issues of which BIF should be aware.
Wall said changes to UGC guidelines include a return to collecting carcass data on animals used at field certifications. Each certification will be based on 40 head of animals with at least 75% of the cattle harvested for carcass data collection. Additionally, field certifications will be required for all 125 technicians, by the end of year 2020.
Wall's first bucket list item was to "try to prove that rib eye area (REA) and fat are not indicator traits." He said this issue stems from the fact that breed associations have historically given more genetic value to carcass REA, which is subject to error. Wall said it makes no sense to take all of the carcass data error and give it to the ultrasound trait. In his opinion, BIF should consider adopting USDA certification protocol for carcass data collection, or alter the genetic "value" given ultrasound versus carcass data.
Second on the list came the suggestion that breed associations consider whether they want to continue measuring rump fat. "I think it has value, but are they using it?" questioned Wall, explaining that it is time-consuming to measure. "If not, should we discontinue it?"
Thirdly, Wall said the matter of the marbling bell curve should be addressed, noting that it is asking a lot of ultrasound to assess a range of marbling that is so wide.
The fourth item was Wall's reminder that excessively fat and extremely high-marbling cattle are certainly more challenging to scan. As the industry makes more and more USDA Prime cattle, the ultrasound industry needs to adapt.
Lastly, Wall noted another technology-related challenge — the fact that manufacturers are making ultrasound machines smaller, lighter and cheaper, but some manufacturers refuse to make carcass probes for them.
The 2019 BIF Annual Convention was hosted by South Dakota State University and the South Dakota Beef Breeds Council June 18-21 at the University Comfort Suites and Convention Center in Bookings. ANGUS MEDIA® provides comprehensive online coverage of the event at www.BIFconference.com. Visit the Newsroom for summaries, proceedings, PowerPoints, video and/or audio of the sessions and the Awards page for announcements and photos of award winners.
Editor's Note: This summary was written under contract or by staff of ANGUS MEDIA®. Through an agreement with the Beef Improvement Federation, we encourage reprinting of the articles to those who will adhere to the reprint guidelines available on this site. Please review those guidelines or contact Shauna Rose Hermel, editor, at 816-383-5270. PowerPoints are posted with permission of the presenter and may not be reproduced in whole or in part without the express permission of the presenter. We welcome educational venues and cattlemen to link to this site as a service to their audience.

For questions about this site, or to notify us of broken links, click here. Look for additional coverage in the Angus Journal, the Angus Beef Bulletin, the Angus Journal Daily, the Angus Beef Bulletin EXTRA and Angus TV.