Genomics for Improving Meat Quality in Bos indicus-Influenced Cattle
by Troy Smith, field editor
BROOKINGS, S.D. (June 20, 2019) — The ability to deliver a product offering consistent quality is important to the beef industry. The strength of the high-quality branded beef market shows that a sizable portion of consumers are willing to pay more for the assurance of consistently high quality. According to geneticist Raluca Mateescu, the USDA beef grading system for determining carcass quality is based on marbling and animal maturity, but it is limited in its ability to predict eating quality in terms of tenderness, juiciness and flavor. And those are the "meat quality" attributes that matter most to consumers.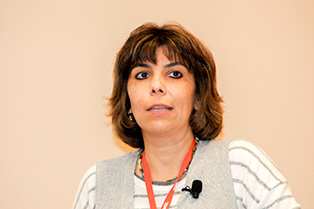 Raluca Mateescu
"We're gaining new insight into the genetic architecture of meat quality," stated Raluca Mateescu, associate professor of animal genomics at the University of Florida.
A researcher and associate professor of animal genomics at the University of Florida, Mateescu was invited to explain her current research during the 2019 Beef Improvement Federation Convention, hosted June 18-21 in Brookings, S.D. In a presentation to the End Product Improvement Committee, Mateescu talked about efforts to develop new genomic tools to select for animals that will yield high-quality beef.
But wait, don't such tests already exist? They do, but as Mateescu explained, the genomic tests were developed for Bos taurus cattle — the European-type, including British and Continental breeds.
The genomic tests don't work well with Bos indicus cattle, stated Mateescu, referring to the Brahman or Zebu-type cattle whose heat tolerance and insect resistance make them well-adapted to tropical production environments. She noted that Bos indicus cattle are routinely penalized in the marketplace due to their relatively low marbling scores and the perception of inadequate tenderness.
"Our goal," stated Mateescu, "is to develop genomic tools to select for superior meat quality in Bos indicus-influenced cattle populations."
It's complicated, highly technical work to find what parts of the bovine genome influence specific traits. In their search for DNA determinants of meat quality in an indicus-influenced cattle population, Mateescu and her colleagues have identified 571 associated genomic regions (643 genes) that influence carcass quality or meat quality, or both. Additionally, they are exploring the associated "network of expression master regulators" — genes that turn other genes on or off, thus controlling the expression of associated traits.
"We're gaining new insight into the genetic architecture of meat quality," stated Mateescu.
The 2019 BIF Annual Convention was hosted by South Dakota State University and the South Dakota Beef Breeds Council June 18-21 at the University Comfort Suites and Convention Center in Bookings. ANGUS MEDIA® provides comprehensive online coverage of the event at www.BIFconference.com. Visit the Newsroom for summaries, proceedings, PowerPoints, video and/or audio of the sessions and the Awards page for announcements and photos of award winners.
Editor's Note: This summary was written under contract or by staff of ANGUS MEDIA®. Through an agreement with the Beef Improvement Federation, we encourage reprinting of the articles to those who will adhere to the reprint guidelines available on this site. Please review those guidelines or contact Shauna Rose Hermel, editor, at 816-383-5270. PowerPoints are posted with permission of the presenter and may not be reproduced in whole or in part without the express permission of the presenter. We welcome educational venues and cattlemen to link to this site as a service to their audience.

For questions about this site, or to notify us of broken links, click here. Look for additional coverage in the Angus Journal, the Angus Beef Bulletin, the Angus Journal Daily, the Angus Beef Bulletin EXTRA and Angus TV.