A Matter of Perception
Checkoff contractor shares consumer perceptions of beef and beef production.
by Troy Smith, field editor
BROOKINGS, S.D. (June 20, 2019) — It is a competitive marketplace, but beef remains a popular protein choice for today's consumers. Rick Husted offered that assurance to attendees of the 2019 Beef Improvement Federation Annual Convention hosted June 18-21 in Brookings, S.D. Husted ought to know. He is vice president of strategic planning and market research for the National Cattlemen's Beef Association (NCBA), a beef checkoff contractor that monitors and measures consumer attitudes on a monthly basis.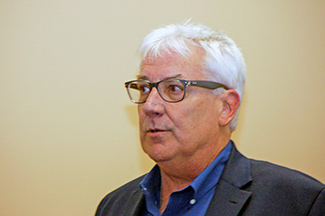 Rick Husted
Market research suggests two-thirds of consumers have a positive perception of beef, but even more consumers hold a positive attitude toward chicken, said Rick Husted, NCBA vice president of strategic planning and market research. [Photo by Troy Smith]
"The U.S. per capita consumption of beef is about 58 pounds (lb.)," said Husted, noting continued growth in beef demand during the last several years. The current consumption level represents significant recovery from the historic low of 55 lb. per capita in 2015.
According to Husted, market research suggests two-thirds of consumers have a positive perception of beef, but even more consumers hold a positive attitude toward chicken. Based on perceptions of nutrition, health and how well it fits a food-buying budget, chicken often ranks higher than beef.
Regarding perceptions of how food is produced, Husted said 40% of consumers have a generally positive attitude toward beef production, with 44% being neutral. Only one in five consumers claims to be knowledgeable about how cattle are raised.
"This suggests a lack of awareness," said Husted. "They don't know what happens between a calf in the pasture and a steak on the plate. About 43% think cattle live their whole lives in confinement (feedlots)."
Husted said evidence suggests increased consumer interest in how and where their food is produced. They have questions about antibiotic and growth promotant use, and whether production systems are environmentally friendly and sustainable. When informed about the industry-driven Beef Quality Assurance program, consumers generally respond postively, though some remain skeptical. Husted said beef checkoff-funded programs for consumer education are designed to counter misinformation and present clear facts to assure consumers that beef is raised responsibly.
Commenting on the attention given meat-substitute products, Husted said NCBA investigation shows that plant-based alternatives represent "a tiny fraction of protein products sold" — about one-half of 1% of total market share.
"And consumers still view beef as one of the best sources of protein," stated Husted, adding that beef definitely is the best-tasting choice.
The 2019 BIF Annual Convention was hosted by South Dakota State University and the South Dakota Beef Breeds Council June 18-21 at the University Comfort Suites and Convention Center in Bookings. ANGUS MEDIA® provides comprehensive online coverage of the event at www.BIFconference.com. Visit the Newsroom for summaries, proceedings, PowerPoints, video and/or audio of the sessions and the Awards page for announcements and photos of award winners.
Editor's Note: This summary was written under contract or by staff of ANGUS MEDIA®. Through an agreement with the Beef Improvement Federation, we encourage reprinting of the articles to those who will adhere to the reprint guidelines available on this site. Please review those guidelines or contact Shauna Rose Hermel, editor, at 816-383-5270. PowerPoints are posted with permission of the presenter and may not be reproduced in whole or in part without the express permission of the presenter. We welcome educational venues and cattlemen to link to this site as a service to their audience.

For questions about this site, or to notify us of broken links, click here. Look for additional coverage in the Angus Journal, the Angus Beef Bulletin, the Angus Journal Daily, the Angus Beef Bulletin EXTRA and Angus TV.