Collecting 'Big Data' for the Swine Industry
Smithfield Premium Genetics is compiling millions of data points using technologically advanced devices.
by Kaci Foraker, editorial intern
BROOKINGS, S.D. (June 20, 2019) — Though used for many years, the term "big data" still seems daunting to some. Jeremy Howard of Smithfield Premium Genetics simplified the term to data with volume, variety, velocity and veracity. At the 2019 Beef Improvement Federation (BIF) symposium, Howard explained how he uses data to improve Smithfield's hog operations and what other technologies may soon be widely implemented.
Large amounts of data have been collected for many years now, but researchers are developing new devices with sharpened sensors to hone in the types of data collected.
On the farm
Electronic feeders are used to record feed intake and weight for each individual pig that interacts with the feeder. Analyzing the data collected by these feeders allows breeders to select for genetics that will improve feed efficiency, Howard said. Apps have also been developed using data from electronic feeders to alert owners of abnormal behavior in a certain pig or that a feeder is low on input.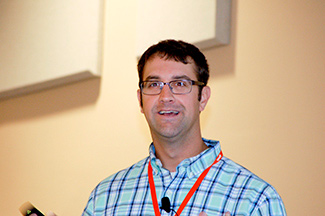 Jeremy Howard
Automated livestock monitoring systems are also being used to track animal behavior within their pen, noted Jeremy Howard, Smithfield Premium Genetics. Howard shared how the swine industry is collecting and making use of big data. [Photo by Troy Smith]
"On average, a pig has around seven feeder visits per day, and that's 6,700 visits for the feeding period, which is around 90 days," Howard said. "When you think about what each station generates, it's about 8,000 visits for a single turn with four turns in a year. When you start to do all this math, there are roughly 2 million animal observations per year."
Recently, facial recognition cameras have been used to identify animals. These cameras classify animals based on face markings, snout shape and head shape, Howard said. Cameras are placed on the pig waterer and a snapshot of each animal is recorded in a database. Howard explained that this new technology would eliminate the need and extra effort required to put ear tags in hogs.
Automated livestock monitoring systems are also being used to track animal behavior within their pen. Four points of origin are detected on the animal by the camera, which then recognizes where the animals are and what they are doing throughout the day, said Howard.
These camera technologies do have limitations that prevent them from being implemented into every operation, he said. Facial recognition cameras can have some differentiation problems between similar characteristics. Placing cameras in any livestock setting can be difficult due to inadequate lighting, accumulation of dirt or harsh outside elements.
At the plant
For a commercial pig operation, some of the most valuable data can be collected from carcasses in the packing plant. Howard said that upon the initial development of these collection technologies, there were questions surrounding how their implementation would affect the plant's line speed. After refinement, these devices were able to record data at line speed and even contribute to the carcass fabrication.
The water-jet belly trimmer does just that, correctly sizing a pork belly using a high-powered water jet stream. In addition to trimming the belly, it also records the weight, thickness, fat ratio, width and length of the belly, said Howard. This tool greatly enhanced the amount of data collected from a single primal cut.
A Fat-O-Meter takes back fat and loin measurements from carcasses as they roll down the line at the plant. Howard believes these carcass indicators are critical to know when selecting the best genetic lines for the most productive hogs.
Called Tailception, another device identifies tail biting on carcasses. Using cameras to take specified images, it can estimate the tail loss or bruising that a pig incurred on its tail. Tailception is a newer development, but its predictions have already proved to be accurate 95% of the time, he said.
In the future, Howard hopes to continually improve Smithfield's data collection at the plant by using additional tracking measures for each cut of meat from one carcass.
"Innovative technology will continue to be developed that collects data that would otherwise not be possible on a large-scale operation," Howard said.
The 2019 BIF Annual Convention was hosted by South Dakota State University and the South Dakota Beef Breeds Council June 18-21 at the University Comfort Suites and Convention Center in Bookings. ANGUS MEDIA® provides comprehensive online coverage of the event at www.BIFconference.com. Visit the Newsroom for summaries, proceedings, PowerPoints, video and/or audio of the sessions and the Awards page for announcements and photos of award winners.
Editor's Note: This summary was written under contract or by staff of ANGUS MEDIA®. Through an agreement with the Beef Improvement Federation, we encourage reprinting of the articles to those who will adhere to the reprint guidelines available on this site. Please review those guidelines or contact Shauna Rose Hermel, editor, at 816-383-5270. PowerPoints are posted with permission of the presenter and may not be reproduced in whole or in part without the express permission of the presenter. We welcome educational venues and cattlemen to link to this site as a service to their audience.

For questions about this site, or to notify us of broken links, click here. Look for additional coverage in the Angus Journal, the Angus Beef Bulletin, the Angus Journal Daily, the Angus Beef Bulletin EXTRA and Angus TV.