Bennett Presented BIF Pioneer Award
Virginia cattleman recognized for lasting contribution to the improvement of beef cattle.
MANHATTAN, Kan. (June 9, 2020) — The Beef Improvement Federation (BIF) presented Paul Bennett, Red House, Virginia, the BIF Pioneer Award June 9 during the group's annual research symposium online. Shane Bedwell, American Hereford Association chief operating officer and director of breed improvement, presented the award.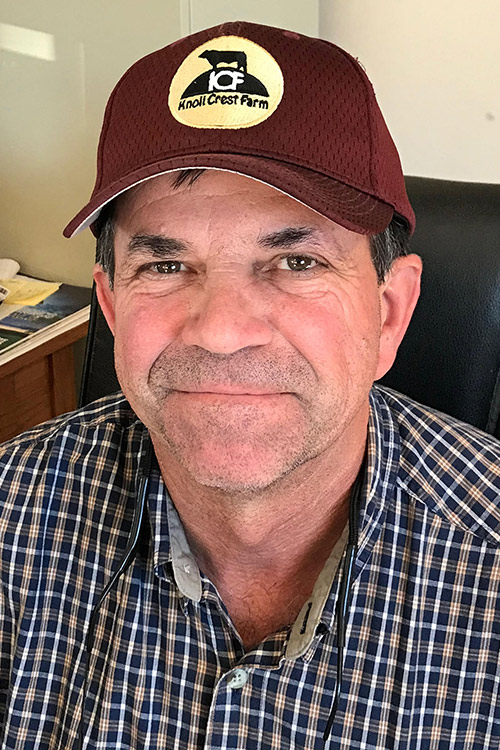 Paul Bennett of Knoll Crest Farms, Red House, Virginia, was awarded the BIF Pioneer Award, recognizing his role in the acceptance of performance reporting to further genetic change in beef cattle.[Photo courtesy BIF] Click here for original image.
The Pioneer Award recognizes individuals who have made lasting contributions to the improvement of beef cattle, honoring those who have had a major role in acceptance of performance reporting and documentation as the primary means to make genetic change in beef cattle.
A family operation, Knoll Crest Farms (KCF) has been producing seedstock genetics since 1944. The Bennett cow herd includes three breeds — Hereford, Gelbvieh and Angus. Annually, KCF markets 400 bulls. In 2020, the KCF prefix was recognized with 40 Certified Hereford Beef sires and 31 Dam of Distinction females from the American Hereford Association; 10 Dam of Merit and 2 Dam of Distinction females from the American Gelbvieh Association; and 29 Pathfinder® females from American Angus Association, all of which validate the merits and genetic influence of the Knoll Crest program.
"The KCF prefix is synonymous with multi-trait excellence, and as a result has gained the respect of the most progressive seedstock and commercial cattlemen alike while placing leading genetics in every bull stud in the U.S.," says Bedwell. "Through Paul's leadership and mindset of being an early adopter of key breed improvement tools, he has positioned Knoll Crest Farms as a true nucleus seedstock operation."
Bennett has served as BIF president and is a leader in his community. He has dedicated time to national breed associations, as well as national and state cattlemen's associations' advisory committees, and is a deacon at Union Hill Baptist Church.
More than 1,200 beef producers, academia and industry representatives have registered to participate in BIF's 52nd Annual Research Symposium online. BIF's mission is to help improve the industry by promoting greater acceptance of beef cattle performance evaluation.
For more information about this year's symposium, including additional award winners and coverage of meeting, visit the Awards and Newsroom pages of BIFconference.com. For more information about BIF, visit BeefImprovement.org.
Editor's note: This article is adapted from a news release by the Beef Improvement Federation. For more information contact Angie Stump Denton, BIF communication coordinator, at 785-562-6197.
BIFconference.com is a meeting coverage site provided by Angus Media. Coverage is made possible through the generous contributions of our site sponsors, including American Angus Association, AngusLinkSM, Albrecht Ranch, Branch View Angus Ranch, CattleVisions, Connealy Angus, Deer Valley Farm, Express Ranches, Fink Beef Genetics, Genex, Krebs Ranch, Nichols Farms, Penz Angus Ranch, Pollard Farms, Select Sires, Spur Ranch, Sydenstricker Genetics, and Yon Family Farms. For questions about this site, or to notify us of broken links, click here.