McPeake Presented BIF Pioneer Award
Long-time extension educator recognized for lasting contribution to the improvement of beef cattle.
MANHATTAN, Kan. (June 9, 2020) — Charles McPeake, Arnoldsville, Georgia, was presented the Beef Improvement Federation's (BIF) Pioneer Award June 9 during the group's annual research symposium online. Robert Williams, American Wagyu Association executive director, presented the award.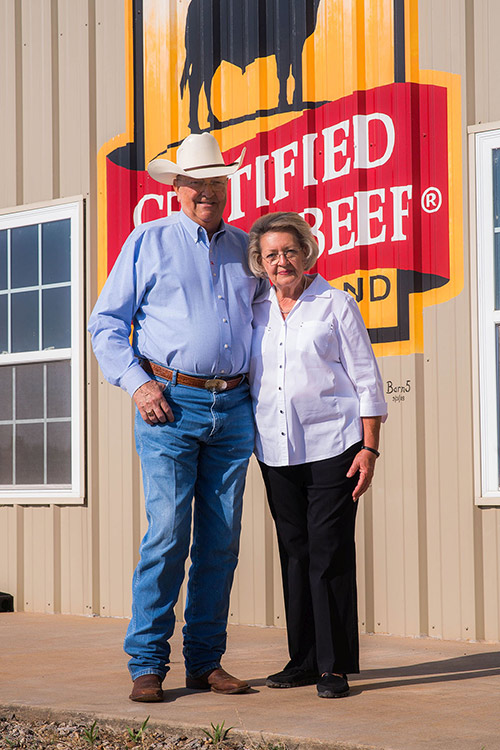 Extension educator Charles McPeake, Arnoldsville, Georgia, was presented the BIF Pioneer Award recognizing his role in furthering performance reporting to improve beef cattle genetics.[Photo courtesy BIF] Click here for original image.
The Pioneer Award recognizes individuals who have made lasting contributions to the improvement of beef cattle, honoring those who have had a major role in acceptance of performance reporting and documentation as the primary means to make genetic change in beef cattle.
McPeake earned his bachelor's degree from the University of Tennessee at Martin and served for four years as an extension agent in Giles County, Tennessee, before continuing his education. He completed a master's degree at the University of Tennessee at Knoxville and a doctorate at Michigan State University. McPeake worked for three more land-grant universities throughout his career — South Dakota State University, Oklahoma State University and, finally, the University of Georgia, from which he retired in 2005.
Among various duties, he served as executive director of the South Dakota Livestock Records Association, through which more than 50,000 weaning weight and 20,000 yearling weight records were processed annually. At Oklahoma State, McPeake was an extension beef cattle breeding specialist and was named Outstanding State Specialist in 1986. In 1990, McPeake moved to the University of Georgia to serve as professor and head of the Extension Animal Science Department. There, he led the development of educational programs for beef producers, including Cow College and Beef Challenge for interested Georgia Master Cattlemen. He also taught a capstone course for senior students that pertained to world meat trade.
McPeake served BIF in several capacities: as a member of the Seedstock Committee; co-chairman with Frank Baker of the BIF Annual Research Symposium in Stillwater, Oklahoma; secretary and chairman of the Central Test Committee; and as executive director. He received BIF's Continuing Service Award in 1993.
More than 1,200 beef producers, academia and industry representatives have registered to participate in BIF's 52nd Annual Research Symposium online. BIF's mission is to help improve the industry by promoting greater acceptance of beef cattle performance evaluation.
For more information about this year's symposium, including additional award winners and coverage of meeting, visit the Awards and Newsroom pages of BIFconference.com. For more information about BIF, visit BeefImprovement.org.
Editor's note: This article is adapted from a news release by the Beef Improvement Federation. For more information contact Angie Stump Denton, BIF communication coordinator, at 785-562-6197.
BIFconference.com is a meeting coverage site provided by Angus Media. Coverage is made possible through the generous contributions of our site sponsors, including American Angus Association, AngusLinkSM, Albrecht Ranch, Branch View Angus Ranch, CattleVisions, Connealy Angus, Deer Valley Farm, Express Ranches, Fink Beef Genetics, Genex, Krebs Ranch, Nichols Farms, Penz Angus Ranch, Pollard Farms, Select Sires, Spur Ranch, Sydenstricker Genetics, and Yon Family Farms. For questions about this site, or to notify us of broken links, click here.