Vest Ranches Named BIF Commercial Producer of the Year
Commercial Angus, Charolais ranch focuses on cattle that work hard without sacrificing condition or productivity.
MANHATTAN, Kan. (June 9, 2020) — The Beef Improvement Federation (BIF) presented Vest Ranches the BIF Commercial Producer of the Year Award June 9 during the group's annual meeting and symposium online. This national award is presented annually to a commercial cow-calf producer to recognize their dedication to improving the beef industry at the commercial level.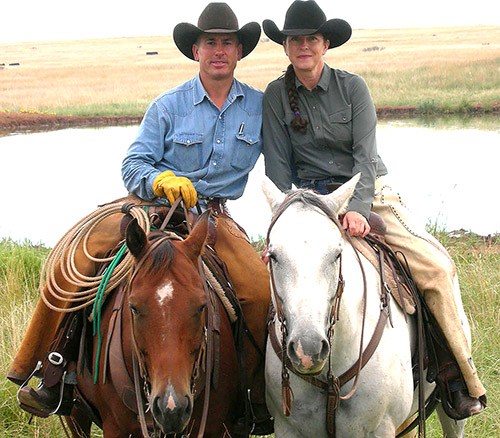 2020 BIF Commercial Producers of the Year, Samann Vest-Watkins and her husband, Ty, continue to battle climate and weather to produce high-performing cattle at Vest Ranches, Childress, Texas.[Photo courtesy BIF] Click here for original image.
Vest Ranches is a commercial Angus and Charolais ranch situated near Childress, Texas. In 1887, Bill Vest ventured to the rough country of West Texas to homestead and raise cattle. More than 130 years later, Samann Vest-Watkins and her husband, Ty, continue to battle climate and weather to produce high-performing cattle. Vest Ranches employ a variety of programs and systems to help their cow herd survive and thrive in the tough landscape.
Samann is the fourth generation of Vests to raise cattle in West Texas. Severe drought in 2011 tested their resiliency, but the couple was able to adjust and continue to improve despite the conditions. The Vest Ranches herd has rebuilt to 1,200 head of commercial Angus and Charolais cattle that work hard without sacrificing condition and productivity.
A unique feeding program, 75-day breeding season, December calving, and management of limited forage and water resources, all while improving rangelands and wildlife habitat, set Vest Ranches apart from others. Short-term goals of the ranch include yearly improved carcass quality, improved breeding and calving percentages, tightened heifer-selection criteria, 50%-55% body weight at weaning, improved understanding and ability to turn data into information in a timely manner, and improved docility in the herd. Long-term goals include continuously improving matings, achieving 100% Prime carcasses, passing on a profitable and functional ranch to the fifth generation, and reducing cow size to 1,250 pounds (lb.) consistently.
Vest Ranches is a member of the Texas and Southwestern Cattle Raisers Association (TSCRA), the National Cutting Horse Association and the American Quarter Horse Association (AQHA). Locally, Samann and Ty are 32-year members of First Baptist Church of Monahans, which Samann's great-grandmother helped establish in 1900. Ty currently serves on the Childress County Appraisal District Agricultural Advisory Board and the Texas Parks and Wildlife Advisory Board, Mule Deer Advisory Committee. Vest Ranches was nominated by the American Angus Association and American-International Charolais Association.
More than 1,200 beef producers, academia and industry representatives have registered to participate in BIF's 52nd Annual Research Symposium online. BIF's mission is to help improve the industry by promoting greater acceptance of beef cattle performance evaluation.
For more information about this year's symposium, including additional award winners and coverage of meeting, visit the Awards and Newsroom pages of BIFconference.com. For more information about BIF, visit BeefImprovement.org.
Editor's note: This article is adapted from a news release by the Beef Improvement Federation. For more information contact Angie Stump Denton, BIF communication coordinator, at 785-562-6197.
BIFconference.com is a meeting coverage site provided by Angus Media. Coverage is made possible through the generous contributions of our site sponsors, including American Angus Association, AngusLinkSM, Albrecht Ranch, Branch View Angus Ranch, CattleVisions, Connealy Angus, Deer Valley Farm, Express Ranches, Fink Beef Genetics, Genex, Krebs Ranch, Nichols Farms, Penz Angus Ranch, Pollard Farms, Select Sires, Spur Ranch, Sydenstricker Genetics, and Yon Family Farms. For questions about this site, or to notify us of broken links, click here.