Grids and Genetic Improvement
What does the grid data show us?
Most cattlemen have the goal of earning more premiums. Everybody wants to make more money, right? A premium is simply comparing what a packer pays on a value-based grid compared to if those cattle would have been sold on the average cash market reported by the USDA. Brian Bertelsen, vice president of field operations for U.S. Premium Beef, shared some of his company's data with attendees of the 2020 Beef Improvement Federation hosted online June 8-12.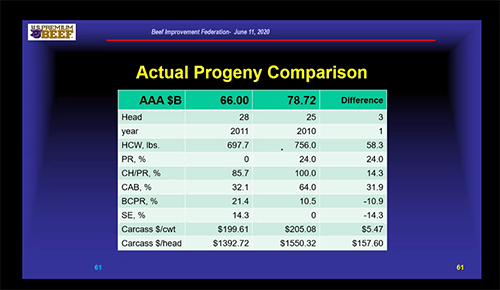 Indexes are simple selection tools that take into account many genetic factors that make it easy to choose bulls that will have progeny with more earning power. To view the image at a larger size, click here.
He said last year had a record of high quality-grade premiums, meaning all things related to marbling and dressing percentage were a factor because they priced off of carcass weight, not live weight. Historically, quality-grade premiums over time have increased, meaning there is a benefit to selling on the grid vs. selling on the cash market.
"My job is to coach our producers and give them some suggestions in things to do and try," Bertelsen noted, adding that he is encouraging longer feeding times for cattle that have good carcass genetics. "The better your cattle are for genetics in carcass traits, let's say specifically for marbling, really the longer you ought to feed those cattle. It's just like if I have more genetic potential for growth in an animal, but I don't feed him very long, I don't allow him or her to maximize their genetic potential. Yeah, we do feed some of these cattle a little bit longer, but I think you'll see that there's some good economic rewards from some of those things, too."
He pointed to trends that have changed with producers paying attention to market signals. The percentage of black-hided calves has gone up from about 50% to more than 75%, attributed to producers delivering the breed and kind of cattle they want on the grid. Quality grades, as a whole, have moved up, meaning supplies of USDA Select beef have diminished. Carcass weight has increased, producing more beef per carcass.
"I think we can definitely attribute a lot of these improvements to the combination of value-based marketing, which gives the producers the incentive to get rewarded for improving their cattle, and better genetic tools that you all are involved with providing to the producers to get it done," Bertelsen said, addressing the genetic emphasis of BIF.
Speaking on genetics, he gave examples of how using expected progeny differences and selection indexes increased the paycheck for commercial producers. He compared the profits from progeny of two Angus bulls with differing beef dollar value indexes ($B). One bull had a $B of 66.00. The other bull had a $B of 78.72. Both were above average at the time. The higher-$B bull's progeny had 24% more Primes, 31.9% more qualified for the Certified Angus Beef® (CAB®) brand, and on average earned $157.60 more per carcass.
With the assumptions that these bulls would breed 25 calves per season with both spring and fall calving to produce 50 calves per year, and be used for five years, the higher-$B bull's progeny would earn $39,400.97 more during his lifetime.
With the assumptions that these bulls would produce 25 calves per season with both spring and fall calving to produce 50 calves per year, and be used for five years, the higher-$B bull's progeny would earn $39,400.97 more during his lifetime, Bertelsen said.
"Remember, producers in the commercial world are using $B and those indexes, which are great to select for more valuable cattle and carcasses. But remember, we really need carcass weight because if that's off, that's really going to throw off that $B value estimate. I really encourage producers and breed associations to continue to make a concerted effort for good, old-fashioned carcass statement."
For more information about this year's symposium, including additional award winners and coverage of meeting, visit the Awards and Newsroom pages of BIFconference.com. For more information about BIF, visit BeefImprovement.org.
Editor's Note: This summary was written under contract or by staff of ANGUS MEDIASM. To request reprint permission, please contact Shauna Rose Hermel, Angus Beef Bulletin editor, at 816-383-5270, or Julie Mais, Angus Journal editor, at 816-383-5271. PowerPoints are posted with permission of the presenter and may not be reproduced in whole or in part without the express permission of the presenter. We welcome educational venues and cattlemen to link to this site as a service to their audience.
BIFconference.com is a meeting coverage site provided by Angus Media. Coverage is made possible through the generous contributions of our site sponsors, including American Angus Association, AngusLinkSM, Albrecht Ranch, Branch View Angus Ranch, CattleVisions, Connealy Angus, Deer Valley Farm, Express Ranches, Fink Beef Genetics, Genex, Krebs Ranch, Nichols Farms, Penz Angus Ranch, Pollard Farms, Select Sires, Spur Ranch, Sydenstricker Genetics, and Yon Family Farms. For questions about this site, or to notify us of broken links, click here.
Look for additional coverage in the Angus Journal, the Angus Beef Bulletin, the Angus Journal Daily, and the Angus Beef Bulletin EXTRA.