Relationship Between PAP and Performance
Research discovers relationship between PAP scores and feedyard performance.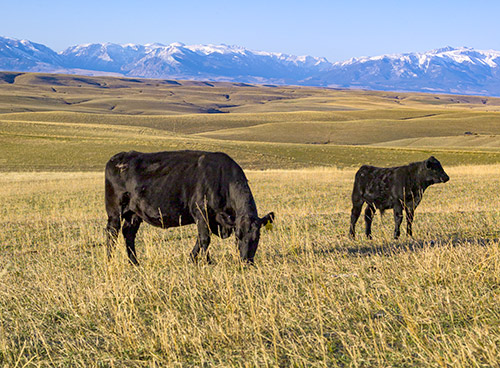 Cattle from higher than 5,000 feet elevation have increased risk of problems with pulmonary arterial pressure, which negatively affects their feedyard performance. Photo by Shauna Rose Hermel
Cattle mysteriously dying once they moved from higher elevations to lower elevations used to be a regional issue. However, as more cattle from the mountains move to lower-elevation feedyards, it becomes a Central Plains issue, too. Emma Briggs, graduate student at Colorado State University, shared her research regarding the relationship between pulmonary arterial pressure (PAP) scores and feedyard performance at the virtual 2020 Beef Improvement Federation Symposium and Convention.
While the American Angus Association and others have started releasing PAP expected progeny differences (EPDs) to evaluate an animal's likelihood of genetically propagating high PAP scores, but Briggs noted phenotypic selection is still most definitive in predicting an individual animal's likelihood of problems. Phenotypic scores are performed chuteside by a licensed veterinarian by threading a needle through the jugular to the heart and pulmonary artery. Cattle with pulmonary hypertension, simply put, have overworked hearts with physically changed musculature and shape. It occurs most often in cattle at elevations of 5,000 feet or higher, and shows up in most cattle by 10-12 months of age. Symptoms include brisket edema, jugular vein distention, lethargy and decreased appetites.
Because feed costs range from 50%-70% of production costs, Briggs wanted to evaluate the relationship between PAP and feedyard performance. She noted a 10% increase in gain results in 18% more profit.
PAP scores are measured in millimeters of mercury (mm Hg) with a range of 34 to more than 50. As numbers increase, so does the risk. In her research, she compared PAP scores with well-known carcass traits — ribeye area, marbling, backfat, hot carcass weight, and yield grade.
Cattle with high PAP scores had lower feed efficiency and poorer carcass quality because they use excess energy toward their cardiopulmonary system.
She found that there is a low genetic correlation between PAP score and average daily gain (ADG) and between PAP score and average dry-matter intake. Cattle with higher PAP scores were less efficient in ADG and average DMI.
Briggs concluded that high- to moderately high-elevation cattle in a moderate-elevation feedyard with high PAP scores had lower feed efficiency and poorer carcass quality because they use excess energy toward their cardiopulmonary system. Cattle with lower PAP scores had lower intake values, but more heavily muscled carcasses.
Thus, genetic selection pressure against high-PAP animals shouldn't negatively affect feedyard and carcass performance. Cattle culled from herds for high PAP scores have the potential to be less feed efficient. However, feedyard buyers can rest assured if they are buying calves from higher elevations that selection against high PAP scores will result in higher performance.
To access the archived presentation slides and webinar session, click here. For more information about this year's symposium, including additional award winners and coverage of meeting, visit the Awards and Newsroom pages of BIFconference.com. For more information about BIF, visit BeefImprovement.org.
Editor's Note: This summary was written under contract or by staff of ANGUS MEDIASM. To request reprint permission, please contact Shauna Rose Hermel, Angus Beef Bulletin editor, at 816-383-5270, or Julie Mais, Angus Journal editor, at 816-383-5271. PowerPoints are posted with permission of the presenter and may not be reproduced in whole or in part without the express permission of the presenter. We welcome educational venues and cattlemen to link to this site as a service to their audience.
BIFconference.com is a meeting coverage site provided by Angus Media. Coverage is made possible through the generous contributions of our site sponsors, including American Angus Association, AngusLinkSM, Albrecht Ranch, Branch View Angus Ranch, CattleVisions, Connealy Angus, Deer Valley Farm, Express Ranches, Fink Beef Genetics, Genex, Krebs Ranch, Nichols Farms, Penz Angus Ranch, Pollard Farms, Select Sires, Spur Ranch, Sydenstricker Genetics, and Yon Family Farms. For questions about this site, or to notify us of broken links, click here.
Look for additional coverage in the Angus Journal, the Angus Beef Bulletin, the Angus Journal Daily, and the Angus Beef Bulletin EXTRA.