Wikipedia for the Cattle Producer
BIF organization transitions guidelines to Wiki format.
When someone needs the answer to a random trivia question, where do they go? Wikipedia, of course! But what about the average cattle producer? The Beef Improvement Federation (BIF) has the solution — a set of guidelines for uniform beef improvement programs based on the same type of platform as Wikipedia.
"The guidelines allow for very high-quality informational content without needing to know a lot of details about web content page development," said Bruce Golden, technical coordinator of the BIF Guidelines.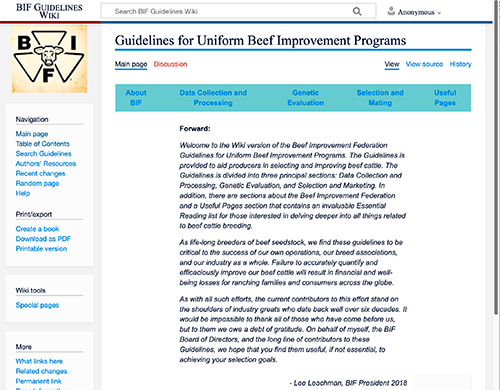 Most folks have heard of Wikipedia, but what if there were a version dedicated to the improvement of beef cattle? A BIF committee spearheaded by Bruce Golden created just that. Click here for larger image.
When discussion of how to reimagine the BIF Guidelines publication began three years ago, Golden said his three main goals were to incorporate new technologies being utilized in the industry, gain input from a multitude of sources and deliver the information in a web-based form. To accomplish each of these goals, utilizing a platform with a design similar to Wikipedia offered the most benefit to cattle producers.
"Delivering it as a Wiki was probably the best configuration that allowed us to keep it modern, fresh and as a living document where you could make changes every day," he explained.
Once the program was selected, Golden assembled a team of experts interested in contributing to the improvement of the beef industry and identified other individuals willing to help provide and edit content for the Wiki. Golden said his "power team" consisted of Lauren Hyde, Matt Spangler, Darrh Bullock, Warren Snelling, Megan Rolf and himself.
The six-person team secured more than 40 beef industry professionals to create original content for the guidelines. The team compiled the information with the priority of completely reorganizing it into a format different from the old version, Golden said.
Last year, Golden said, the team hit a point where they believed they had a good grasp on the guidelines. Merlyn Nielsen was brought on board to identify any holes in the information and improve consistency before it was released to the public.
While Golden's team served as the driving force behind this initiative, he said the compilation of information involved more than just six people. He said the Wiki is structured around three levels of organization.
The BIF board formed the guidelines committee, which served as a forum for sharing ideas, resolving potential conflicts and handling controversial content. This committee also guided the drafting committee, which was responsible for creating the articles published on the platform.
The more than 150 articles published on the Wiki are organized in a hierarchy, but they are all connected on some level. With components like a search box tool or an easy-to-navigate menu and table of contents, Golden said the guidelines are designed to be user-friendly.
The site even offers trait pages, which Golden said define specific traits often sought by producers. These master pages are divided into five major categories and specifically define the trait with a similar type of detail and structure from page to page, he added.
The site is being accessed by producers globally, and Golden said the team is always searching for new content to publish. He says the Wiki offers an extensive set of author resources that break down the process of how individuals can contribute new articles or edit existing content to the webpage.
This Wiki helps to provide valuable information capable of driving the livestock of today into the future, said Golden. "I think it's one of the best things BIF has contributed to the industry, and I hope you do, too."
To access the archived presentation slides and webinar session, click here. For more information about this year's symposium, including additional award winners and coverage of meeting, visit the Awards and Newsroom pages of BIFconference.com. For more information about BIF, visit BeefImprovement.org.
Editor's Note: This summary was written under contract or by staff of ANGUS MEDIASM. To request reprint permission, please contact Shauna Rose Hermel, Angus Beef Bulletin editor, at 816-383-5270, or Julie Mais, Angus Journal editor, at 816-383-5271. PowerPoints are posted with permission of the presenter and may not be reproduced in whole or in part without the express permission of the presenter. We welcome educational venues and cattlemen to link to this site as a service to their audience.
BIFconference.com is a meeting coverage site provided by Angus Media. Coverage is made possible through the generous contributions of our site sponsors, including American Angus Association, AngusLinkSM, Albrecht Ranch, Branch View Angus Ranch, CattleVisions, Connealy Angus, Deer Valley Farm, Express Ranches, Fink Beef Genetics, Genex, Krebs Ranch, Nichols Farms, Penz Angus Ranch, Pollard Farms, Select Sires, Spur Ranch, Sydenstricker Genetics, and Yon Family Farms. For questions about this site, or to notify us of broken links, click here.
Look for additional coverage in the Angus Journal, the Angus Beef Bulletin, the Angus Journal Daily, and the Angus Beef Bulletin EXTRA.