Systems for Sustainability
A systems approach looks at the big picture of beef industry sustainability and how producers play a role.
We've all heard about sustainability, but it can still be an abstract concept at times. A systems approach can help us understand the concept, find leverage and overcome the challenge. Clay Mathis, director of the King Ranch Institute for Ranch Management, Texas A&M University–Kingsville, explained the systems approach for beef sustainability to virtual attendees of the 2020 Beef Improvement Federation conference June 8-12.
There are important trends associated with sustainability, Mathis explained. There are many that affect the industry both globally and nationally. Increased world population means increased food demand, while also increasing urban sprawl and land value. Consumers have greater interest in food production practices. That leads to more regulations and, thus, more complexities to doing business. There is also the increased speed of technological development.
On the ranch level, trends include increased climate variation and drought, increased commodity and input prices that are surpassing beef prices, increased land values, and decreased willing and skilled ranch labor.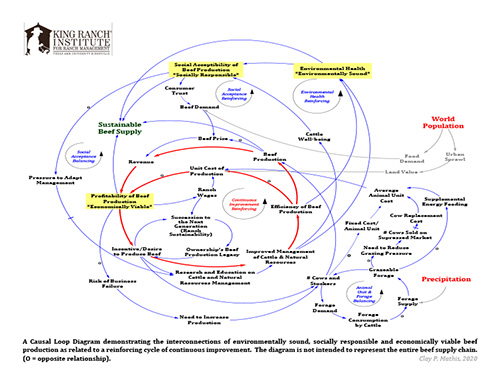 The causal loop diagram illustrates how complex relationships work together to affect the beef industry's sustainability. Click here for .pdf file.
Mathis used a causal loop diagram to illustrate just how complex the relationships can be that influence the beef industry's sustainability — aiming for the goals of environmentally sound, socially responsible and economically viable. Each aspect of the loop affects the others. A virtuous cycle is when these relationships function in our favor, but they can easily turn to vicious cycles if not managed appropriately.
For example, he said, the beef industry has done really well in improved management of cattle and natural resources — because it had to. Raising cattle is a low-margin business, so efficiencies had to be found to stay in business. However, he observed, cattlemen must work hard to keep improving because of external factors like drought that directly affect those natural resources and an operation's bottom line.
"We have got to have a reinforcing virtuous cycle where greater environmental soundness [and] social acceptance of our beef production practices lead to the support of profitability so that we can continue to produce beef," he said.
"Our license to manage land, livestock, water, wildlife, and to sell food products will be valid only if we maintain consumer and social trust. This is where our greatest leverage lies."

So how do cattlemen ensure those virtuous cycles? As an industry, Mathis said, consumer trust is paramount, which is more than simple transparency. At the ranch level, leverage will come in improving cattle management, which also bolsters consumer trust. Consumer trust will drive profitability most, but it is not easy to change.
The greatest opportunities lie in improving markets. Mathis noted 85% of our beef production is purchased domestically, with 15% being exported. Expanding export markets relies on product quality and policy and trade negotiations, which includes an identification system and process/practice verification. Opportunities within the domestic market lie in product quality, product consistency, and social acceptance of handling practices, cattle well-being and environmental impact. All of these funnel into consumer trust.
"Our license to manage land, livestock, water, wildlife and to sell food products will be valid only if we maintain consumer and social trust. This is where our greatest leverage lies," Mathis said.
The whole system works if beef production is economically viable and profitable, yet there are operations that don't respond to financial signals for improvement. Sustained profitability at the beef enterprise level results from implementing efficient production systems designed to withstand the effects of drought and other external challenges.
He concluded: "Continuous improvement cannot and will not occur unless there is an incentive and desire to produce beef in a sustainable method. Otherwise all virtuous cycles become vicious."
To access the archived presentation slides and webinar session, click here. For more information about this year's symposium, including additional award winners and coverage of meeting, visit the Awards and Newsroom pages of BIFconference.com. For more information about BIF, visit BeefImprovement.org.
Editor's Note: This summary was written under contract or by staff of ANGUS MEDIASM. To request reprint permission, please contact Shauna Rose Hermel, Angus Beef Bulletin editor, at 816-383-5270, or Julie Mais, Angus Journal editor, at 816-383-5271. PowerPoints are posted with permission of the presenter and may not be reproduced in whole or in part without the express permission of the presenter. We welcome educational venues and cattlemen to link to this site as a service to their audience.
BIFconference.com is a meeting coverage site provided by Angus Media. Coverage is made possible through the generous contributions of our site sponsors, including American Angus Association, AngusLinkSM, Albrecht Ranch, Branch View Angus Ranch, CattleVisions, Connealy Angus, Deer Valley Farm, Express Ranches, Fink Beef Genetics, Genex, Krebs Ranch, Nichols Farms, Penz Angus Ranch, Pollard Farms, Select Sires, Spur Ranch, Sydenstricker Genetics, and Yon Family Farms. For questions about this site, or to notify us of broken links, click here.
Look for additional coverage in the Angus Journal, the Angus Beef Bulletin, the Angus Journal Daily, and the Angus Beef Bulletin EXTRA.