Maybe Enough is Enough
Range specialists questions profitability of selecting for heavier-milking cows.
If a little is good, then more must be better, right?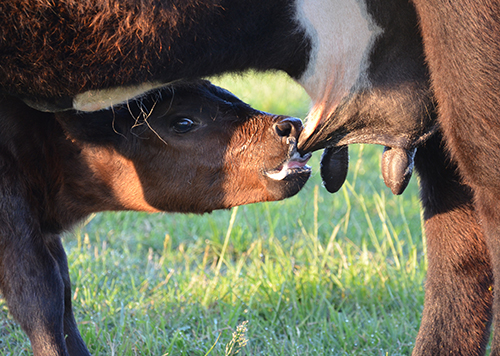 "We do tend to overdo," said Travis Mulliniks. The University of Nebraska range production systems specialist highlighted the unintended consequences of continually selecting for increased output. Photo by Courtney Keaton from 2017 NJAA/Angus JournalPhoto Contest
Most and perhaps all of us succumb to that flawed axiom while attempting to manage work, leisure, diet and other aspects of our lives. It seems to be human nature. The truth, of course, is that sometimes more is better and sometimes it isn't. Even in those situations where more of something is good, there generally is a point at which the benefits of "more" cease to exist. Too often we overlook the point of diminishing return. Usually, there are consequences.
"We do tend to overdo," affirmed Travis Mulliniks in a presentation delivered as part of the Beef Improvement Federation Symposium Online, hosted June 8-12, 2020. The University of Nebraska range production systems specialist said that common tendency has yielded unintended consequences for cow-calf producers too narrowly focused on genetic selection for increased output from their breeding herds.
As a presenter during the symposium's efficiency and adaptability session, Mulliniks said a common producer goal is to enhance output through heavier calf weaning weight. Toward that end, many producers focus on genetic selection for growth traits and increased cow milk production.
"But selection for increased milk production impacts more than calf growth," stated Mulliniks.
"Selection for increased milk production impacts more than calf growth."

And here is where the unintended consequences rear their ugly heads. Mulliniks cited evidence that increased milk production comes with increased nutritional requirements and increased risk of reproductive failure.
"Remember that reproduction is still most important," Mulliniks stressed. "Reproduction is five times more economically important than growth traits or milk production."
So, heavier-milking cows are at greater risk of decreased pregnancy rates, which then affects cow longevity in the breeding herd. The cow that breeds back a little bit late this year is apt to breed back even later next year, and she is likely to wean a light calf. The year after that, she may fall even farther behind and is more likely to be culled at a relatively young age.
Mulliniks said another potential consequence of selection for heavier-milking cows having increased nutritional demands is the need to reduce stocking rates. Ultimately, this reduces the carrying capacity of the ranch. He cautioned the audience to consider how selection for increased milk yield will affect production costs, particularly feed costs, noting that feed costs typically account for more than 50% of the variation in profitability of cow-calf operations.
"Typically, the most profitable producers have lower costs of production," stated Mulliniks, emphasizing that they are profitable even though they don't post boast-worthy weaning weights.
Mulliniks also cited regional data showing that average calf weaning weights have increased little or not at all during the last 20 years. So, are producers chasing increased milk production getting anything in return? Have they reached the point of diminishing returns, where the production environment will not support increased production beyond a certain level? Another possibility is that calves can't consume or utilize the level of milk yield achieved.
In either case, another age-old axiom might apply: enough is enough.
To access the archived presentation slides and webinar session, click here. For more information about this year's symposium, including additional award winners and coverage of meeting, visit the Awards and Newsroom pages of BIFconference.com. For more information about BIF, visit BeefImprovement.org.
Editor's Note: This summary was written under contract or by staff of ANGUS MEDIASM. To request reprint permission, please contact Shauna Rose Hermel, Angus Beef Bulletin editor, at 816-383-5270, or Julie Mais, Angus Journal editor, at 816-383-5271. PowerPoints are posted with permission of the presenter and may not be reproduced in whole or in part without the express permission of the presenter. We welcome educational venues and cattlemen to link to this site as a service to their audience.
BIFconference.com is a meeting coverage site provided by Angus Media. Coverage is made possible through the generous contributions of our site sponsors, including American Angus Association, AngusLinkSM, Albrecht Ranch, Branch View Angus Ranch, CattleVisions, Connealy Angus, Deer Valley Farm, Express Ranches, Fink Beef Genetics, Genex, Krebs Ranch, Nichols Farms, Penz Angus Ranch, Pollard Farms, Select Sires, Spur Ranch, Sydenstricker Genetics, and Yon Family Farms. For questions about this site, or to notify us of broken links, click here.
For questions about this site, or to notify us of broken links, click here. Look for additional coverage in the Angus Journal, the Angus Beef Bulletin, the Angus Journal Daily, and the Angus Beef Bulletin EXTRA.