What Consumers Want
Research shows areas of concern for consumers regarding beef production.
When it comes to beef, consumers are growing more concerned with animal welfare issues in beef cattle production along with the product's taste and nutritional value than ever before, said Shawn Darcy, director of consumer market research for the National Cattlemen's Beef Association (NCBA). Darcy presented "Consumer Market Research — What They Say They Need, and What They Want" June 9 at the virtual Beef Improvement Federation (BIF) Symposium.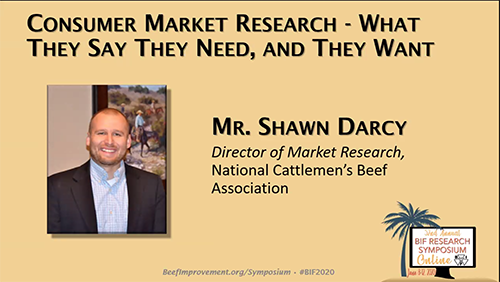 Shawn Darcy, director of consumer market research for NCBA, presented consumer market research about consumers' concerns surrounding beef production.
Based on the Beef Checkoff Program's consumer beef tracker of 1,500 consumers balanced to census each quarter, Darcy said 67% of consumers say they are eating beef on at least a weekly basis. Along with tracking their consumption habits, they also ask consumers what factors they consider when choosing the meat products they consume, he added.
While consumers' main decision factors are still taste, affordability, and ease to prepare, Darcy noted that factors regarding production aspects of raising animals are growing in importance. Examples include raising animals responsibly, using environmentally friendly practices, and trusting the people who raise the animals.
"We do need to have some communications out there addressing these things (production processes), because there are more people, more than ever, that are starting to think of these items along with things like taste and things like health," Darcy explained.
Low level of knowledge
"Consumers are further away from food than they have ever been," said Darcy. "So, when they are thinking about production and they hear a negative story or a positive story, they don't necessarily associate it with one direct area in agriculture; it's kind of spread across multiple areas."
Though 67% of consumers are concerned about cattle production, they admit to being unfamiliar with the process, Darcy said. Of the consumers surveyed, only 27% claimed to understand the operations involved with raising cattle.
About a year and a half ago, Darcy said, he hosted nine focus groups in cities in different regions and did a quantitative study to understand how consumers felt about food.
43% of consumers believed cattle are raised in confinement their entire lives.
They felt a large part of the industry consisted of corporate farms focused on money.
They saw family farms as a "dying breed" and associated them with organic, grass-fed operations.
They saw family farms as higher-quality and providing better conditions for the cattle.
BQA message
Knowing all of this information, Darcy said they wanted to see if the Beef Quality Assurance (BQA) program could be a platform to educate consumers on industry practices.
It revealed a large knowledge gap, which offers opportunity, Darcy explained. "A lot of things they were associating with these smaller family farms within niche markets, those were things we know were true for the entire industry."
Seeing a brief explanation of what BQA is and five to six facts about the program, many consumers said, increased their confidence in beef production. In light of this information, Darcy and the Beef Checkoff Program created a video to inform consumers about BQA. Consumer Beef Tracker data indicated a postive response, with an increasing percentage of consumers feeling positive about beef and how it is raised.
Editor's Note: This summary was written under contract or by staff of ANGUS MEDIASM. To request reprint permission, please contact Shauna Rose Hermel, Angus Beef Bulletin editor, at 816-383-5270, or Julie Mais, Angus Journal editor, at 816-383-5271. PowerPoints are posted with permission of the presenter and may not be reproduced in whole or in part without the express permission of the presenter. We welcome educational venues and cattlemen to link to this site as a service to their audience.
BIFconference.com is a meeting coverage site provided by Angus Media. Coverage is made possible through the generous contributions of our site sponsors, including American Angus Association, AngusLinkSM, Albrecht Ranch, Branch View Angus Ranch, CattleVisions, Connealy Angus, Deer Valley Farm, Express Ranches, Fink Beef Genetics, Genex, Krebs Ranch, Nichols Farms, Penz Angus Ranch, Pollard Farms, Select Sires, Spur Ranch, Sydenstricker Genetics, and Yon Family Farms. For questions about this site, or to notify us of broken links, click here.
Look for additional coverage in the Angus Journal, the Angus Beef Bulletin, the Angus Journal Daily, and the Angus Beef Bulletin EXTRA.