Diving Deeper with Ultrasound Technology
Cattle producers have been utilizing ultrasound technology to examine carcass traits for years, but Mike MacNeil explores the idea that the process is not as consistent as many believe it to be.
The beef industry has been working to put dinner on the table of consumers for decades. To meet the demands of our ever-growing population, technology like ultrasound has been used to help perfect cattle producers' end product.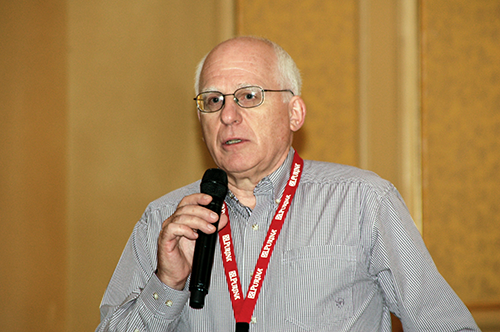 Mike MacNeil of Delta G explored the variation that exists in carcass traits measured by ultrasound, revealing two main sources: the technician collecting the data and the UGC-accredited lab interpreting the images. Photo from 2015 by Troy Smith.
Since the 1950s cattlemen across the country have been utilizing ultrasound technology to measure carcass traits, said Mike MacNeil, Delta G, June 11 in his presentation during the online symposium and annual meeting of the Beef Improvement Federation. He described the process as a straightforward, noninvasive examination of candidates, and said it is these traits that make this process popular across the industry.
"The measurement of traits using this technology involves taking scanned images on three locations of the animal," MacNeil said. An area parallel to the animal's backbone measures intramuscular fat (IMF); another parallel to the ribs measures both backfat and ribeye area; and the last is an area to reveal rump fat.
"We will take a deeper dive into the variation that exists in carcass traits that are measured by ultrasounds," MacNeil said, setting up his presentation. This variation comes from two main areas — the individual technician collecting the data, and the interpretation of the images by an Ultrasound Guidelines Council (UGC)-accredited lab.
While producers and breed associations pay a lot of attention to the way this data is incorporated into their programs, MacNeil said not enough attention is given to the actual collection and interpretation of the variances in data. It was this concept that MacNeil said fueled his research project.
Because all laboratories and technicians are required to achieve the same certifications, MacNeil said it is often assumed the differences between each individual is minute. The homogeneity of technicians and additive genetic and residual variances across laboratories were the focus of his study.
"Make no doubt about it, data collected with ultrasound technology has unquestionable value, but there is some work to do to make ultrasound data the most valuable tool it can be for the genetic improvement of beef cattle."

The driving question in MacNeil's mind — "Does it matter who scans the cattle or which lab interprets the data?" To answer this question, he said ultrasound data from cattle registered with the American Angus Association, American Hereford Association and American Simmental Association were gathered from 2015 to 2017.
MacNeil said variances were seen across all breeds and all labs in his study. The biggest variance he noted was amongst each individual technician.
"Technicians don't spread the cattle out to the same degree," he explained. "That might give us a bit of concern."
In regard to additive genetic variance, MacNeil said data were spread out on roughly the same degree from lab to lab with the same levels of residual variance. He did, however, note that genetic correlations among interpretation labs suggest that results reported from different labs may be slightly different.
With these variations made apparent, MacNeil offered a few suggestions to improve the use of ultrasound technologies. He said he believes the UGC should revisit certification standards for both field technicians and image interpretation laboratories, consider the potential for standardizing the methodology behind image interpretations, and promote a more thorough examination of data by breed associations.
Despite these variances, MacNeil said he still believes ultrasound technology is a tool cattlemen should keep in their toolboxes.
"Make no doubt about it, data collected with ultrasound technology has unquestionable value," he said, "but there is some work to do to make ultrasound data the most valuable tool it can be for the genetic improvement of beef cattle."
To access the archived presentation slides and webinar session, click here. For more information about this year's symposium, including additional award winners and coverage of meeting, visit the Awards and Newsroom pages of BIFconference.com. For more information about BIF, visit BeefImprovement.org.
Editor's Note: This summary was written under contract or by staff of ANGUS MEDIASM. To request reprint permission, please contact Shauna Rose Hermel, Angus Beef Bulletin editor, at 816-383-5270, or Julie Mais, Angus Journal editor, at 816-383-5271. PowerPoints are posted with permission of the presenter and may not be reproduced in whole or in part without the express permission of the presenter. We welcome educational venues and cattlemen to link to this site as a service to their audience.
BIFconference.com is a meeting coverage site provided by Angus Media. Coverage is made possible through the generous contributions of our site sponsors, including American Angus Association, AngusLinkSM, Albrecht Ranch, Branch View Angus Ranch, CattleVisions, Connealy Angus, Deer Valley Farm, Express Ranches, Fink Beef Genetics, Genex, Krebs Ranch, Nichols Farms, Penz Angus Ranch, Pollard Farms, Select Sires, Spur Ranch, Sydenstricker Genetics, and Yon Family Farms. For questions about this site, or to notify us of broken links, click here.
Look for additional coverage in the Angus Journal, the Angus Beef Bulletin, the Angus Journal Daily, and the Angus Beef Bulletin EXTRA.