Alternative Meats: Explained and Debunked
Professor analyzes research showing an increase in alternative meat production by 2040.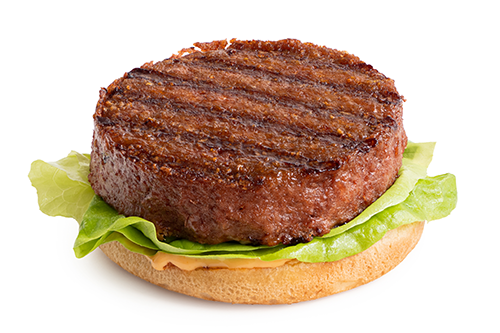 The Beyond Burger® and the ImpossibleTM Burger are plant-based meat alternatives, explained Alison Van Eenennaam. The Beyond Burger opted to be non-GMO; the Impossible burger did not, allowing the Impossible Burger to utilize technology to be as nutritionally similar to beef as possible. Stock photo of a plant-based burger.
In the post-COVID-19 space, the topic of alternative meat products will continue to spark interest and debate, said Alison Van Eenennaam, animal biotechnology and genomics extension specialist at the University of California–Davis. Van Eenennaam gave her presentation titled "Are Alternative Meats an End-product Improvement?" at the virtual Beef Improvement Federation (BIF) symposium June 9.
Through her presentation, Van Eenennaam explored the kinds of alternative meats in existence and dissected the research behind them. She noted there are two specific types of alternative meat products: vegan meat substitutes and cultured, or cell-based, meats.
Cultured meats
Van Eenennaam described the process of developing cultured meat in a lab in detail. Using a bioreactor, living cells are provided with nutrients and a suitable growing medium containing food-grade components to promote muscle cell growth, she said. In order to meet or exceed the nutritional value of conventional meat products, however, many nutrients must be added to the product through fermentational culture, Van Eenennaam added.
"This bioreactor basically replaces, if you will, the body of the cow, so it's responsible for providing nutrients, removing waste, keeping it safe from diseases and microbial contamination, and at the end you change the culture conditions to push the cells to differentiate into muscle and fat and connective tissue. Put that all together, and you end up with a cultured meat product," Van Eenennaam explained.
Vegan meat substitutes
Typically, vegan meat substitutes are created by breaking down plant-based concentrates and proteins, often legumes, and adding them to binders, fats and flavors that give them the meat-like taste, Van Eenennaam said. Then, nutrients are harvested or synthesized in recombinant yeast and microbes, purified and added to the final product in order to meet the nutrient requirements found in conventional meat products, she added.
Two specific examples of plant-based protein Van Eenennaam noted in her presentation were the Beyond Burger® and the Impossible™ Burger. While both are plant-based meat alternatives, the Beyond Burger opted to be non-GMO, and the Impossible Burger did not, she said. This means the Impossible burger can utilize technology to be as nutritionally similar to beef as possible, Van Eenennaam added.
Debunking the research
According to the Good Food Institute, meat consumption will consist of 35% cultured meat and 25% vegan meat, leaving just 40% conventionally produced by 2040, Van Eenennaam said. However, she noted that this is cause for speculation, due to the fact there are currently no cultured meat products accessible to the public, and vegan meat products made up just 0.2% of meat products consumed in 2019.
Van Eenennaam noted that one researcher, who was one of the orginal authors of a cultured meat life-cycle analysis, even admitted the complete elimination of livestock production would not be good for biodiversity or sustainability. Extensive cattle grazing was noted as especially beneficial, because cattle recycle nutrients and utilize plants humans are not able to consume as food. While ruminants do require larger amounts of land use than monogastrics, Van Eenennaam explained the reasoning behind this.
"If we look at the land use, not unexpectedly, we see the ruminants up here having higher land use because they are using rangeland that has no other human food purpose, and they need large amounts of forage and large amounts of land to collect that forage," Van Eenennaam said.
In the area of greenhouse gases, 10% of U.S. emissions stems from all of agriculture, with 4% making up the animal agricultural industry, Van Eenennaam said. However, the agricultural industry results in carbon dioxide sequestration of 12% of the U.S. greenhouse gas emissions, a fact often overlooked, Van Eenennaam noted.
To access the archived presentation slides and webinar session, click here. For more information about this year's symposium, including additional award winners and coverage of meeting, visit the Awards and Newsroom pages of BIFconference.com. For more information about BIF, visit BeefImprovement.org.
Editor's Note: This summary was written under contract or by staff of ANGUS MEDIASM. To request reprint permission, please contact Shauna Rose Hermel, Angus Beef Bulletin editor, at 816-383-5270, or Julie Mais, Angus Journal editor, at 816-383-5271. PowerPoints are posted with permission of the presenter and may not be reproduced in whole or in part without the express permission of the presenter. We welcome educational venues and cattlemen to link to this site as a service to their audience.
BIFconference.com is a meeting coverage site provided by Angus Media. Coverage is made possible through the generous contributions of our site sponsors, including American Angus Association, AngusLinkSM, Albrecht Ranch, Branch View Angus Ranch, CattleVisions, Connealy Angus, Deer Valley Farm, Express Ranches, Fink Beef Genetics, Genex, Krebs Ranch, Nichols Farms, Penz Angus Ranch, Pollard Farms, Select Sires, Spur Ranch, Sydenstricker Genetics, and Yon Family Farms. For questions about this site, or to notify us of broken links, click here.
Look for additional coverage in the Angus Journal, the Angus Beef Bulletin, the Angus Journal Daily, and the Angus Beef Bulletin EXTRA.