Rouse, Wilson Presented BIF Pioneer Award
BIF honors with Pioneer Award two Iowa State proponents of ultrasound measurements for carcass evaluation.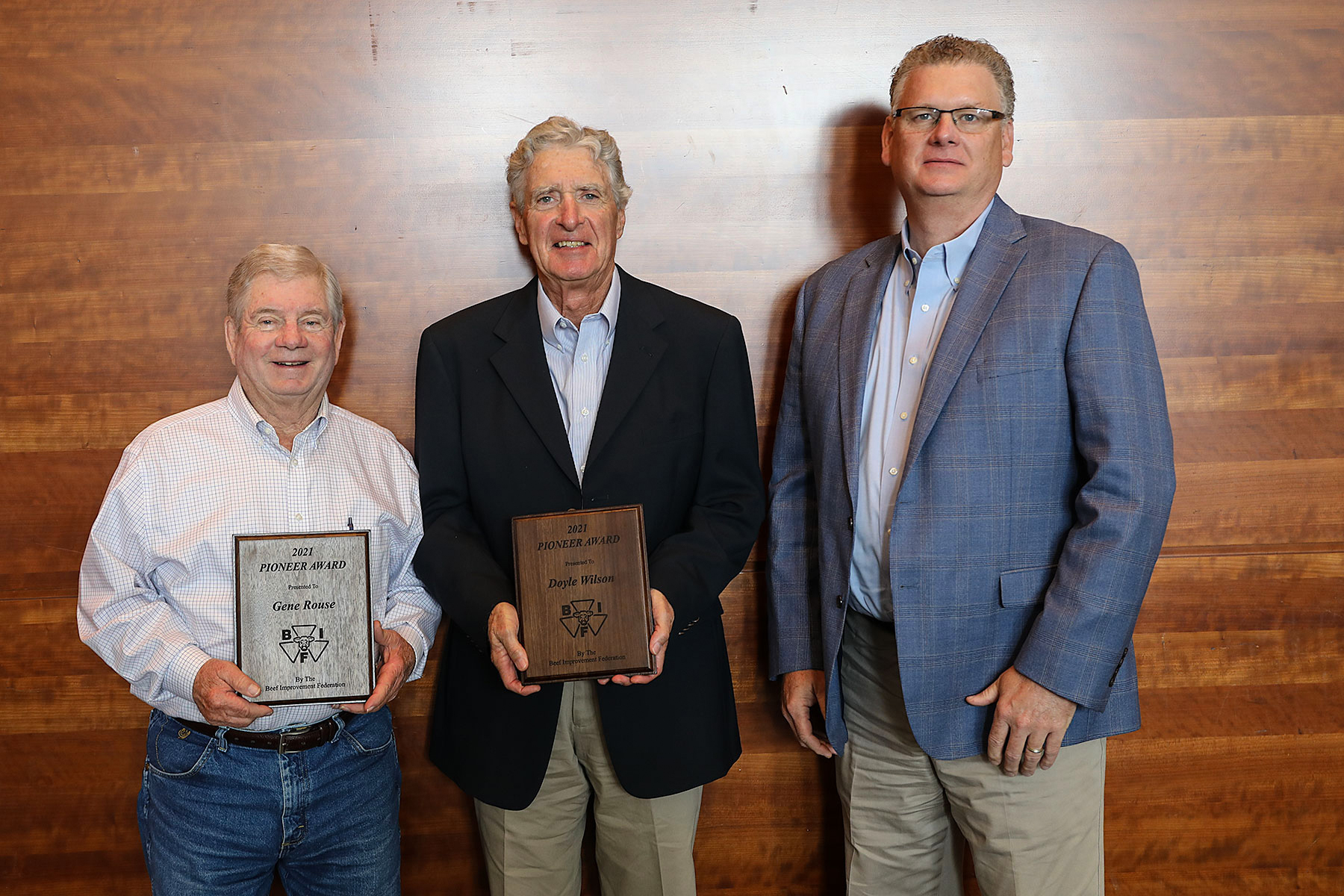 Gene Rouse (left), Huxley, Iowa, and Doyle Wilson (center), Boone, Iowa, receive the BIF Pioneer Award. Presenting the award is Scott Greiner, extension beef specialist and professor at Virginia Tech.
MANHATTAN, Kan. (June 24, 2021) — The Beef Improvement Federation (BIF) presented Gene Rouse, Huxley, Iowa, and Doyle Wilson, Boone, Iowa, the BIF Pioneer Award June 24 during the group's annual research symposium in Des Moines, Iowa. Scott Greiner, extension beef specialist and professor at Virginia Tech, presented the award.
The Pioneer Award recognizes individuals who have made lasting contributions to the improvement of beef cattle, honoring those who have had a major role in acceptance of performance reporting and documentation as the primary means to make genetic change in beef cattle.
The pair's collaborative research and development of real-time ultrasound technology to evaluate body composition in the live animal, and the application of this technology in the form of performance measurements and expected progeny differences (EPDs), have had a profound effect on the beef industry. Their contributions were amplified through the leadership they provided to many graduate students, breed associations, and industry partners, including BIF.
"Countless ultrasound technician trainings, symposia and workshops, as well as technician certifications, were hosted by Iowa State during these years, and the concept of centralized ultrasound processing was made a reality under the leadership of Doctors Wilson and Rouse in collaboration with the American Angus Association," Greiner says. "The tools, processes and procedures we use today for genetic improvement of beef cattle using ultrasound — both here in the U.S. and globally — trace to many of the pioneering efforts of Gene Rouse and Doyle Wilson."
Rouse and Wilson have been recognized with the BIF Continuing Service Award and provided many contributions to the organization's Live Animal and Carcass Evaluation Committee.
More than 400 beef producers, academia and industry representatives attended the organization's 53rd Annual Research Symposium & Convention in Des Moines, Iowa, and another 250 registered to participate online. BIF's mission is to help improve the industry by promoting greater acceptance of beef cattle performance evaluation.
For more information about this year's symposium, including additional award winners, Angus Media coverage of the symposium and an archive to coverage of past conferences, visit BIFconference.com.
---
Editor's Note: This news release was provided by the Beef Improvement Federation and can thus be reproduced without further permissions. For additional information, contact Angie Stump Denton, BIF communication coordinator, at angiedenton@ksu.edu or 785-562-6197.
BIFconference.com is a meeting coverage site provided by Angus Media. For questions about this site, or to notify us of broken links, click here. Look for additional coverage in the Angus Journal, the Angus Beef Bulletin, the AJ Daily, and the Angus Beef Bulletin EXTRA.