Looking Under the Hide
Genomic tests don't eliminate need for collecting ultrasound data.
DES MOINES, IOWA (June 24, 2021) — As president of Angus Genetics Inc. (AGI), Kelli Retallick-Riley said she is grateful that a majority of seedstock breeders are committed to collecting and submitting all of the data. Information from pedigree, individual performance, progeny performance and genomics are used in genetic evaluations that result in expected progeny difference (EPD) values for animals registered by the American Angus Association.
However, Retallick-Riley expressed concern that some breeders think genomic testing makes ultrasound measurement of carcass data unnecessary. In a presentation made during the 2021 Beef Improvement Federation Research Symposium & Convention, hosted June 22-25 in Des Moines, Iowa, she reminded her audience that ultrasound provides measurements of carcass traits on large numbers of animals, without waiting for slaughter, and allows collection of phenotypic data on live breeding stock. So ultrasound is important to calculating EPDs for young prospective sires, for example.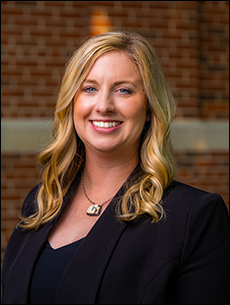 Kelli Retallick-Riley
"We can't have accurate predictions without the actual phenotypes in the genetic evaluation," emphasized Retallick-Riley. "We need to get ultrasound scans (phenotypes) and add in that layer from genotypes. The reality of the situation is they have to work together."
Retallick-Riley noted how the beef industry has shifted from producing a commodity to being quality-driven. Beef grading USDA Select no longer dominates the meatcase. Illustrating how Choice and better product now dominates, she explained that the Certified Angus Beef® (CAB®) brand alone represented 22% of 2020 production, while Select beef represented 14.4% of the total.
According to Retallick-Riley, marbling EPDs for Angus have trended dramatically higher since the early 2000s. She attributed that to the availability of more carcass records. In 2007, some 150,000 ultrasound carcass records were included in the Angus genetic evaluation. Only lately has collection of these records begun to taper off slightly.
As some breeders question the importance of ultrasound data, AGI has considered what EPD accuracy and genetic trend would look like without it. The AGI president described evaluations performed to estimate the effects if 11 years of ultrasound carcass data were deleted from genetic evaluation. Results suggested the average accuracies for carcass EPDs for young genotyped sires would have decreased by 17% for carcass weight, 16% for ribeye, 14% for marbling and 21% for fat. For older sires having more progeny carcass data, accuracies of carcass EPDs also would decrease by more than 10% in most cases.
"The result would be less accurate EPDs and slower genetic progress," Retallick-Riley stated again. "Carcass ultrasound data is important."
Find more coverage of the 2021 BIF Symposium in the Newsroom and on the Awards page at www.bifconference.com.
Editor's Note: This summary was written under contract or by staff of ANGUS MEDIASM. To request reprint permission, please contact Shauna Hermel, Angus Beef Bulletin editor, at 816-383-5270, or Julie Mais, Angus Journal editor, at 816-383-5271. We welcome educational venues and cattlemen to link to this site as a service to their audience.
BIFconference.com is a meeting coverage site provided by Angus Media. For questions about this site, or to notify us of broken links, click here. Look for additional coverage in the Angus Journal, the Angus Beef Bulletin, the AJ Daily, and the Angus Beef Bulletin EXTRA.