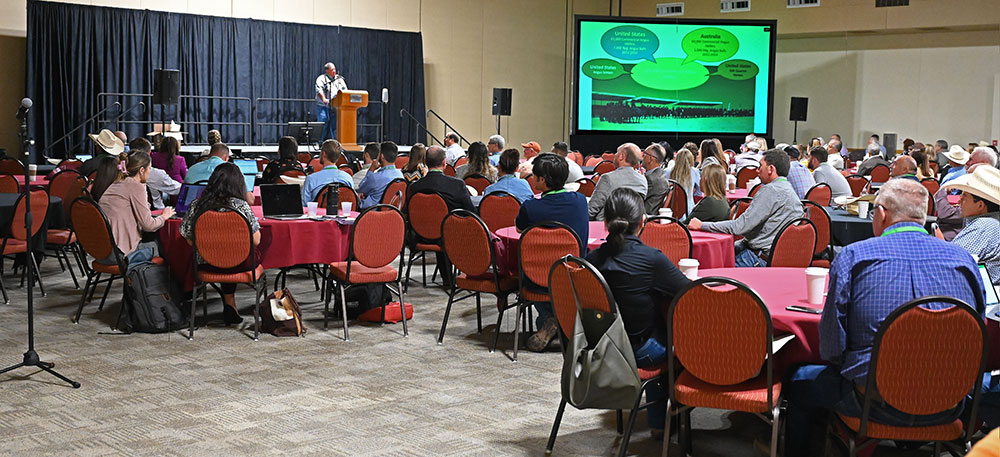 U.S. Angus genetics fuel the high-quality end goal of Miratorg's beef business, explained Kansas-based Phil George. [Photo by Miranda Reiman, Angus Media]
Global Sourcing of Beef Genetics to Meet a Vertically Coordinated Breeding Objective
Phil George shares insights on Russia-based Miratorg's vertically integrated beef business.

If you yearn to see a very large, vertically integrated beef operation founded on Angus genetics, consider visiting Miratorg in Russia. By fall 2022, Moscow-based Miratorg Agribusiness Holding expects to have 400,000 Angus females in production. That's according to native Kansan Phil George who directs beef and lamb operations for the huge Russian firm that until 11 years ago didn't own a cow. They started with imported seedstock, much of them sourced in the United States.

George talked about Miratorg's development during the 2022 Beef Improvement Federation Symposium hosted June 1-4 in Las Cruces, New Mexico. He explained how Miratorg evolved from an importer of food products to Russia's largest domestic producer of meat. The company produces pork, poultry, lamb and beef, owning farms and feedlots, processing plants, distribution systems and retail marketing outlets.

According to George, Miratorg controls some 3 million acres, including grassland and crop acreage. The company currently has 100 cow-calf farms with each supporting a herd of 3,500-4,500 brood cows. Selection on half of the farms emphasizes maternal traits to produce replacement females, while the other farms select for terminal traits.

George said all weaned calves are grown in Miratorg's 50 backgrounding operations, then fed to finish in three feedyards with combined one-time capacity of 225,000 head. The company-owned beef packing plant can process 10,000 head per week.

"The company has excellent feed resources," said George, explaining that due to extreme winter temperatures and heavy snowfall, cows typically are fed harvested feedstuffs six months of the year. He called the feed quality "too good" for cows. Consequently, cow diets often are diluted with wheat and barley straw.

"Feed costs are low — about one-third cheaper than in the U.S. They feed cattle to heavy weights (about 1,500 pounds) and yield grade averages 4.8," added George. "The goals are high quality and high carcass value."

Miratorg has established a seedstock operation and has its own in vitro fertilization laboratory to support implanting 30,000 embryos per year. However, the company also has relied heavily on imported genetics. According to George, the beef operation was founded by importing 125,000 commercial Angus heifers.

"We sourced 65,000 heifers and 7,000 registered Angus bulls from the U.S. Another 60,000 heifers and 1,500 bulls came from Australia," said George, explaining how shipments averaged 4,000 head each, with the largest single shipment numbering 11,000 heifers. "All of the Angus semen used for AI (artificial insemination) has come from the U.S."

George said every Miratorg calf receives an electronic identification tag and is genotyped for parentage verification. Individual data is collected at every stage of production.

"It's an excellent platform for genetic evaluation and selection," George stated, noting that Miratorg does that, and has developed its own maternal and terminal selection indices.

Emphasizing the advantages of vertical integration George added, "In this system, any genetic gain and any money to be made is captured."

To watch George's full presentation, visit https://www.youtube.com/watch?v=dtB1Zn_X6lA.

More than 300 beef producers, academia and industry representatives attended BIF's 54th Annual Research Symposium and Convention in Las Cruces, New Mexico. For more information about this year's symposium, including award winners, coverage of the symposium and an archive to coverage of past conferences, go to BIFconference.com.

Editor's note: This summary was written under contract or by staff of Angus MediaSM. To request reprint permission, please contact Shauna Hermel, Angus Beef Bulletin® editor at 816-383-5270, or Julie Mais, Angus Journal® editor, at 816-383-5271. We welcome educational venues and cattlemen to link to this site as a service to their audiences.

BIFconference.com is a meeting coverage site provided by Angus Media. For questions about this site, or to notify us of broken links, click here. Look for additional coverage in the Angus Journal, the Angus Beef Bulletin, the AJ Daily, and the Angus Beef Bulletin EXTRA.