A Modern Approach to Genotyping
Gencove's Jesse Hoff shares value of low-pass sequencing technology.
Low-pass genome sequencing is proving its worth, according to Jesse Hoff, agrigenomics specialist for Gencove, a company that develops software for genome sequencing applications in agriculture as well as humans. Hoff talked about new low-pass sequencing technology at the 2022 Beef Improvement Federation Symposium hosted June 1-4, in Las Cruces, New Mexico.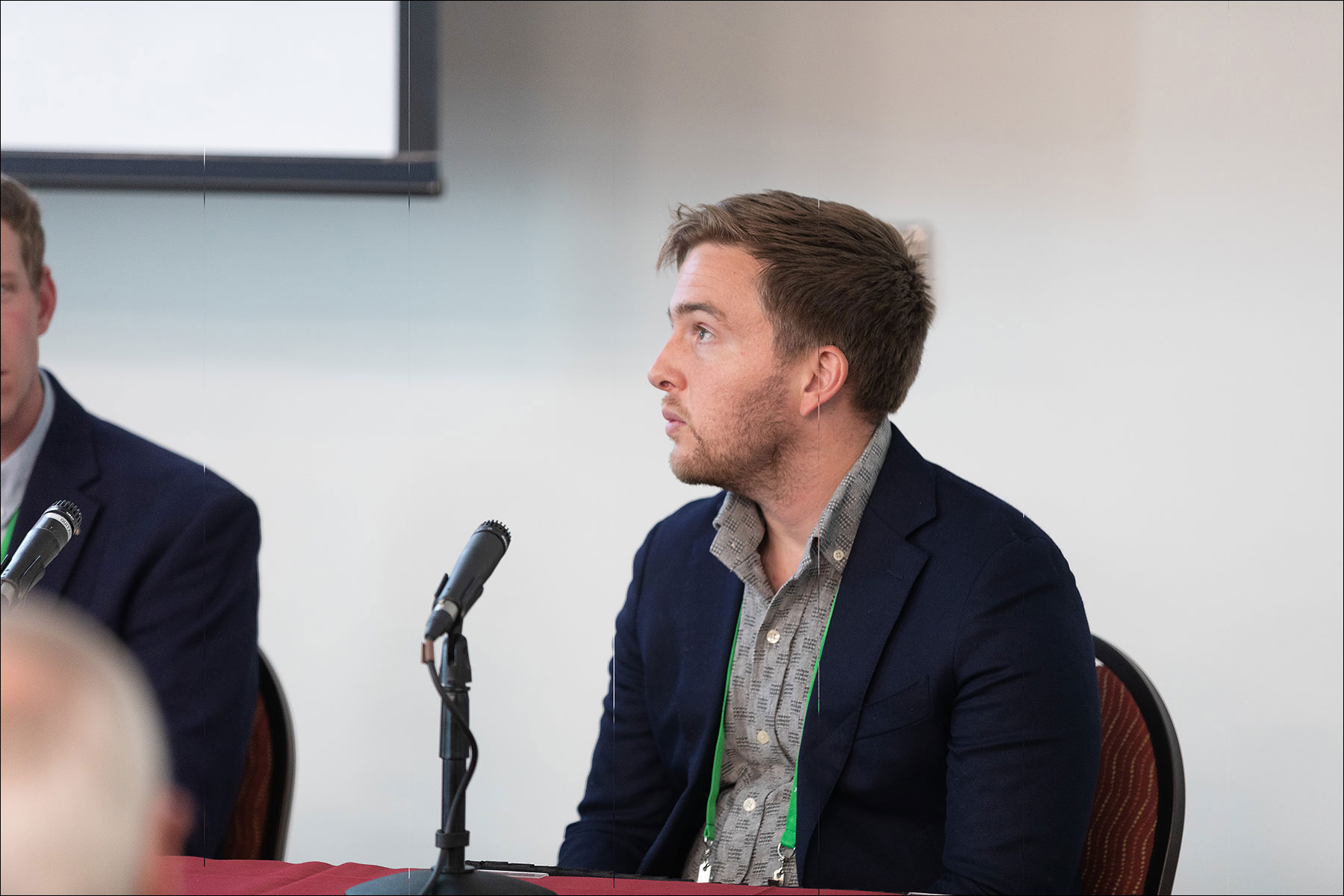 Low-pass sequencing provides more value for the amount of capital invested, said Jesse Hoff. "It's user-friendly, too."[Photo by Briley Richard for Angus Media]
During a breakout session focused on advancements in genomics and genetic prediction, Hoff explained how the new technology allows for high-throughput and whole-genome sequencing. Previously, high-throughput was achieved only with genetic testing technologies utilizing segments of the genome. Hoff cited advantages of low-pass sequencing, including genetic marker selection flexibility, accelerated turnaround and higher return on investment.
"Overall it provides more value for the amount of capital invested," stated Hoff. "It's user-friendly, too."
Offering an example of practical application, Hoff explained how a Gencove and Simplot collaboration used low-pass sequencing in the effort to develop an expected progeny difference (EPD) value for selection against bovine congestive heart failure (BCHF). Close to 5,000 samples were genotyped in the hunt for a genetic factor. Results suggest that increased risk of BCHF is not associated with a single gene.
"I think we can confidently say that it is polygenic," said Hoff, noting evidence suggesting that BCHF susceptibility is moderately heritable — 30%-40%. Hoff said BCHF appears to be a trait occurring across populations, with correlation to performance traits including growth and dry-matter intake.
"I think this work shows low-pass sequencing technology's value for making genomic prediction models," added Hoff.
To watch Hoff's full presentation, visit https://www.youtube.com/watch?v=_NPw3VIsDvg. To download the powerpoint, click here.
More than 300 beef producers, academia and industry representatives attended BIF's 54th Annual Research Symposium and Convention in Las Cruces, New Mexico. For more information about this year's symposium, including award winners, coverage of the symposium and an archive to coverage of past conferences, go to BIFconference.com.
Editor's note: This summary was written under contract or by staff of Angus MediaSM. To request reprint permission, please contact Shauna Hermel, Angus Beef Bulletin® editor at 816-383-5270, or Julie Mais, Angus Journal® editor, at 816-383-5271. We welcome educational venues and cattlemen to link to this site as a service to their audiences.
BIFconference.com is a meeting coverage site provided by Angus Media. For questions about this site, or to notify us of broken links, click here. Look for additional coverage in the Angus Journal, the Angus Beef Bulletin, the AJ Daily, and the Angus Beef Bulletin EXTRA.