Using Partial Weight Measures for Liveweight Predictions
Efficiency and Adaptability Committee considers scenarios for using partial-weight measures to predict full-body weight, average daily gain.
Advancing technologies to measure genetic predictions for beef cattle performance programs is a primary pillar of the Beef Improvement Federation's (BIF) role in aiding producers in selecting and improving beef cattle. New research and technologies are constantly being reviewed and adopted into the BIF Guidelines of standard procedures for measuring, recording and using beef cattle performance data.
John Crowley, consultant with AbacusBio Ltd., Edmonton, Alberta, and a team of beef researchers led by Mike MacNeil conducted a study to review the evaluation of partial-body weight for predicting full-body weight and average daily gain (ADG) in growing beef cattle. Crowley reported on the study results during his presentation in the Advancements in Efficiency and Adaptability technical session at the 54th Annual BIF Research Symposium and Convention hosted June 1-3 in Las Cruces, N.M.
Two objectives studied
The study's first objective was to further evaluate the efficacy of using partial-body weights and estimated full-body weights to predict chute weights.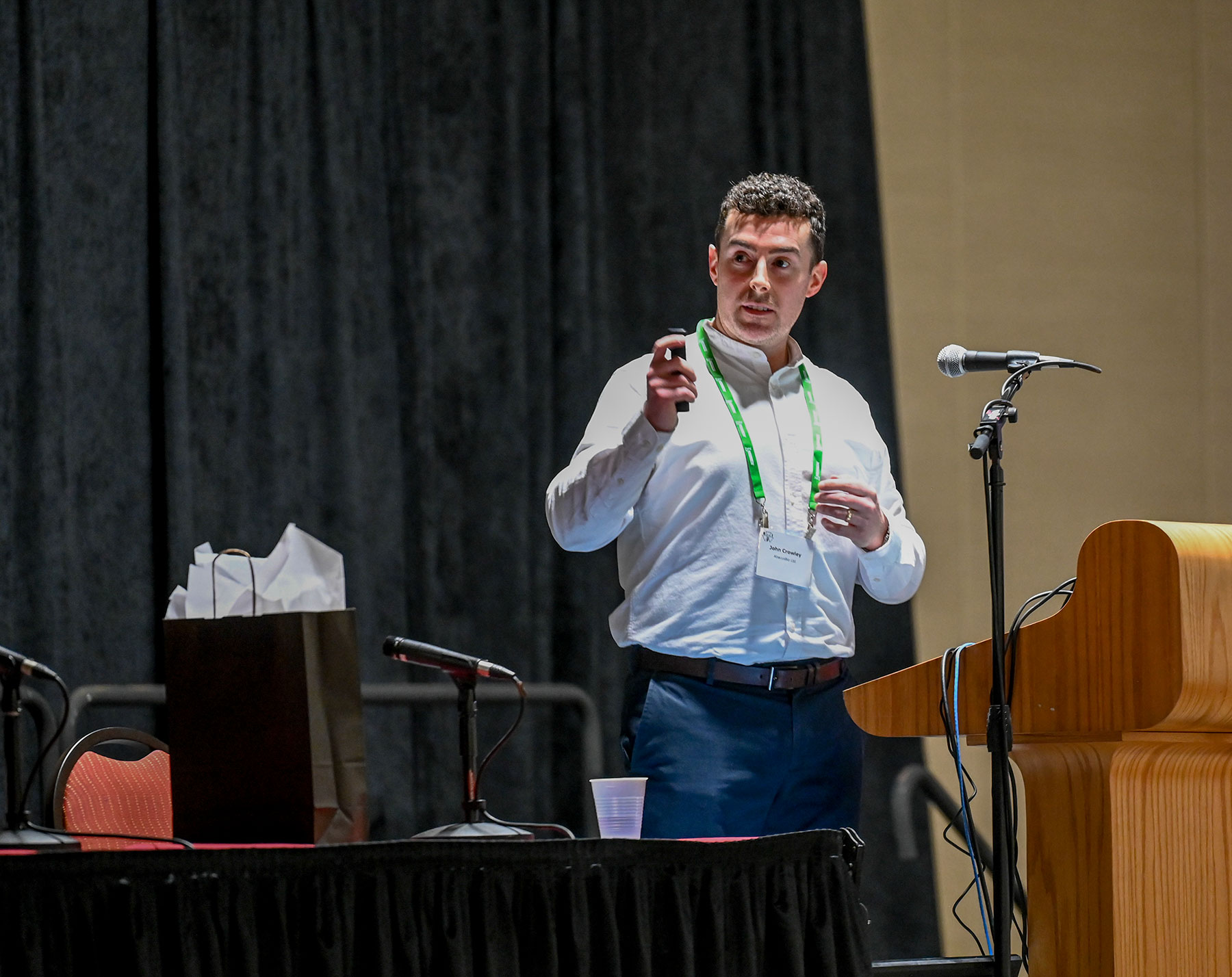 While a 70-day test to estimate full-body weight and average daily gain is preferred, a 50-day test can be appropriate when capacity or cost per test is limiting, said AbacusBio's John Crowley. [Photo by Miranda Reiman, Angus Media]
"Partial-body weights explained 57% to 99.7% of the variation in chute weights," Crowley reported. "However, estimated full-body weights explained 87% to 99.6% of the variation in chute weights at the end of the test."
Utilizing the Vytelle Sense™ system, data were collected from 35 contemporary groups between 2016 and 2020 on nearly 9,000 animals representing 12 different breeds located in the United States, South Africa, Australia and the United Kingdom. The Vytelle Sense system features in-pen weighing positions, collecting front-end partial-body weights and converting them to full-body weights.
The study's second objective focused on a shortened test period from the current industry-approved 70 days to calculate ADG.
"Trials conducted on a 35-day in-pen weighing position to calculate ADG were proven not to be accurate enough to support a change for this shorter test period," said Crowley. As a result, a 50-day in-pen weighing position ADG trial measurement was evaluated.
"To be as precise as possible, the full-length test (70 days) is preferable," stated Crowley. Extending the trial to 70 days improved the accuracy of ADG by 2%. However, he added, when capacity or cost per test is a limiting factor, a 50-day test is appropriate.
Changes in the calculation of ADG for residual feed intake (RFI) evaluation from the traditional 70-day trials to the 50-day trials and using partial-body weights and estimated full-body weights to predict chute weights results are yet to be approved by BIF. If approved, BIF will add them to the BIF Guidelines, and these changes will affect the calculation of genetic evaluations going forward.
To watch Crowley's full presentation, visit www.youtube.com/watch?v=Cc7gOn9hb9E. To download his slides, click here.
More than 300 beef producers, academia and industry representatives attended BIF's 54th Annual Research Symposium and Convention in Las Cruces, New Mexico. For more information about this year's symposium, including award winners, coverage of the symposium and an archive to coverage of past conferences, go to BIFconference.com.
Editor's note: This summary was written under contract or by staff of Angus MediaSM. To request reprint permission, please contact Shauna Hermel, Angus Beef Bulletin® editor at 816-383-5270, or Julie Mais, Angus Journal® editor, at 816-383-5271. We welcome educational venues and cattlemen to link to this site as a service to their audiences.
BIFconference.com is a meeting coverage site provided by Angus Media. For questions about this site, or to notify us of broken links, click here. Look for additional coverage in the Angus Journal, the Angus Beef Bulletin, the AJ Daily, and the Angus Beef Bulletin EXTRA.