Gordon Presented BIF Ambassador Award
Story & photo provided by Beef Improvement Federation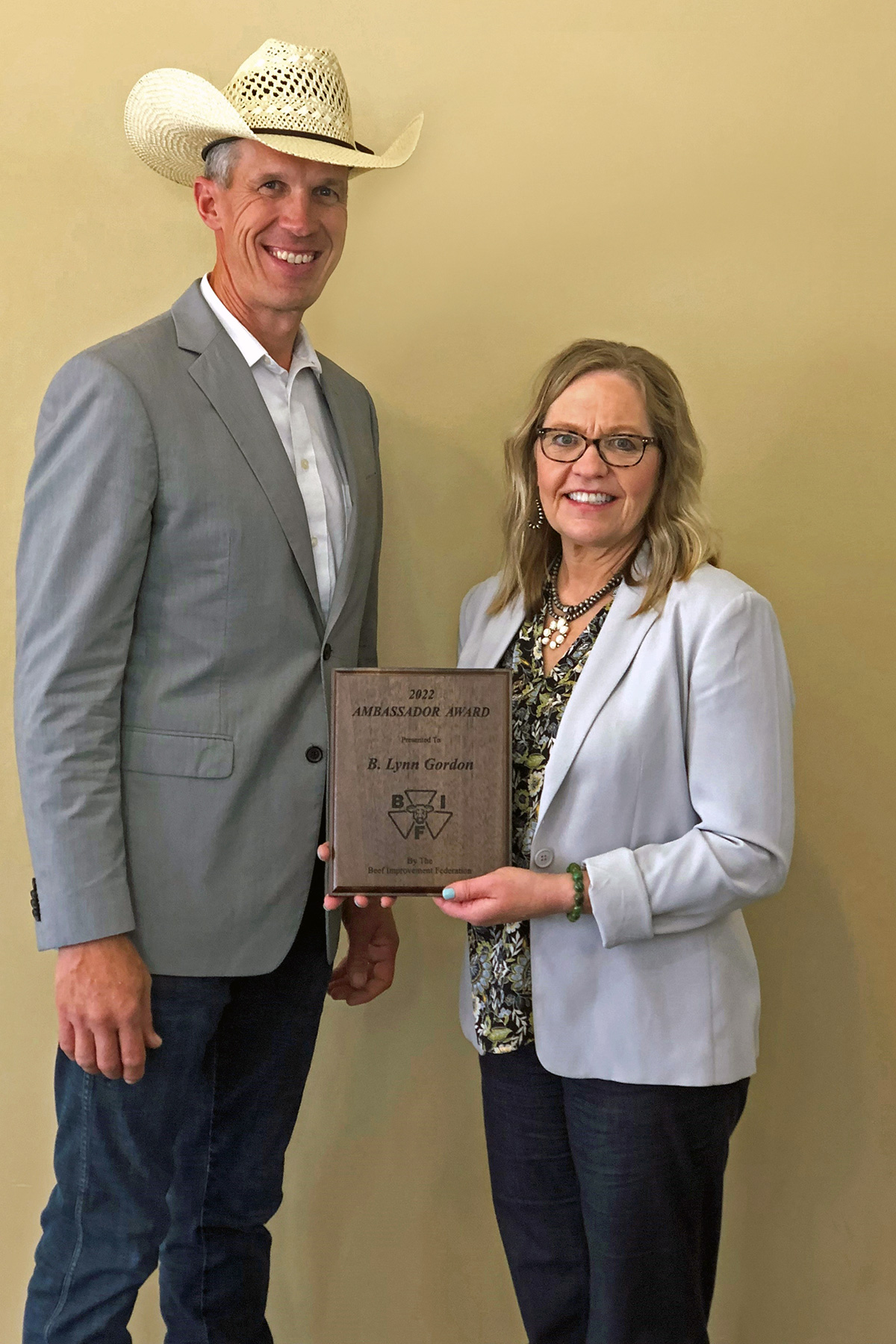 B. Lynn Gordon, Grand Island, Nebraska, receives the Beef Improvement Federation Ambassador Award from Matt Perrier, 2022 BIF president. Gordon was honored June 2 at the organization's 54th Annual Symposium and Convention in Las Cruces, New Mexico.
MANHATTAN, Kan. (June 2, 2022) — The Beef Improvement Federation (BIF) presented B. Lynn Gordon the BIF Ambassador Award June 2 during the group's annual symposium in Las Cruces, New Mexico. This award is presented annually by BIF to a team or member of the media for efforts in spreading the BIF message and its principles to a larger audience.
Gordon has an enthusiastic passion for the beef industry and has dedicated her career to fostering beef improvement through her roles working with breed and state associations, the Extension service, as a freelance writer, and most recently as an agricultural leadership and marketing consultant. She began her career working for the University of Minnesota Extension Service and then pursued roles as an education and communications director for state and national beef industry organizations, including serving as editor of publications at the Red Angus Association of America and the American Hereford Association.
Throughout her career, Gordon has contributed to the beef industry as a former Livestock Publications Council board member, a livestock photographer, editor and freelance writer, often featuring articles about generations of seedstock families and the changing role of genetic evaluation, as well as many leadership topics. In 2019, Gordon attended the World Angus Conference in Uruguay as a media representative. Some publications Gordon's byline has appeared in include: BEEF, Progressive Cattle, Hereford America, Joplin Cattlemen's News, The Stockman and several Canadian publications.
"Gordon has a long history with the Beef Improvement Federation. She attended her first convention in Sheridan, Wyoming, in the mid-'90s, followed with attendance at 10 more conventions throughout her career," says Burt Rutherford. "She was instrumental in overseeing nominations of several outstanding seedstock producers from Nebraska. Plus, she assisted the promotional team in 2001 when the event was in Wichita, Kansas, and served on the planning team for BIF in 2002 when it was hosted in Omaha, Nebraska."
More than 300 beef producers, academia and industry representatives attended the organization's 54th Annual Research Symposium and Convention in Las Cruces, New Mexico. BIF's mission is to help improve the industry by promoting greater acceptance of beef cattle performance evaluation.
For more information about this year's symposium, including additional award winners, Angus Media coverage of the symposium and an archive to coverage of past conferences, go to BIFconference.com.
Editor's note: This news release was provided by the Beef Improvement Federation and can thus be reproduced without further permissions. For additional information, contact Angie Stump Denton, BIF communication coordinator, at angiedenton@ksu.edu or 785-562-6197.
---
BIFconference.com is a meeting coverage site provided by Angus Media. For questions about this site, or to notify us of broken links, click here. Look for additional coverage in the Angus Journal, the Angus Beef Bulletin, the AJ Daily, and the Angus Beef Bulletin EXTRA.