Rezac Land & Livestock Named BIF Commercial Producer of the Year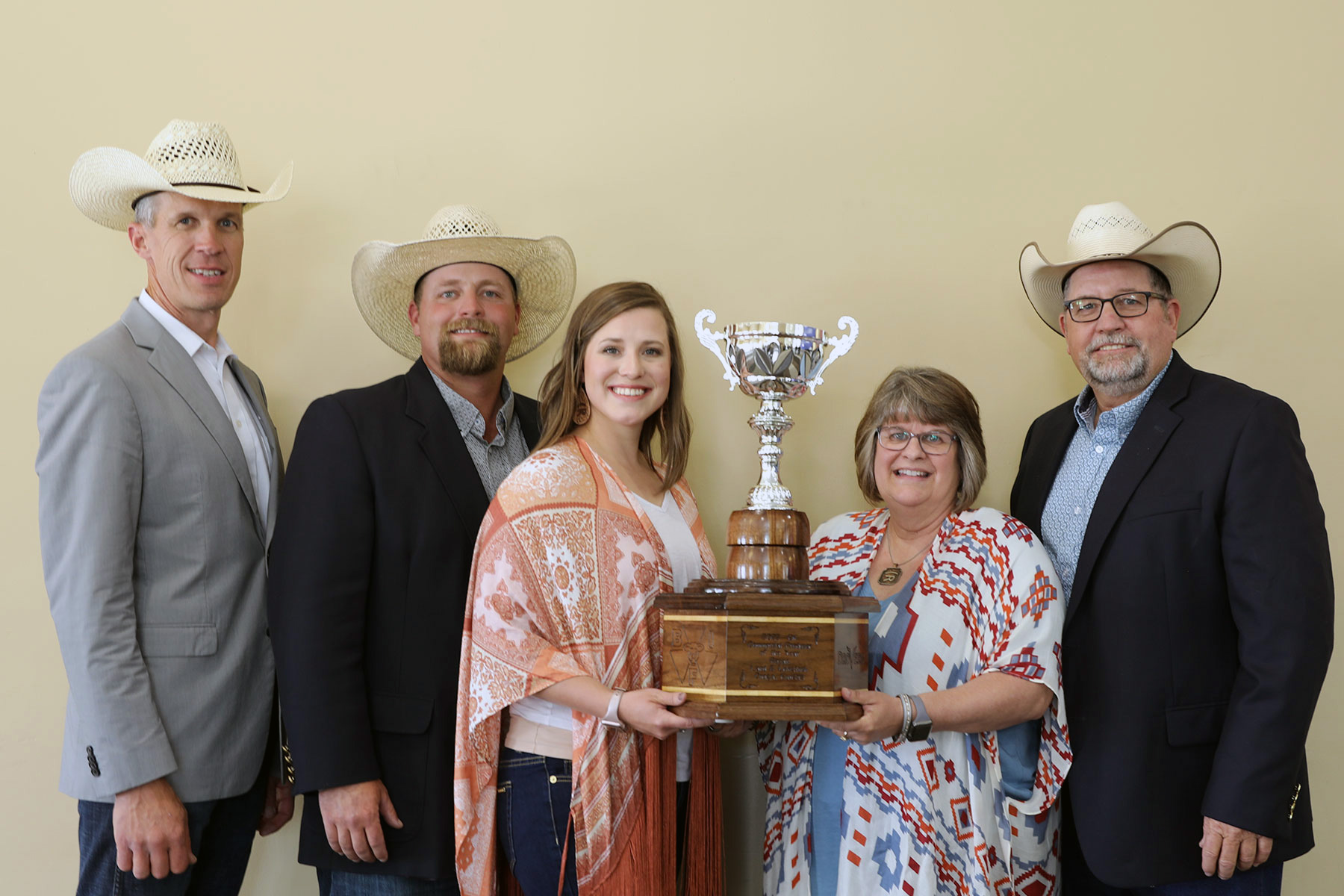 Rezac Land & Livestock, Onaga, Kansas, was recognized June 2 as BIF Commercial Producer of the Year. Pictured from left, 2022 BIF President Matt Perrier, Eureka, Kansas, presents the award to Russell, Tiffany, Stacy and Jay Rezac at BIF's 54th Annual Symposium and Convention in Las Cruces, New Mexico.
MANHATTAN, Kan. (June 2, 2022) — The Beef Improvement Federation (BIF) presented Rezac Land & Livestock the BIF Commercial Producer of the Year Award June 2 during the group's annual research symposium in Las Cruces, New Mexico. This national award is presented annually to a producer to recognize their dedication to improving the beef industry at the commercial level.
Rezac Land & Livestock, founded by Don and Barbara Rezac, is a diversified ranch located on the northern edge of the Kansas Flint Hills. In 1986, son Jay and his wife, Stacy; and son Lance and his wife, Debra, formed a partnership. Since that time, the operation has grown substantially and today includes six partners — brothers Jay and Lance; Jay's sons, Russell and Matthew; and Lance's children, Nicole and Garrett. Jay; Russell and his wife, Tiffany; and Matthew and his wife, Alexa, manage the cattle and rangeland near Onaga, Kansas. Jay's daughter, Jayme, and her husband, Corey Lundberg, live on the Olsburg, Kansas, division, where Corey manages the cow herd and a starting lot.
The cattle operation consists of 900 Simmental- and Angus-bred spring-calving cows. Once the calves are weaned, they are either sold or shipped to a commercial feedyard or finished in the family-owned feedyard. The cows graze year-round on native grass, stalks and cover crops. By following a strict grazing management plan, the Rezacs can maintain their cows with limited supplementation, while also keeping their natural resources in excellent condition.
In addition to their cow herd, they purchase about 5,500 calves each year for their stocker and backgrounding operations. Calves are bought from Missouri to North and South Dakota. The majority are sold as feeder cattle, with the remaining retained for finishing in the family's feedyard.
A clear set of goals and dedication to the management practices needed to meet those goals have made Rezac Land & Livestock a truly progressive commercial cow-calf business.
Rezac Land & Livestock was nominated by the Kansas Livestock Association.
The award is presented by BIF and sponsored by Drovers.
More than 300 beef producers, academia and industry representatives attended the organization's 54th Annual Research Symposium and Convention in Las Cruces, New Mexico. BIF's mission is to help improve the industry by promoting greater acceptance of beef cattle performance evaluation.
For more information about this year's symposium, including additional award winners, Angus Media coverage of the symposium and an archive to coverage of past conferences, go to BIFconference.com.
Editor's note: This news release was provided by the Beef Improvement Federation and can thus be reproduced without further permissions. For additional information, contact Angie Stump Denton, BIF communication coordinator, at angiedenton@ksu.edu or 785-562-6197.
---
BIFconference.com is a meeting coverage site provided by Angus Media. For questions about this site, or to notify us of broken links, click here. Look for additional coverage in the Angus Journal, the Angus Beef Bulletin, the AJ Daily, and the Angus Beef Bulletin EXTRA.