Decker Presented Continuing Service Award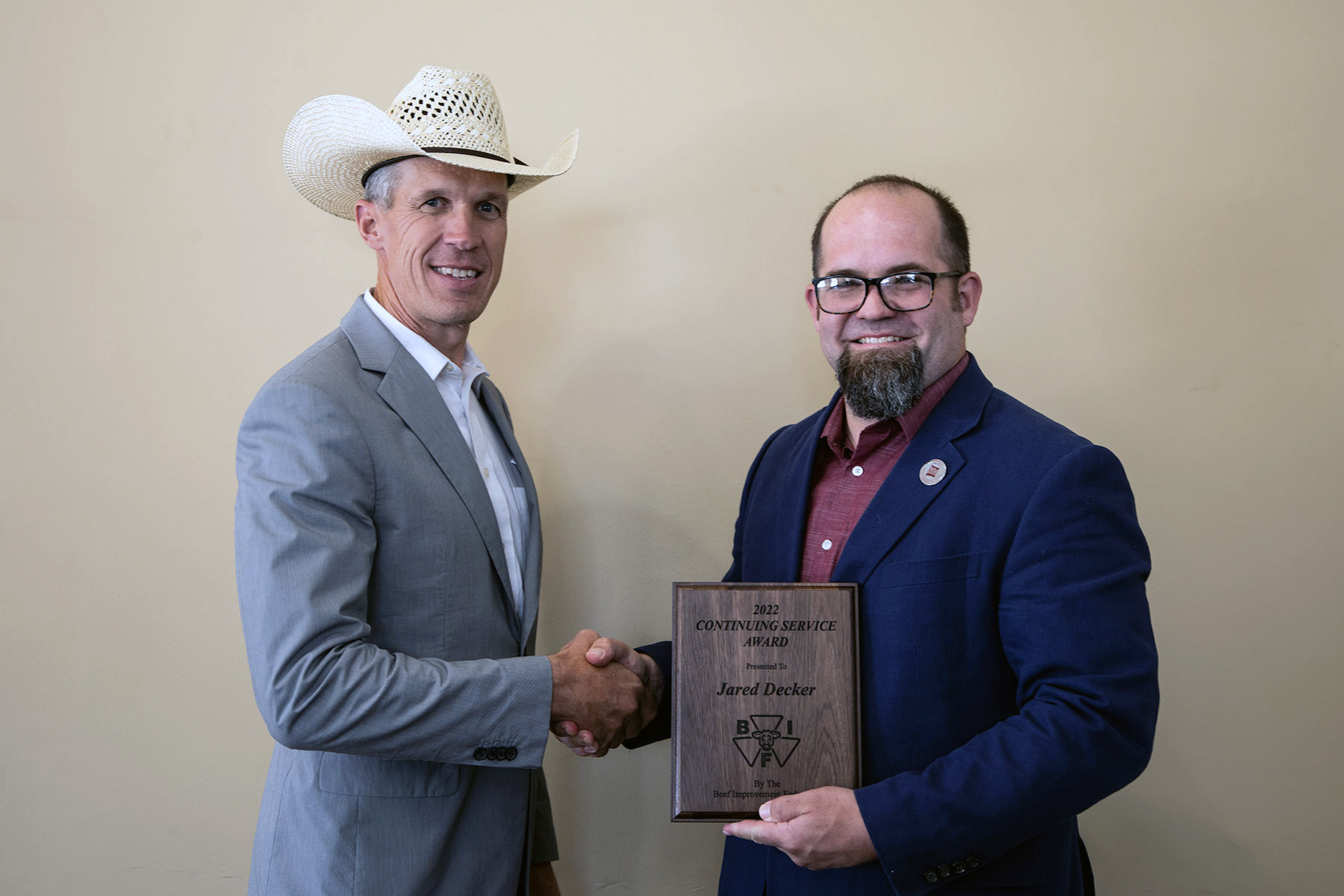 Jared Decker (right), Columbia, Missouri, receives a BIF Continuing Service Award from Matt Perrier, 2022 BIF president. Decker was honored June 2 at the organization's 54th Annual Symposium and Convention in Las Cruces, New Mexico.
MANHATTAN, Kan. (June 2, 2022) — The Beef Improvement Federation (BIF) presented Jared Decker, Columbia, Missouri, a BIF Continuing Service Award June 2 during the group's annual research symposium in Las Cruces, New Mexico.
Continuing Service Award winners have made major contributions to the BIF organization. This includes serving on the board of directors, speaking at BIF conventions, working on BIF guidelines and other behind-the-scenes activities. As BIF is a volunteer organization, it is this contribution of time and passion for the beef cattle industry that moves BIF forward.
Decker currently serves as the Wurdack Chair in Animal Genomics and is an associate professor at the University of Missouri (MU).
Decker's dissertation research used BovineSNP50 genotypes to study the evolutionary relationships among different species of ruminants and cattle breeds distributed worldwide. He also developed a new method for identifying genomic regions exposed to selection and applied this method to registered Angus cattle born during a 50-year period. Currently, his research focuses on improving the accuracy and breadth of genomic tests and creating genomic tools to match cattle to their physical and management environments. Additionally, he manages the website "A Steak in Genomics."
"I first encountered Jared in 2006 when he was a senior in animal science at New Mexico State University. His faculty mentor, Milt Thomas, had suggested that he visit with me about pursuing a Ph.D.," says Jerry Taylor, Curators' Distinguished Professor Emeritus at MU. "With the support of a Miller Fellowship, he came to work in my laboratory for most of the summer of 2006. We convinced him to come to Mizzou, and in 2012 he was awarded a Ph.D. in genetics with a minor in statistics."
More than 300 beef producers, academia and industry representatives attended the organization's 54th Annual Research Symposium and Convention in Las Cruces, New Mexico. BIF's mission is to help improve the industry by promoting greater acceptance of beef cattle performance evaluation.
For more information about this year's symposium, including additional award winners, Angus Media coverage of the symposium and an archive to coverage of past conferences, go to BIFconference.com.
Editor's note: This news release was provided by the Beef Improvement Federation and can thus be reproduced without further permissions. For additional information, contact Angie Stump Denton, BIF communication coordinator, at angiedenton@ksu.edu or 785-562-6197.
---
BIFconference.com is a meeting coverage site provided by Angus Media. For questions about this site, or to notify us of broken links, click here. Look for additional coverage in the Angus Journal, the Angus Beef Bulletin, the AJ Daily, and the Angus Beef Bulletin EXTRA.