B.R. Cutrer Inc. Named BIF Seedstock Producer of Year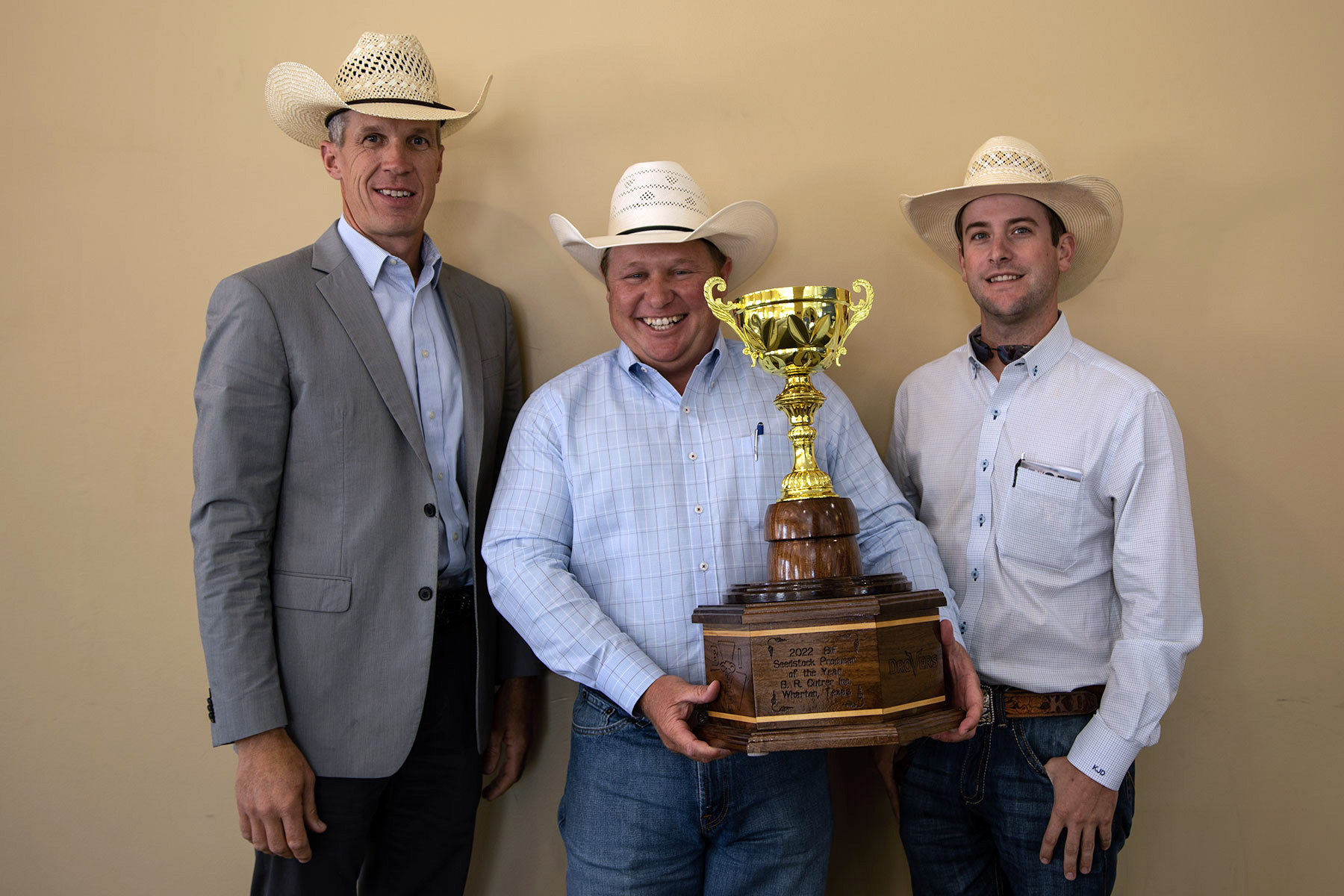 B.R. Cutrer Inc., Wharton, Texas, was recognized as BIF Seedstock Producer of the Year on June 3. Pictured from left, 2022 BIF President Matt Perrier, Eureka, Kansas, presents the award to Brandon Cutrer and Keaton Dodd at BIF's 54th Annual Symposium and Convention in Las Cruces, New Mexico.
MANHATTAN, Kan. (June 6, 2022) — The Beef Improvement Federation (BIF) recognized B.R. Cutrer Inc. (BRC Ranch), Wharton, Texas, as Seedstock Producer of the Year June 3 during the group's annual research symposium in Las Cruces, New Mexico. This national award is presented annually to a producer to recognize their dedication to improving the beef industry at the seedstock level.
BRC Ranch is an innovative Brahman ranch that embraces strong Texas ranching roots. Brandon and Rachel Cutrer manage 350 head of Brahman cattle and F1s and are considered one of the top Brahman breeders worldwide. BRC showcases the beef industry from pasture to plate, with an emphasis on values, work ethic and entrepreneurship.
When the Cutrers married in 2010, they owned zero acres and six head of cattle. Without inheriting a single acre of land or head of cattle, BRC has shown the world that with great mentors, solid management practices and a great team, first-generation landowners and new seedstock brands can be a success.
They are the breeder of six International Champion Grey Brahman females of the last decade, the No. 1 Brahman artificial insemination (AI) sire in the United States for the last three years, and the No. 1 polled Grey Brahman bull and female of the breed. In 2020, they exported cattle and genetics to 17 countries across five continents, including more than 30,000 units of semen on their Brahman AI sires.
BRC blazes a new trail being the only Brahman breeders in the United States utilizing genomically enhanced expected progeny differences (EPDs), and as the founders of Brahman Country Beef and FitBeef, both 100% Brahman branded-beef programs. They are also strong advocates for climate-smart ranching and the role that Brahman cattle will play in keeping beef on the table for future generations. B.R. Cutrer Inc. was nominated by the American Brahman Breeders Association.
The award is presented by BIF and sponsored by Drovers.
More than 300 beef producers, academia and industry representatives attended the organization's 54th Annual Research Symposium and Convention in Las Cruces, New Mexico. BIF's mission is to help improve the industry by promoting greater acceptance of beef cattle performance evaluation.
For more information about this year's symposium, including additional award winners, Angus Media coverage of the symposium and an archive to coverage of past conferences, go to BIFconference.com.
Editor's note: This news release was provided by the Beef Improvement Federation and can thus be reproduced without further permissions. For additional information, contact Angie Stump Denton, BIF communication coordinator, at angiedenton@ksu.edu or 785-562-6197.
---
BIFconference.com is a meeting coverage site provided by Angus Media. For questions about this site, or to notify us of broken links, click here. Look for additional coverage in the Angus Journal, the Angus Beef Bulletin, the AJ Daily, and the Angus Beef Bulletin EXTRA.