McCollum, Fuerniss Win BIF Roy Wallace Scholarships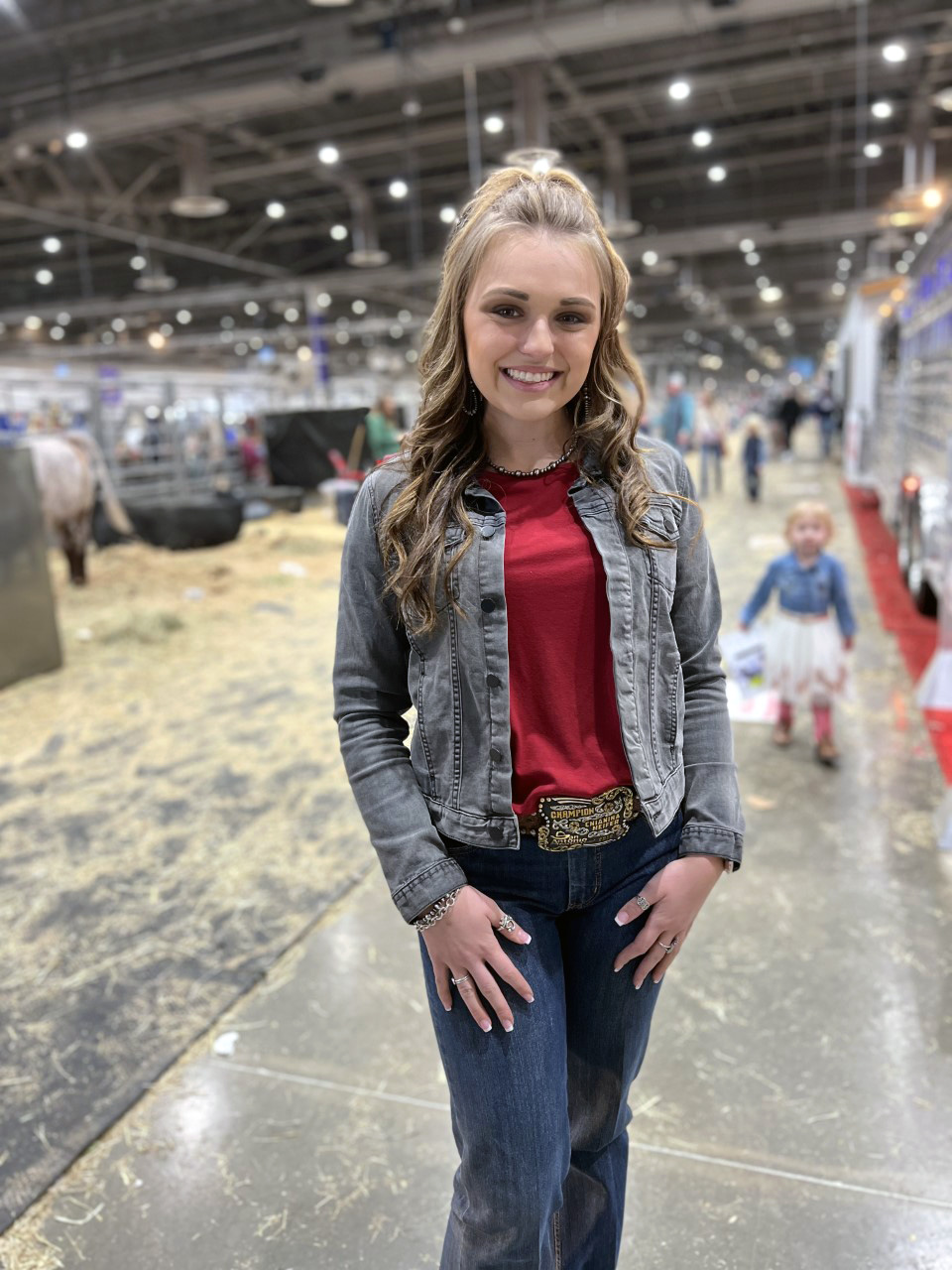 Macie McCollum, Bellevue, Texas, is this this year's undergraduate winner.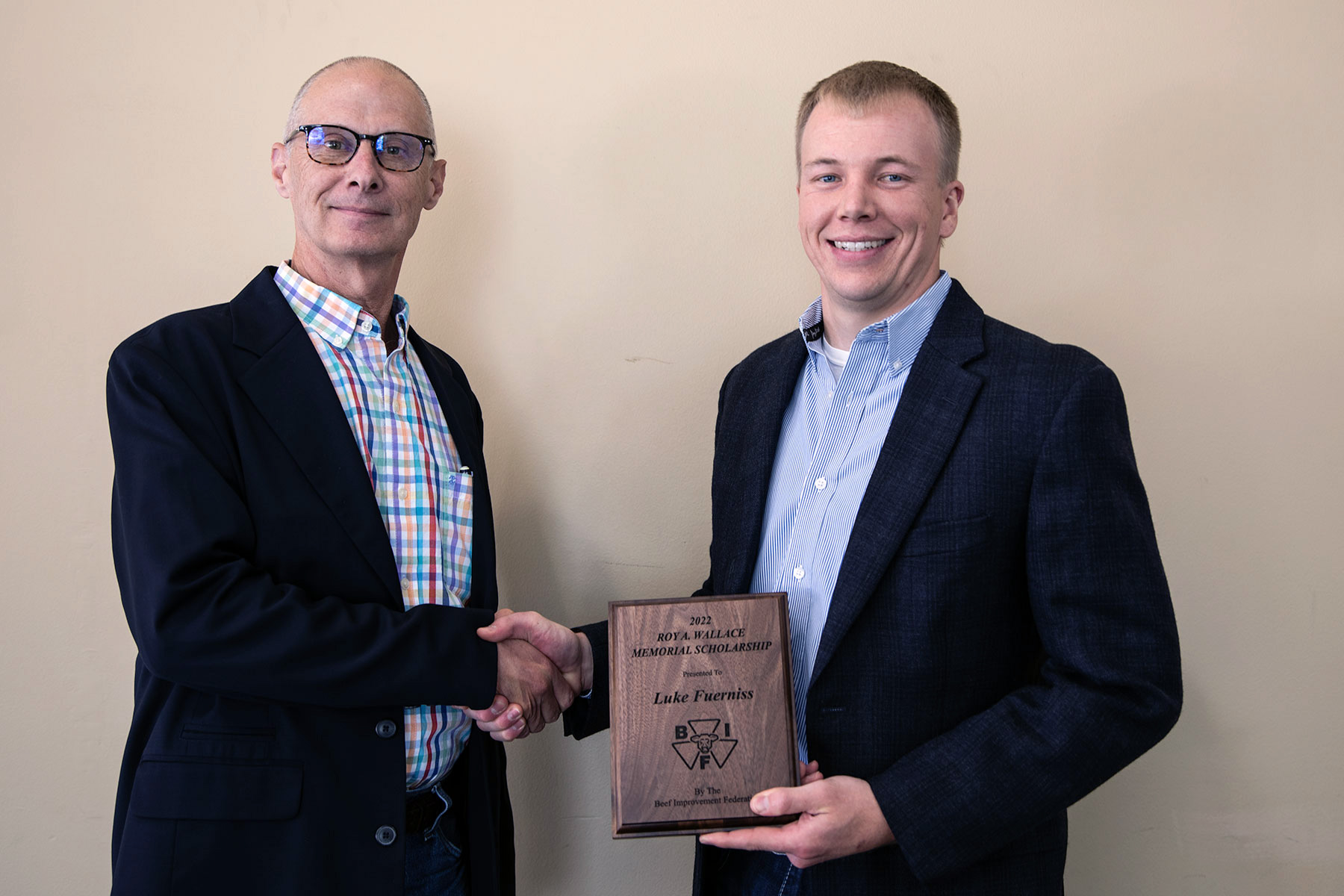 Luke Fuerniss, Lubbock, Texas, won the graduate student award.
MANHATTAN, Kan. (June 7, 2022) — The Beef Improvement Federation (BIF) presented the Roy A. Wallace Memorial Scholarships to Macie McCollum and Luke Fuerniss June 2 during the group's Annual Research Symposium and Convention hosted in Las Cruces, New Mexico. These scholarships were established to encourage young men and women interested in beef improvement to pursue those interests as Wallace did, with dedication and passion.
Macie McCollum, Bellevue, Texas, is this this year's undergraduate winner. She currently attends Texas A&M University where she dual majors in animal science and agricultural economics.
At Texas A&M, McCollum is a member of the COALS Council, Kappa Alpha Theta Sorority and was an inductee of the National Society of Leadership and Success. She served as an American Junior Maine-Anjou Association at-large junior board director and was the 2015 Junior National Maine-Anjou Princess.
"Upon completing my degrees, it is my intention to attend law school to enable me to accomplish my agricultural-focused career goals as an agricultural lobbyist," McCollum says. "Long-term, my goal is to raise a family that is actively involved in beef cattle, an industry that I helped to better."
The graduate student award was presented to Luke Fuerniss, Lubbock, Texas. Fuerniss is currently working on his doctorate in animal science at Texas Tech University. He works with Bradley J. Johnson researching quantifying the effects of maternal dairy genetics and the dairy management system on resulting live and carcass performance, using the beef-dairy-cross model and embryo transfer to create beef calves born on dairies.
"I hope to build baseline data to better link the dairy-beef system to traditional beef cattle management, which will assist in the incorporation of performance, closeout and carcass data into beef genetic prediction," Fuerniss says. "Additionally, I am validating objective measurements of hindquarter muscling to lay a foundation for future traits to predict carcass muscling with greater accuracy than ribeye area alone."
During Fuerniss's graduate studies, he has assisted an industry company in developing and launching a microbial product by conducting analysis and presenting data to more than 20 feedlot consultants and feed suppliers. To date, more than 3 million cattle have been marketed on the product.
"I aim to apply my cattle background, feedlot experience, and academic training as a consulting feedlot nutritionist," explains Fuerniss. "This career would allow me to implement data-driven systems to manage for practical and profitable results."
The Roy A. Wallace Beef Improvement Federation Memorial Fund was established by Select Sires to honor the life and career of Roy Wallace. Wallace, who worked for Select Sires for 40 years, served as vice president of beef programs and devoted his life to the improvement of beef cattle. He became involved with BIF in its infancy and was the only person to attend all of the first 40 BIF conventions. He loved what BIF stands for — bringing together purebred and commercial cattle breeders, academia and breed associations, all committed to improving beef cattle. Wallace was honored with both the BIF Pioneer and BIF Continuing Service awards. He co-authored the BIF 25-year history, Ideas into Action.
Two $1,250 scholarships are awarded each year, one to an undergraduate and the other to a graduate student. Criteria for selection include a demonstrated commitment and service to the beef cattle industry, along with a passion for the areas of beef breeding, genetics and reproduction, academic performance, and personal character.
More than 300 beef producers, academia and industry representatives attended the organization's 54th Annual Research Symposium and Convention in Las Cruces, New Mexico. BIF's mission is to help improve the industry by promoting greater acceptance of beef cattle performance evaluation.
For more information about this year's symposium, including additional award winners, Angus Media coverage of the symposium and an archive to coverage of past conferences, go to BIFconference.com.
Editor's note: This news release was provided by the Beef Improvement Federation and can thus be reproduced without further permissions. For additional information, contact Angie Stump Denton, BIF communication coordinator, at angiedenton@ksu.edu or 785-562-6197.
---
BIFconference.com is a meeting coverage site provided by Angus Media. For questions about this site, or to notify us of broken links, click here. Look for additional coverage in the Angus Journal, the Angus Beef Bulletin, the AJ Daily, and the Angus Beef Bulletin EXTRA.