Award Winners
Thallman Receives 2009 BIF
Continuing Service Award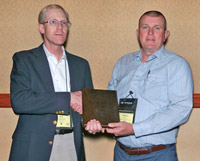 Mark Thallman (left), Blue Hill, Neb., was honored by BIF with a Continuing Service Award presented during the organization's 41st Annual Research Symposium and Annual Meeting in Sacramento, Calif. Presenting the award is BIF Outgoing President Tommy Brown, Clanton, Ala.

[Photo by Cornerpost Publications, publisher of the California Cattleman.]
(click picture to enlarge)
SACRAMENTO, CALIF. (May 1, 2009) – The Beef Improvement Federation (BIF) honored Mark Thallman, Blue Hill, Neb., with a Continuing Service Award during its 41st Annual Research Symposium and Annual Meeting in Sacramento, Calif., April 30-May 3.
After working nearly a decade for major beef cattle seedstock producers, Thallman joined the U.S. Meat Animal Research Center (USMARC), Clay Center, Neb., operated by the U.S. Department of Agriculture's Agricultural Research Service (USDA-ARS) as a research associate in October 1996. He went on to become a permanent staff member in June 1998.
Thallman is recognized internationally as a leading scientist in the areas of beef cattle breeding and statistical genetics. His career is devoted to the application of technology to accelerate the genetic improvement of beef cattle. He has co-authored 23 peer-reviewed articles; one peer-reviewed book chapter; 24 conference proceedings; and 12 technical reports, manuals and theses. He is the first author of 25 of these 60 publications, has given 43 invited presentations and is frequently consulted by the beef industry on a variety of topics.
Genetic evaluation has been a common theme throughout Thallman's career. He is the USDA-ARS representative to the BIF board of directors. He served on the Emerging Technologies subcommittee of the BIF to write guidelines for use of DNA testing in beef cattle improvement from 2004 to 2007. He also served on the Ad-Hoc Committee in 2007 to 2008 to revise the BIF Guidelines, which is the most highly respected source that breed associations and other organizations rely on when setting policy related to genetic improvement. He also currently serves as the chairman of the BIF Genetic Prediction Committee.
The ability to develop innovative solutions to challenging problems is one of his greatest attributes. Thallman has influenced the nature of DNA tests offered commercially, the ways in which the results of these tests are reported and the ways and extent to which producers utilize these tests. He identified selective reporting of DNA test results as a problem and proposed a solution that has been implemented by major DNA testing companies.
Thallman developed a software package, GenoProb, in 2002, which is useful for detecting errors in marker data and pedigrees, as well as to compute probabilities useful for quantitative trait loci (QTL) detection. GenoProb has many worldwide users, including researchers, DNA testing companies, breed associations and breeding companies.
In addition to his pioneering work in genetic evaluation and improvement of beef cattle, Thallman enjoys riding and caring for his horses. He and his wife, Cheryl, have two daughters, Caroline and Allie.



Editor's Note: This release is provided by the Beef Improvement Federation. The 41st BIF Research Symposium and Annual Meeting was hosted by the California Beef Cattle Improvement Association (CBCIA) and the California Cattlemen's Association (CCA). For more information, contact Kelli Toledo at 559-972-8987 or visit www.calcattlemen.org/bif2009.html.