Award Winners
BIF Presents 2009 Pioneer Award to
Lifelong Hereford Breeder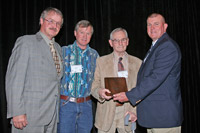 [Photo by Cornerpost Publications, publisher of the California Cattleman.]
(click picture to enlarge)
SACRAMENTO, CALIF. (May 2, 2009) – The Beef Improvement Federation (BIF) presents the Pioneer Award each year to deserving individuals who have made contributions to the genetic improvement of the beef industry.
This year, Bruce Orvis of Orvis Cattle Co., Farmington, Calif., was honored with the 2009 Pioneer Award during the BIF's 41st Research Symposium and Annual Meeting April 30–May 3, 2009, in Sacramento, Calif.
A lifelong Hereford breeder, Orvis currently grazes 300 head of registered cows and heifers at his ranch located in the foothills of the Sierra Nevada Mountains. He markets 50-60 bulls annually to producers throughout California, Nevada, Oregon and Mexico. The operation also manages 300-500 feeders on grass each year. Orvis served as a member of the American Hereford Association Board of Directors from 2001 through 2004.
Orvis Cattle Co. has been performance testing cattle since 1952. The ranch began ultrasound testing in 1987. The operation is one of the longest-running herds in the state to be certified free of Johne's disease. Over the years, Orvis Cattle Co. bulls have been recognized at shows and sales across the state, including the Grand National Stock Show, San Francisco, and the Red Bluff Bull Sale, Red Bluff, Calif.
During college, Orvis joined the family herd established in 1918 by his father and grandfather, C.B Orvis & Son, and later W.S. Orvis & Sons. He was a standout football player and graduated from the College of the Pacific, Stockton, Calif., with a bachelor's degree in business economics in 1950.
A founding member of the California Beef Cattle Improvement Association (CBCIA), Orvis served on its board of directors from 1959 through 1985. He served as president of the organization from 1961 through 1962. Orvis was named the CBCIA Seedstock Producer of the Year in 1993 and in 2000. In 1997, he received the CBCIA Horizon Award for his dedication to the California beef cattle industry.
Since 1970, Orvis has been an avid supporter of the Western Nugget National Hereford Show and Sale, held each winter in Reno, Nev. In 1995 he was appointed to the Western States Hereford Committee, which oversees the event. In addition, the Orvis family is an avid supporter of Hereford youth programs.
Bruce and his wife, Roma, have four children and 12 grandchildren. In 1996 the ranch was preserved for future generations when it was placed in a conservation easement with the California Rangeland Trust, an organization governed by ranchers working to conserve the open space, natural habitat and stewardship of California ranches.


Editor's Note: This release is provided by the Beef Improvement Federation. The 41st BIF Research Symposium and Annual Meeting was hosted by the California Beef Cattle Improvement Association (CBCIA) and the California Cattlemen's Association (CCA). For more information, contact Kelli Toledo at 559-972-8987 or visit www.calcattlemen.org/bif2009.html.