Award Winners
McPhee Posthumously Honored with
2009 BIF Pioneer Award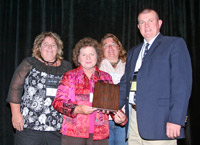 [Photo by Cornerpost Publications, publisher of the California Cattleman.](click picture to enlarge)
SACRAMENTO, CALIF. (May 2, 2009) — The Beef Improvement Federation (BIF) posthumously honored Roy McPhee with the 2009 Pioneer Award during the organization's 41st Research Symposium and Annual Meeting, April 30–May 3, 2009, in Sacramento, Calif.
The McPhee family of Lodi, Calif., believes that persistent selection for practical profit-making traits will lead to efficiency and success. The late Roy McPhee, together with his wife, Nellie, and children Mike, Mary and Rita and their families, have worked together since 1970 to develop one of the nation's largest Red Angus herds west of the Rocky Mountains.
In 2005, the Red Angus Association of America recognized McPhee Red Angus as one of the 40 most influential herds in the breed. The family-owned and -operated business markets cattle through its annual production sale at the ranch in late September, selling 100 bulls and 40 females.
McPhee Red Angus bulls have topped the toughest yearling bull tests in the nation, including the California Polytechnic State University (Cal Poly) Bull Test, San Luis Obispo, Calif.; the Midland Bull Test, Columbus, Mont.; and the Snyder Livestock "Bulls for the 21st Century" Test, Yerington, Nev.
McPhee first became involved in the registered cattle business in 1943 with the purchase of an Angus bull. After spending several years in the commercial cattle and feedlot feeding business, he decided to breed purebred Red Angus cattle because they were the only breed at that time to require performance information as a prerequisite to registering cattle. A former agricultural banker, McPhee had seen many registered programs startup, sputter and go out of business as a result of lack of commitment and a vision for longevity.
McPhee was named the California Beef Cattle Improvement Association (CBCIA) Seedstock Producer of the Year in 1986. In 1993, he was honored as the San Joaquin-Stanislaus County Cattlemen's Association Cattleman of the Year. He was awarded CBCIA's Horizon Award in 1996 for his contributions to the advancement of performance cattle in the state. The CBCIA was privileged to have had his leadership and guidance over the years.





Editor's Note: This release is provided by the Beef Improvement Federation. The 41st BIF Research Symposium and Annual Meeting was hosted by the California Beef Cattle Improvement Association (CBCIA) and the California Cattlemen's Association (CCA). For more information, contact Kelli Toledo at 559-972-8987 or visit www.calcattlemen.org/bif2009.html.