FOR IMMEDIATE RELEASE
For a high-resolution photo of the winner, click here.

For more information contact:
Joe Cassady, executive director, Beef Improvement Federation, North Carolina State University; 919-513-0262; joe_cassady@ncsu.edu; www.BIFconference.com; www.beefimprovement.org
Paschal Honored for Continuing Service
BOZEMAN, Mont. (June 2, 2011) — The Beef Improvement Federation (BIF) honored Joe Paschal, Texas A&M University (TAMU), with its Continuing Service Award during the organization's 43rd annual meeting and research symposium in Bozeman, Mont., June 1-4. The award recognizes those who have made a significant contribution to the industry.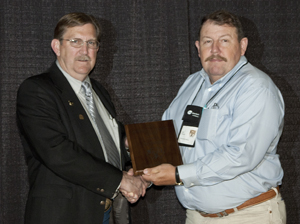 From left, 2010-2011 BIF President Ben Eggers presents the 2011 Continuing Service Award to Joe Paschal, Texas A&M University.
Paschal is currently a professor and extension livestock specialist located at the AgriLife Research and Extension Center, Corpus Christi.
A native of Corpus Christi, Paschal earned bachelor's and master's degrees in animal science and a doctorate. in animal breeding and genetics at TAMU. He is a member of the animal breeding and genetics section of the TAMU Department of Animal Science and is on the graduate faculty at TAMU. He is also an adjunct/external professor of animal science at TAMU-Kingsville.  
After receiving his bachelor's degree, Paschal served as director of breed improvement and foreign marketing for the American-International Charolais Association (AICA). Upon completion of his doctoral degree in 1986, he served as a lecturer and undergraduate counselor in the Texas A&M Department of Animal Science.
Paschal began his extension career as a livestock specialist at the Fort Stockton, Texas, District Extension Headquarters. In 1988, he moved to Corpus Christi to assume his current position, where his primary interests have been in applied beef cattle breeding and genetics (especially involving the use of Bos indicus), production systems, and beef cattle growth and development. 
One of his primary efforts for several years was as founder and director of the Texas A&M Ranch-to-Rail South program, where consignors could have steers from their breeding programs evaluated under South Texas conditions for feedlot performance and carcass merit. As an outgrowth of that program, he established the South Texas Carcass Data Service.
Paschal has been involved in the American Brahman Breeders Association Carcass Merit Program, the Santa Gertrudis Breeders International National Steer Feedout, Beefmaster Breeders United Carcass Data Program, and the American Simmental-Simbrah Association Simbrah Steer Program. He has provided guidance to the Jim Wells County Beef Cattle Improvement Association Bull Gain Test and the Rio Grande Valley Association Bull Gain and Replacement Heifer Development Program.
Paschal has authored 13 refereed papers, 16 Texas Extension bulletins, 39 Texas Extension studies and reports, 28 special industry/commodity reports, 43 Texas Research publications, and 40 popular press articles.
He has been involved with BIF for more than 30 years, starting with his position with the AICA. He was part of the host committee for the 1991 annual BIF meeting in San Antonio, served as coordinator of the 2001 annual meeting in San Antonio, and will assist in coordinating another meeting in Texas in the near future. In 1995, Paschal became the BIF liaison for the Texas A&M Beef Cattle Extension Group.  
Joe and his wife, Vickie, are the parents of daughter Helen and son Robert.
Paschal was presented the BIF Continuing Service Award at an awards luncheon Thursday, June 2, in Bozeman.
For more information about the about this year's symposium, including additional award winners and coverage of the meeting and tours, visit www.BIFconference.com. For more information about the BIF organization, visit www.beefimprovement.org.
###
Editor's Note: This article is provided as a news release by the Beef Improvement Federation. For a high-resolution photo of the winner, additional award announcements and coverage of the meeting, visit the Awards page at www.BIFconference.com.
The Beef Improvement Federation (BIF) was formed more than 40 years ago as a means to standardize beef cattle performance programs and methodologies and to create greater awareness, acceptance and usage of these concepts of genetic improvement. BIF represents more than 40 state and national beef cattle associations. For more details about the BIF organization, contact Executive Director Joe Cassady at 919-513-0262.