FOR IMMEDIATE RELEASE
For a high-resolution photo of the winner, click here.

For more information contact:
Joe Cassady, executive director, Beef Improvement Federation, North Carolina State University; 919-513-0262; joe_cassady@ncsu.edu; www.BIFconference.com; www.beefimprovement.org
Ropp Honored for Continuing Service
BOZEMAN, Mont. (June 2, 2011) — The Beef Improvement Federation (BIF) honored Martin "Marty" Ropp with its Continuing Service Award during the organization's 43rd annual meeting and research symposium in Bozeman, Mont., June 1-4. The award recognizes those who have made a significant contribution to the industry.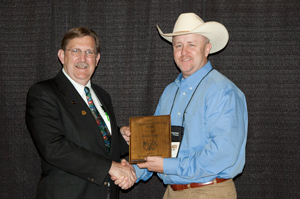 From left, 2010-2011 BIF President Ben Eggers presents the 2011 Continuing Service Award to Marty Ropp, Allied Genetic Resources.
Ropp grew up on a swine operation near Bloomington, in central Illinois. From early on, he possessed a penchant and aptitude for livestock judging — an ability he has nurtured and honed over his lifetime and still utilizes to this day.
In 1987, Ropp graduated from Kansas State University (K-State), where he was an accomplished member of the livestock judging team. While earning a master's degree in animal science from the University of Missouri (MU), Ropp served as the coach of the university's livestock judging team. He continues to judge livestock shows throughout the country and has volunteered countless hours in educating youth about showing and judging livestock.
Upon receiving his master's, Ropp took a position as a regional livestock specialist in Missouri, and later as an extension swine specialist in Michigan.
In 1998, he began work at the American Simmental Association (ASA) as its director of commercial programs. Immediately upon his hiring, Ropp initiated and developed ASA's young sire testing program along with Jerry Lipsey. He has since nurtured the program into the industry's largest structured sire test, with hundreds of sires of several breeds being tested through the years.
Ropp wore many hats while at ASA. In addition to his initial responsibilities as director of commercial programs, he was later tapped to direct ASA's field services. He worked diligently to build bridges between all segments of the industry; cow-calf, feedlot, packers and seedstock producers were all focal points of his efforts. An accomplished speaker with a keen sense of humor, he is in great demand at field days, educational programs and seminars throughout the country. His strong communication skills and sound advice have earned him widespread accolades and respect.
Recently, Ropp left the ASA to start Allied Genetic Resources (AGR). The business, owned and supported by a group of committed seedstock producers, is designed to promote their customers' profitability. AGR owners are located in 15 states — from California to Alabama and Montana to Texas. Currently, they market more than 4,000 bulls a year. Ropp's strong belief that the future of seedstock production will become more focused on customer service and increased profitability and less about the tradition of just "selling" bulls forms AGR's core philosophy.
Ropp was recognized with the BIF Continuing Service Award at BIF's awards luncheon Thursday, June 2, in Bozeman.
For more information about the about this year's symposium, including additional award winners and coverage of the meeting and tours, visit www.BIFconference.com. For more information about the BIF organization, visit www.beefimprovement.org.
###
Editor's Note: This article is provided as a news release by the Beef Improvement Federation. For a high-resolution photo of the winner, additional award announcements and coverage of the meeting, visit the Awards page at www.BIFconference.com.
The Beef Improvement Federation (BIF) was formed more than 40 years ago as a means to standardize beef cattle performance programs and methodologies and to create greater awareness, acceptance and usage of these concepts of genetic improvement. BIF represents more than 40 state and national beef cattle associations. For more details about the BIF organization, contact Executive Director Joe Cassady at 919-513-0262.