FOR IMMEDIATE RELEASE
For a high-resolution photo of the winner, click here.

For more information contact:
Joe Cassady, executive director, Beef Improvement Federation, North Carolina State University; 919-513-0262; joe_cassady@ncsu.edu; www.BIFconference.com; www.beefimprovement.org
Mushrush Red Angus Named
BIF Seedstock Producer of the Year
BOZEMAN, Mont. (June 3, 2011) — The Beef Improvement Federation (BIF) named Mushrush Ranches LLC, Strong City, Kan., as 2011 Seedstock Producer of the Year. Partners in the family ranch include Robert and Oma Lou Mushrush, Joe and Connie Mushrush, and Daniel and Christine Mushrush. Connie and Joe accepted the award from BEEF Magazine Senior Editor Burt Rutherford, award sponsor, and BIF President Larry Mehlhoff during the organization's 43rd annual meeting and research symposium in Bozeman, Mont., June 1-4.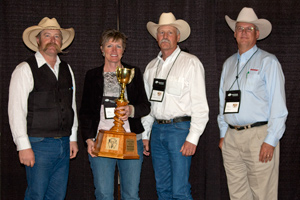 From left, 2011-2012 BIF President Larry Mehlhoff presents the 2011 BIF Seedstock Producer of the Year Award to Connie and Joe Mushrush of Mushrush Red Angus, assisted by Burt Rutherford, BEEF Magazine, award sponsor.
Mushrush Red Angus is a family-owned and managed operation located in the heart of the Kansas Flint Hills in Chase County. Scattered from one end of the county to the other, Mushrush Red Angus utilizes about 8,000 acres of native tallgrass prairie. While fairly diversified across segments of the cattle industry, the operation is unique in that every endeavor encompasses the use of Red Angus genetics.
The main enterprise consists of 500 registered Red Angus cows split evenly between spring- and fall-calving herds. The family operation sells about 150 bulls yearly in a spring production sale and private-treaty sales throughout the year. The target customers are commercial cattle producers.
The Mushrushes have developed a bred-heifer program for which each year they source 400-500 heifers from their customers to develop, breed and sell each year. Heifers not meeting requirements of the breeding program, bulls not meeting criteria to be seedstock, and Mushrush Red Angus-sired steers purchased from customers are fed to finish in a 1,000-head feedlot on the ranch or managed through the stocker phase on grass pasture and then put on feed. All fed cattle are sold on a value-based grid to U.S. Premium Beef, with full carcass data collected.
Started by Robert and Oma Lou in the early 1950s, the operation first accumulated 40 years experience in the commercial cow-calf business. When Joe and Connie joined the operation in 1980, the first registered Red Angus cows were added, in addition to an extensive stocker cattle enterprise. The feedlot was added in 1990. This extensive involvement in all segments of the cattle industry has given Mushrush Red Angus a unique insight into the needs of commercial cattlemen.
The ranch was nominated for the honor by the Kansas Livestock Association.
Also recognized as regional nominees were:
Bar T Bar Ranch, Winslow, Ariz.
GV Limousin, Garnett, Kan.
Jungels Shorthorn Farms, Kathryn, N.D.
McDonald Farms, Blacksburg, Va.
Monogram Farms, Terry, Miss.
Panther Creek Angus, Bowen, Ill.
Ridgefield Farm, Brasstown, N.C.
Schuler Red Angus, Bridgeport, Neb.
Sunshine Farms, Clanton, Ala.

For more information about the about this year's symposium, including additional award winners and coverage of the meeting and tours, visit www.BIFconference.com. For more information about the BIF organization, visit www.beefimprovement.org.
###
Editor's Note: This article is provided as a news release by the Beef Improvement Federation. For a high-resolution photo of the winner, additional award announcements and coverage of the meeting, visit the Awards page at www.BIFconference.com.
The Beef Improvement Federation (BIF) was formed more than 40 years ago as a means to standardize beef cattle performance programs and methodologies and to create greater awareness, acceptance and usage of these concepts of genetic improvement. BIF represents more than 40 state and national beef cattle associations. For more details about the BIF organization, contact Executive Director Joe Cassady at 919-513-0262.