Welcome
For a high-resolution photo of the winner, click here.

For more information contact:
Joe Cassady, executive director, Beef Improvement Federation, North Carolina State University; 919-513-0262; joe_cassady@ncsu.edu; www.BIFconference.com; www.beefimprovement.org
MacNeil Honored with BIF Pioneer Award
BOZEMAN, Mont. (June 3, 2011) — The Beef Improvement Federation (BIF) honored Michael MacNeil with the Pioneer Award during the organization's 43rd annual meeting and research symposium in Bozeman, Mont., June 1-4. The award recognizes individuals who have made lasting contributions to the improvement of beef cattle, honoring those who have had a major role in acceptance of performance reporting and documentation as the primary means to make genetic change in beef cattle.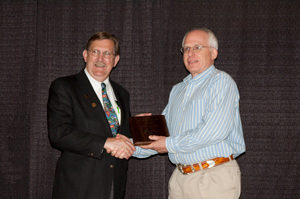 From left, 2010-2011 BIF President Ben Eggers presents the 2011 BIF Pioneer Award to Michael MacNeil, research geneticist with USDA-ARS.
MacNeil grew up in Ithaca, N.Y., where his father coached the Cornell basketball team. He received bachelor's, master's and doctoral degrees from Cornell, Montana State and South Dakota State universities, respectively.
In 1982, MacNeil began his career as a scientist and statistician at the U.S. Department of Agriculture (USDA) U.S. Meat Animal Research Center (USMARC) in Clay Center, Neb. In 1989, he accepted a position at the USDA Fort Keogh Livestock and Range Research Laboratory at Miles City, Mont., where he continues to work as a research geneticist.
MacNeil has developed a highly respected research program at Fort Keogh. Leveraging his lifelong focus on integrating genetics and economics, he coordinates the Fort Keogh research efforts seeking to develop strategies and technologies for reducing beef cattle production costs. 
Of necessity, this research program is long-term and multidisciplinary involving genetics, physiology, nutrition and microbial metagenomics. His personal research focuses on modeling production systems, estimation of genetic parameters, mapping quantitative trait loci, and developing breeding objectives and selection indexes.
MacNeil has a well-established track record of zeroing in on an industry need and delivering a solution. During the last decade, his selection index work has seen considerable uptake in the seedstock industry and holds the potential to be a transformative technology. He has also assisted breed associations in the development of new expected progeny differences (EPDs) and the integration of DNA information into their genetic evaluation systems. 
His career has been highly prolific — his contribution to the understanding of beef cattle breeding, remarkable. MacNeil has published more than 285 scientific and technical reports, resulting in many literature citations to his work, numerous speaking invitations and several awards.
He and his wife of 31 years, Betty, have two children, Megan and Brendan.
MacNeil was presented the BIF Pioneer Award at a luncheon Friday, June 3, in Bozeman.
For more information about the about this year's symposium, including additional award winners and coverage of the meeting and tours, visit www.BIFconference.com. For more information about the BIF organization, visit www.beefimprovement.org.
###
Editor's Note: This article is provided as a news release by the Beef Improvement Federation. For a high-resolution photo of the winner, additional award announcements and coverage of the meeting, visit the Awards page at www.BIFconference.com.
The Beef Improvement Federation (BIF) was formed more than 40 years ago as a means to standardize beef cattle performance programs and methodologies and to create greater awareness, acceptance and usage of these concepts of genetic improvement. BIF represents more than 40 state and national beef cattle associations. For more details about the BIF organization, contact Executive Director Joe Cassady at 919-513-0262.