2017 Commercial Producer Nominees
The Beef Improvement Federation recognizes three regional nominees for Commercial Producer of the Year.
Each year the Beef Improvement Federation (BIF) recognizes outstanding commercial cattle operations during its annual symposium, crowning one overall winner as Commercial Producer of the Year. Nominees are evaluated on 10 criteria, including short- and long-term goals, records systems and implementation, breeding systems, selection objectives/culling criteria and process, marketing practices and customer relations, carcass data collection and application, forage resources and stewardship, innovations/improvements and use of technology, contributions to community and industry, and vision of BIF's role.
Quick Links: Megehee Cattle Company | Mundhenke Beef | Timber Stream Cattle Company
Megehee Cattle Company, Macon, Mississippi

Owners: Jacob and Martha Megehee
Manager: Jacob Megehee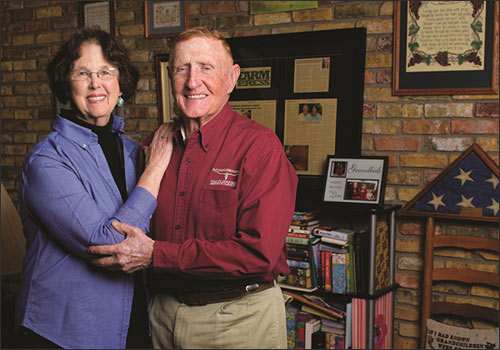 Megehee Cattle Company is a commercial cow/calf and stocker operation located in East Central Mississippi, only fourteen miles from the Alabama border. Owned by Jacob and Martha Megehee, Megehee Cattle Company began in 1970 at the conclusion of Jacob's service in the United States Army.
With $10,000, 6 brood cows, two children, and a degree from Mississippi State University in Dairy Production, the Megehees purchased their farm in 1967, but leased out until 1970. While Jacob finished his Masters degree in Ag Economics, he and Martha ran stocker calves. Upon graduation, the Megehees used their stockers and six cows as collateral and purchased 99 bred, black baldy heifers for $195 each. From there, the operation peaked at 800 head.
Megehee Cattle Company is currently made up of 329 owned acres and 126 lease acres for hay and pasture. The herd consists of 140 mature cows, 80 bred heifers, and 62 open replacement heifers with a heavy Brangus influence. Approximately half of the herd calves in the spring and half in the fall. The Megehees market bred heifers in the state's most exclusive, highly regarded bred heifer sale. They also market bred heifers in the invitation-only Town Creek Farm Annual Production Sale. Steers have been marketed in the Mississippi Homeplace Feeder Calf Board sale since the sale's inception in 2008.
The Megehee Cattle Company is proudly nominated by the Mississippi Beef Cattle Improvement Association.
Owners/Managers: John and Gina Mundhenke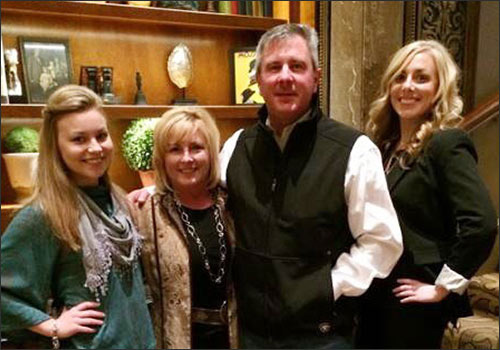 Mundhenke Beef is located in southwestern Kansas in eastern Edwards County near Lewis. Owners John and Gina Mundhenke both grew up on Kansas ranches that were established more than 100 years ago, with each representing the fourth generation of their respective families to work in the livestock industry. In fact, Gina's family's homestead is just a few miles away from their ranch. They operate irrigated and dryland farms, native grassland, backgrounding yards, and have interest in Kinsley Feeders LLC and Star Alfalfa Inc. The focus of Mundhenke Beef is on efficient production from conception to consumption. The ranch calves 300 registered Angus cows and 200 commercial Angus cows in the spring. In addition, they develop and artificially inseminate (AI) 200 Angus heifers for customers. They also provide genetic selection and influence the management of animal health protocols and marketing for Gina's family's 1,100-head Angus-based commercial cow herd. They raise their own Angus bulls for their use and sell a few to others.
Calves are marketed through value-added programs, with the majority grading Prime or Choice on a consistent basis. This falls in line with the overall goal of Mundhenke Beef, which is efficient production from conception to consumption. They strive to improve the sustainability of the ranch, the well-being of the cattle and to ensure the endproduct is the best eating experience for their beef consumers.
The Kansas Livestock Association is proud to nominate Mundhenke Beef.
Timber Stream Cattle Company, LLC, McClelland, Iowa
Owner: Guttau Family
Manager: Joshua Guttau
The Guttau family has been involved for multiple generations in the cow/calf industry with the homestead in Treynor, Iowa, going back to current manager Josh's great-great grandfather and their Glenwood location, purchased in 2014, being originally settled by his fourth great grandfather in the 1850s.
Josh's grandfather ran commercial Hereford cows and all his father's 4H breeding heifers were absorbed into the family herd during his college years and while serving in Vietnam. After he returned home, he took over a local community bank and was unable to return the beef industry he loved.
It has been an honor for Josh to return the Guttau family 'knee deep' into the cow/calf industry starting with his 8th grade 4H project, through an expansion to 75 cows during college in cooperation with his brother-in-law and further expansion to 500 head in 2010. The operations uses extensive pasture improvement and management to maintain consistent efficient production using Limousin and Lim-Flex bulls on British based cows with the goal of a black baldy phenotype with enhanced growth and cutability and uncompromised beef quality.
The expansion has coincided with taking their community banking operation to the next level and to launch the family head first into the production side of agriculture where they are hoping to keep their family and future banking leaders fully aligned with the ag producer and have them be as comfortable wearing boots as suits.
Timber Stream Cattle Company is proudly nominated by the North American Limousin Foundation.
Editor's Note: Biographies & photos provided courtesy of the Beef Improvement Federation.