Evaluating the Mmmmm
Checkoff research seeks insights into beef flavor.
by Troy Smith, field editor, Angus Media
Flavor, tenderness, juiciness, appearance, aroma and freshness — all are attributes that contribute to beef consumers' beef-eating satisfaction. Yet, when tenderness is constant, it is flavor, or "taste," that is the primary beef demand driver, according to Bridget Wasser, senior director of meat science and technology for the National Cattlemen's Beef Association (NCBA).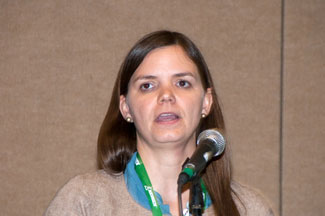 Bridget Wasser, senior director of meat science and technology for the National Cattlemen's Beef Association (NCBA).
Wasser talked about ongoing beef checkoff-funded flavor research during the Beef Improvement Federation (BIF) Research Symposium and Convention hosted May 31-June 3 in Athens, Ga. She addressed her comments to a group gathered for the convention's Advancements in End Product Improvement breakout session, explaining that most end-product research conducted by NCBA through 2020 is being directed toward unraveling and better understanding flavor complexity and its role as a determinant of beef-eating satisfaction.
Wasser said research will explore key flavor attributes and sensory evaluation of precursor compounds, including fatty acids in beef that contribute to flavor notes. Also being studied are the positive and negative flavor effects of various cooking methods and degree of doneness for different beef cuts.
Researcj is also being directed to flavor effects due to both pre- and post-harvest management, including animal diet and feeding management, growth enhancement technologies, as well as different methods of aging beef. Additionally, researchers hope to better understand how breed type and quality grade influence flavor.
According to Wasser, researchers will also look at flavor influences that may occur at the retail level, such as type of packaging and display case lighting.
"Flavor is an extremely complex trait, and preferences vary from person to person," said Wasser. "But the goal of this research is to optimize flavor consistency."
Editor's Note: This summary was written under contract or by staff of Angus Media. Through an agreement with the Beef Improvement Federation, we are encouraging reprinting of the articles to those who will adhere to the reprint guidelines available on this site. Please review those guidelines or contact Shauna Rose Hermel, editor, at 816-383-5270. PowerPoints are posted with permission of the presenter and may not be reproduced in whole or in part without the express permission of the presenter.

Angus Media's coverage of the event is made possible through collaboration with BIF. For questions about this site, or to notify us of broken links, click here. Look for additional coverage in the Angus Journal, the Angus Beef Bulletin, the Angus Journal Daily, the Angus Beef Bulletin EXTRA and Angus TV.