2004 BIF Commercial Producer Award Nominees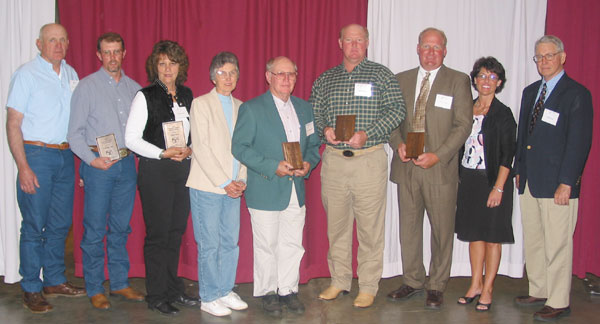 2004 Commercial Producer of the Year nominees pictured (l to r) are Dennis & Mark Namminga of Namminga Angus; Mary Rickert of Prather Ranch; Nina & Gordon Burkhalter of Burkhalter Cattle; Wayne Doler of Doler Farm; Cliff & Christy Schuette of Schuette Farms; and S.R. Evans, 2004 BIF president.

Burkhalter Cattle
Gordon & Nina Burkhalter and Patt Burkhalter, Alabama
Burkhalter Cattle is a family farm located near Clanton in the central region of Alabama. Gordon and his wife, Nina, manage an Angus and Simmental cross cow herd of 105 mature cows, 20 bred heifers, and also a herd of 20 purebred Angus cows, which are used to produce F-1 Simmental-Angus females. This operation is maintained on 500 acres, and an additional 80 acres is utilized for hay production, both for the farm and as supplemental income. The Burkhalters have operated at this location for the past 22 years and began to collect performance records in 1992. This led to a great increase in their average weaning weights from 438 lbs. in 1993 to 603 lbs. for the past two years.
Gordon serves as president of the Central Alabama Feeder Calf Marketing Association, where he markets his performance based feeder steers each year in August. An additional herd of 52 cows are leased to two local producers in order to produce a full 50,000-lb. truckload lot of steers each year. Replacement heifers, both open and bred, and bred cows are marketed each year in Alabama BCIA sales to increase the average value by $125 per head over market. Burkhalter Cattle is also utilizing carcass ultrasound technology to evaluate their replacement heifers for percent intramuscular fat and ribeye area, and also reproductive ultrasound to determine heifers bred in the first 60 days of the breeding season to retain in the herd as the most fertile females.
The Alabama Beef Cattle Improvement Association is proud to nominate Burkhalter Cattle.
Doler Farm
Wayne and L.W. Doler, Mississippi
Wayne Doler's grandfather moved to Calhoun County, Mississippi, in 1928 bringing a cow with him. There have been cattle on the Doler Farm ever since. Along with his grandfather, Wayne's father, L.W. Doler, bought up land as it became available. The cow herd had an Angus and Hereford base up through the 1960s. In the 1970s, the Dolers increased the Charolais influence in the herd. During the 1980s, the Doler herd used Beefmaster and Simbrah bulls on the cow herd.
Adapting to changing marketing environments, the Dolers shifted the breeding composition of the herd to an Angus base in the 1990s and continue this breeding program with a 300-head cow herd today. The calving season runs from September 15 to January 15 to most efficiently utilize forage and feed resources and match production to optimal market windows. Wayne and L.W. have also cooperated with neighbors in row crop production by sharing labor resources. The Doler operation is a family business that takes pride in producing a consistent, quality product, adopting cost-effective production practices, and operating without using borrowed capital. Wayne and L.W. Doler are working towards producing a more efficient animal and better quality beef by keeping up with the latest in beef and forage production technology, addressing the needs of their customers, and continuously adapting their operation to improve profitability and sustainability.
The Mississippi Beef Cattle Improvement Association is proud to nominate Doler Farm.
LU Ranch
Mike Healy, Debbie Hammons, and Cathy Healy, Wyoming
The LU Ranch, originally known as the L.U. Sheep Company, lies between Thermopolis and Meeteetse, Wyoming. It runs from a 7-inch precipitation desert just above 5,000 feet in elevation to a rugged 12-inch precipitation, mountain foothill area that ranges from 7,000 feet on the valley floors up to 8,500 feet on the valley peaks. It was incorporated in 1899 by a Scotsman named Dave Dickie. My grandfather bought controlling interest in it in the mid-1930s upon Dickie's death.
The ranch ran both sheep and Angus cattle until 1984 when the last of the sheep were sold. It was in 1996 when the decision to crossbred was made. The bull battery was changed to Saler for several years followed by gradual replacement with Angus based composite bulls. The composites have been strongly influenced by Gelbvieh and Saler and, more recently, Simmental.
The size of the operation is, of course, influenced by its low precipitation. It is nearly 150,000 acres with 80% being publicly owned. On this large expanse, we run a 1,500-head mother cow operation. That's right, 100 acres to the cow. Our calving season is broken into two time periods: February 10th through March 25th for the two-year-olds and April 1st through mid-May for the older cows.
Hay is grown on two farms. They are 160 and 240 acres in size. The fields are typically long and narrow and are flood irrigated with diverted water from the creeks they lie beside. Both farms are located at about 5,500 feet in elevation.
Click on the links below to an article printed in Beef about LU Ranch
Living By The Numbers
The Wyoming Beef Cattle Improvement Association is proud to nominate the LU Ranch.
Namminga Angus
Dennis and Maxine Namminga, Mark and Kelly Namminga, South Dakota
Namminga Angus is a diversified farming/ranching operation located in southeastern South Dakota in the Missouri River breaks. The original farm/ranch was homesteaded in 1873. This five-generation operation has been raising Black Angus cattle, and the crops needed to supply feedstuffs, for more than 100 years. Dennis and Maxine Namminga, their son, Mark, his wife, Kelly, and children, Riley and Kristen are owner/operators.
Two hundred Angus cows start calving in mid-March. Replacement heifers are synchronized, and AI'd to calve one heat cycle before the cows. Young cows are AI'd for 30 days before being turned out with clean-up bulls. Steer and heifer calves not kept as replacements are put on feed and sold on high quality, value-based marketing grids. Birth, weaning and yearling weights are taken. Complete carcass data has been collected for ten years.
Native grass pastures (1,300 acres) provide grazing during the summer and fall, while corn stalks serve as a low cost forage source until calving in the spring. Supplementation with alfalfa hay usually starts 60 to 90 days prior to calving, depending on weather conditions. Corn, soybeans, alfalfa, tame and native grass hay are grown on 1,000 acres of both irrigated and non-irrigated farmland.
Click on the links below to read an article printed in the Angus Journal about Namminga Angus.
Aiming for Perfection
The South Dakota Cattlemen's Association is proud to nominate Namminga Angus.
Nellwood Farms
Chap and Hal Cromley, Georgia
The Cromley family came to Bulloch County, Georgia, from South Carolina in the mid 1800s. Our children are the sixth generation to be raised here. Presently, row crops, cattle and timber provide a livelihood for our families. Approximately 2,000 acres are in production.
Cattle have always been a mainstay of our farm. The majority of our pastureland is land not suited for cultivation. Pasture upgrade is an ongoing process as new varieties of grass become available. Limit-grazing of winter annuals is the backbone of our winter feeding program.
Crossbreeding has always been a key to maximizing production, primarily focusing on maternal traits and growth. Angus, Gelbvieh and Hereford are the breeds used for the last ten years.
Certain disciplines are followed closely. Bulls are turned out from January until mid-March for a 75-day breeding season. Yearling bulls are bred to heifers. Replacement heifers are saved from the top producers in the herd. Replacement heifers are freeze-branded, dewormed, and vaccinated for lepto-vibrio each fall before being bred in January. All calves to be sold meet the terms and conditions to be in the August sale of the Southeast GA Cattle Marketing Association. We work closely with our veterinarian and follow his recommendations.
Since 1975, females not successfully weaning a calf have been sold. This is necessary because of our need to maintain optimal stocking efficiency. Many replacement heifers are sold to neighboring producers as replacements. Production efficiency and optimal resource utilization provide the focus for our operation.
The Georgia Cattlemen's Association is proud to nominate Nellwood Farms.
Olsen Ranches, Inc.
The Arthur Olsen Family, Nebraska
The promise of plentiful land brought Lars Olsen to Banner County in the western Panhandle of Nebraska in 1885. The Olsen family has raised Hereford cattle and farmed in Banner County ever since. Four generations later, the operation Lars founded, now known as Olsen Ranches, Inc., is managed by Lars's grandson, Arthur Olsen, and his great-grandson, Douglas Olsen.
Today, the progressive Olsen operation focuses on its commercial cow-calf herd, with 750 cows comprised primarily of Hereford genetics with crossbreeding of Red Angus genetics. Located in a region that receives approximately 14" of moisture annually, Olsen Ranches has 11,000 acres of native range and 5,500 acres of tillable ground (both dryland and irrigated) on which they raise wheat, corn, alfalfa, millet, peas, barley and small grain hay.
The Olsens also offer custom backgrounding and AI services for an increasing number of customers.
The Olsens are very involved in programs designed to improve Hereford genetics and grow the market for Hereford beef. The Olsens are one of the key Hereford breeders participating in the American Hereford Association's National Reference Sire Program (NRSP) and the National Cattlemen's Beef Association tenderness project, as well as in the international study sponsored by the American Hereford Association to standardize Hereford breed EPDs between the United States, Canada and Australia.
The Olsens believe in the strength of the Hereford breed and have a passion for promoting the beef industry. Most especially, the Olsens have a deep appreciation for the blessing of the rural lifestyle they enjoy and the incredible opportunity they have to be involved in this business.
The American Hereford Association is proud to nominate Olsen Ranches, Inc.
Prather Ranch (Ralphs Ranches Inc.) – www.pratherranch.com
Ralphs and Rickert Families, Jim and Mary Rickert, California
The 15,000 acre Prather Ranch is a vertically integrated cattle business that operates in four far northern California counties. The ranch was founded in the 1870s and was acquired by Walter Ralphs (former president of Ralphs Supermarket) in 1964.
The ranch operates a "closed herd" of 1,350 English crossbred cows. The cow herd is about 20% straight Angus and 20% straight Hereford with approximately 60% of the 119 herd black baldy cows. The cows are run with 60% spring calving near Macdoel, California, in our "natural beef" program. The remaining 40% are fall calvers and are "certified organic." The organic herd is maintained separately, summering in the Fall River Valley of northeastern California and wintering in the northern Sacramento Valley. This facilitates the unique marketing programs that the Prather Ranch has established.
This "closed herd" concept is based on the need to maximize biosecurity. Prather Ranch supplies bovine raw materials to various pharmaceutical companies and as a requirement, extensive record-keeping and Standard Operating Procedures are in place. On the female side, the herd was closed in 1975. Since 1990, the herd has been bred by artificial insemination or ranch raised pick-up bulls. The ranch has implemented and participates in a young sire progeny testing program, known as Gen-Scan, by working with purebred breeders and the American Hereford and American Angus Associations.
In 1996, the ranch built a USDA inspected on-site slaughter house and meat processing facility. The ranch direct markets both natural and organic dry-aged beef in southern Oregon and northern California.
The University of California – Agriculture and Natural Resources Cooperative Extension, Siskiyou County, California, is proud to nominate Prather Ranch.
Blair Porteus and Sons
Blair, Brent and Knox Porteus, Ohio
The farm is located four miles south of Coshocton, Ohio, on State Route 83 in the rolling hills of east central Ohio. Currently, there are three generations of our family working this diversified beef, grain and forage operation. Blair Porteus, the eldest generation, started his cow herd at the present location in 1941. His two sons, Brent and Knox, both returned to the family farm upon graduation from college in the late 1970s and early 1980s, and are now being joined by Brent's daughters, Amy and Beth.
The cows are an Angus based commercial herd of approximately 245 head that is rotationally grazed on 450 acres of managed pasture. In addition to the cattle, corn and soybeans are grown on 1,100 acres of river bottom and sloping ground located between the rolling pasture lands and there is another 200 acres in alfalfa hay raised on the farm.
Our goal is to position the beef enterprise to provide a significant positive net return to the farm by utilizing forage resources to their maximum advantage. In order to accomplish that goal, we expect to wean a calf from each cow exposed during the breeding season that will go on to produce a carcass that can be marketed on a high quality grade based grid.
In 1973, we built a slated floor 200-head feedlot barn on the arm. The heifers not chosen as replacements and all steer calves are fed on a corn silage and high moisture corn based ration on the farm until harvest. Over the years, most of the cattle produced on the farm have been sold to Moyer Packing and Taylor Packing, targeting a high quality end product.
The Ohio Cattlemen's Association is proud to nominate Blair Porteus and Sons.
Rx Ranch
Dr. Larry & Kristy Letner, Missouri
Rx Ranch is a 1,400-head commercial cow/calf operation located in north central Missouri. The Ranch has been in operation since 1983 with the focus on a common sense approach to utilizing grazing practices, and applying scientific knowledge to herd health. Rx Ranch is owned and operated by Dr. Larry Letner, his wife Kristy, and their children, Lindsay, Will and Jake.
As a veterinarian, the importance of herd health, quality assurance and management practices are not just something that is discussed with clients, but put into practice on Rx Ranch. The base cow herd is predominately black/black white face western origin cows with a spring calving season only. The cattle are utilized as a field trial herd for the practices that are advocated through the veterinary clinic. By "practicing what you preach" the cattle and general practices speak for themselves and the return customers and data provide the statistical information.
The use of Weink registered Charolais bulls has brought the genetic predictability to the commercial cow. These bulls have been able to provide uniformity and a performance in both the weaned calf and yearling product. A terminal cross operation, Rx Ranch is concerned with the ability for that calf to be a profitable quality product for both producer and consumer.
This strictly grazing operation with no creep feeding utilizes the concept that the cows and bulls have to do their own work. The cow has to take care of herself and take care of her calf and the bull has to be able to maintain condition and breeding with grazing only. The Weink Charolais bull has been instrumental in this concept. These bulls have the ability to maintain their soundness, condition, and breeding ability with grazing only. These bulls are selected with high maternal EPD scores that correlate directly to easy fleshing.
The American International Charolais Association is proud to nominate Rx Ranch.
Schuette Farms
Cliff Schuette, Illinois
Schuette Farms is a family operation consisting of approximately 767 acres of row crops and 200 acres of permanent pasture. Cliff Schuette took over the family farm in 1996 and began immediately to transform the cash grain farm to a year round commercial beef operation.
Cliff, his wife Christy, son, Evan, and stepson, Andy, run the family farm operation. Converting marginal cropland into pastures with a rotational grazing program has expanded the beef cattle operation. High tensile fence has been installed, along with permanent water systems in most pastures. This includes some new Max Q fescue to improve pasture quality and animal performance.
The Schuette farm consists of a 150 cow/calf operation with both a spring and fall calving herd. Both cow herds are on a year-round management grazing program. Both herds are on a 60-day calving season. In drought years, an early weaning program is used to help reduce feed costs and stress on cows. An early weaning program is used for all steer calves, and 25% of the bottom heifers in the herd. Calves are weaned between 45 and 60 days of age, and weigh between 180 and 400 pounds. All first calf heifers are early weaned so they will breed back in 60 days and continue to develop normal growth. A cross breeding program consists of Angus and Simmental.
All steer calves and bottom 25% of the herd calf crop are fed out on the farm and marketed through six local grocery chains. Carcass data is obtained on all calves.
The Illinois Beef Association is proud to nominate Schuette Farms.
Valdez Ranches
Virgil A. and Eleanor Valdez, Colorado
Our operation is located in the San Luis Valley, La Jara, Colorado. In 1958, I was attending Adams State College and with one semester left, the sudden death of my father required me to quit school and take care of the farm and ranch operation.
In 1960 we were married. Our ranch had only 50 cows and were summered on the ranch. From 1962 to 1965 we built our herd to 320 head. Now we summer all our cattle in New Mexico on the Carson National Forest. We graze fall and part of the winter and spring on the B.L.M. We calve here at the ranch and go back on B.L.M. and National Forest Land. Due to the drought this year we have no B.L.M. fall pasture and decided to rent pasture in La Junta, Colorado. The cattle will be there from October 25, 2003 to June 6, 2004.
We started with Herefords in 1960. In 1963, we bought Limousin mixed with Herefords. We have worked on our cattle herd to get a good weaning weight of about 600 lbs. Today, we have grown from 520-lb. steers to 620-lb. steers. The breed today is Red Angus, Black Angus, Limousin and Gelbvieh. Our bulls come from Vonforell Ranch in Wheatland, Wyoming. Other breeders are Seedstock Plus and Hunt Limousin Ranch in Elizabeth, Colorado.
One of our major projects as stewards of the land was to install four and a half miles of pipeline to water the cattle on the B.L.M. This has proved to be a big asset to our operation.
San Luis Valley Cattlemen's Association is proud to nominate Valdez Ranches.
Wickstrum Farms, Inc.
Larry and Sharon Wickstrum, Kansas
Since 1934, the Wickstrum family has raised cattle and farmed on the northern edge of the Kansas Flint Hills near Manhattan. Operating with Larry's father and brother through the 1970s, the operation has evolved into a diversified cow-calf, cattle feeding, farming and custom harvesting business. In 1987, Larry and Sharon Wickstrum formed Wickstrum Farms, Inc., the family-owned corporation that exists today. Sons, Todd, an engineer in Texas, and Troy, an accountant in Manhattan, assist in management decisions, whether it be cattle, machinery or land issues. In the last 25 years, the operation has expanded to include native grass and tillable land, both owned and leased. Ninety percent of this land is native and brome grass, with the remainder in tillable land. The recent acquisition of a ranch some 125 miles south of the headquarters operation will allow the Wickstrums to diversify their grazing opportunities. The location of this ranch allows access to earlier season grasses, plus the ability to better manage against late summer drought.
With 1,200 straight Angus cows, the Wickstrums calve about 250-270 heifers each year in calving facilities beginning in late January. Heifers are artificially inseminated (AI) to low-birth-weight Angus sires. All females are left to graze pastures or stockfields until early December. If snow cover develops, supplemental feed of wheat midds and hay is fed.
Calves are weaned in September with steers being placed on rations of corn, wheat midds, corn gluten, alfalfa, mixed hays and silage. Being only six months of age, these calves are progressed through a series of rations to allow them to grow. The calves are marketed in April or May on a quality grid.
Heifers are sorted with the top end being kept for replacements, the second group sold to repeat buyers for herd development, and the third group fed in their feedlot. They are fed a slightly higher roughage ration to attain growth with less fat retention. Other feeder calves are wintered and finished in the feedlot and purchased from ranchers or cattle auctions.
The diversified farming operation complements the cattle production. Grain and hay produced on the farm are fed through the family's feedlot, which markets approximately 2,800 head annually, or used to supplement the cow herd. In addition, the family operates a custom harvesting business. Beginning in June, the Wickstrums, plus a crew of four or five South African employees, travel through Oklahoma, Kansas and Colorado harvesting wheat. They make the loop again in the fall to harvest silage, returning home in October to harvest fall crops and prepare for fall calving.
Although they operate a very diversified agricultural operation, the Wickstrums' main goal is to develop highquality Angus cattle for today's selective consumer, while maintaining a profitable business.
Click on the links below to an article about Wickstrum Farms, Inc.
Japanese Tour Kansas Beef Operations to Observe Safety Practices
The Kansas Livestock Association is proud to nominate Wickstrum Farms, Inc.
---