Breeding for a Reduced Environmental Footprint
Days on feed is a better indicator of environmental impact than feed intake, says geneticist.
by Troy Smith, field editor, Angus Journal®
LINCOLN, Neb. (June 20, 2014) — It's become popular in recent years to be environmentally conscious. Plenty of people fret about greenhouse gas emissions, for example. It seems to be human nature to attempt to fix blame on someone. The beef industry has been a frequent target, but Donagh Berry, a geneticist with the Animal Research and Innovation Centre in Ireland, says the beef industry's accusers are being unfair.
"Let's set the record straight," Berry declared, during the 2014 Beef Improvement Federation (BIF) symposium June 18-21 in Lincoln, Neb. "Beef producers (worldwide) actually have achieved a 16% reduction in carbon dioxide equivalents per billion from 1977 to 2007."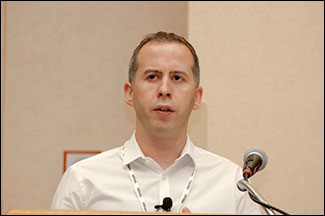 "Let's set the record straight," Donagh Berry declared, "Beef producers (worldwide) actually have achieved a 16% reduction in carbon dioxide equivalents per billion from 1977 to 2007."
Of course, beef producers can't rest on their laurels. Berry said their breeding goal should be to improve the ability of animals to make a profit in an environmentally responsible and sustainable manner. Establishing each breeder's own breeding objective is more difficult. That, said Berry, involves addressing traits that generate revenue, hold down costs of production and address social and environmental concerns.
While there has been much talk about reducing methane produced by cattle and more about improving feed efficiency, Berry would not bet the farm on either of those targets. He suggested cattle producers focus their attention on reducing days on feed, increasing growth rate and maintaining fertility while maintaining or improving milk production. That focus, he said, will improve profitability and reduce the industry's environmental footprint.
"Good fertility rates and good growth rates will optimize water use, and that will be a big concern in the future," explained Berry. "I'd argue that days on feed is a better measure than feed intake. It gives a better indication over the lifetime of an animal. [Fewer] days on feed and less feed per day offer huge environmental benefits."
The 2014 BIF Annual Meeting & Research Symposium was hosted by the University of Nebraska–Lincoln, the U.S. Meat Animal Research Center and the Nebraska Cattlemen June 18-21 in Lincoln, Neb. The Angus Journal and LiveAuctions.tv provide comprehensive online coverage of the event at www.BIFconference.com. Visit the Newsroom for summaries, proceedings, PowerPoints and audio of the sessions; and the Awards page for announcements of award winners.
Editor's Note: This summary was written under contract or by staff of the Angus Journal.Through an agreement with the Beef Improvement Federation, we are encouraging reprinting of the articles to those who will adhere to the reprint guidelines available on this site. Please review those guidelines or contact Shauna Rose Hermel, editor, at 816-383-5270. PowerPoints are posted with permission of the presenter and may not be reproduced in whole or in part without the express permission of the presenter.
API's coverage of the event is made possible through collaboration with BIF and sponsorship of LiveAuctions.tv. For questions about this site, or to notify us of broken links, click here.
Headquartered in Saint Joseph, Mo., API publishes the Angus Journal, the Angus Beef Bulletin, the Angus Beef Bulletin EXTRA, and the Angus Journal Daily, as well as providing online coverage of events and topics pertinent to cattlemen through the Angus Journal Virtual Library.