EPD Wish List
Producer and association staff panels discuss wish list of EPDs and performance data.
by Kasey Brown, associate editor, Angus Journal®
LINCOLN, Neb. (June 19, 2014) — The beef industry is continuously changing, and selection tools are changing with it. A panel of seedstock and commercial cattlemen consisting of Berry Bortz, CB Farms, Preston, Kan.; Troy Marshall, Marshall Cattle Co., Burlington, Colo.; Frank Wedel, Wedel Red Angus, Leoti, Kan.; Butch Schuler, Schuler Red Angus, Bridgeport, Neb.; and Mike Wells, Wells Farm, Selma, Ala.; described their wish list for expected progeny differences (EPDs) and selection tools at the joint Advancements in Selection Decisions and Advancements in Producer Applications committees at the 2014 Beef Improvement Federation (BIF) symposium in Lincoln, Neb., June 18-21.
Another panel of association breed improvement representatives consisting of Larry Keenan, director of breed improvement for the Red Angus Association of America; Joe Epperly, director of commercial marketing for the North American Limousin Foundation; Tommy Perkins, executive vice president of the International Brangus Breeders Association; Lauren Hyde, American Simmental Association genetic evaluation programming specialist; and Robert Williams, director of breed improvement and foreign marketing of the American International Charolais Association, responded to the requests and added their own requests in performance data.
An overarching theme from the producer panel was simplicity and system integration. Boyd suggested that more whole-system thinking be prevalent. He suggested trait evaluation be based on carcass value, not just weaning weights. He added that when the market can reward people beyond weaning weights, then he thinks less single-trait selection would occur.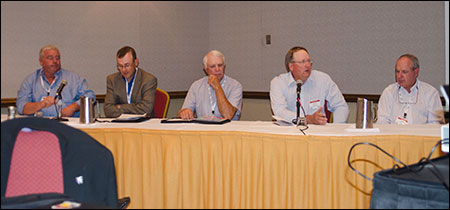 An overarching theme from the producer panel was simplicity and system integration.
With the average age of cattlemen, the panel suggested more emphasis on docility, tenderness, and disease resistance. Marshall recommended simple traits like fleshing ability, feet and legs and milking ability be a focus.
Marshall noted that his buyers may not use all of the traits listed for selection, but not posting them hurts transparency. He said selection indexes are great, but they need the economics to be as sophisticated as the genetics.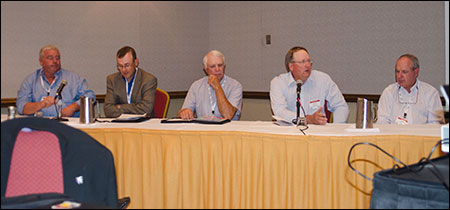 The association panel emphasized that presentation of data may need to be improved.
The association panel emphasized that presentation of data may need to be improved. There is a lot of variation in breeders and knowledge bases. They rely on publications and extension educators.
Keenan emphasized that performance data is needed from breeders. He said that associations need to get beyond collecting marketable traits and collect those that really affect profitability. He added that phenotype data, like soundness and udder conformation, should go into indexes to avoid just "throwing more numbers at breeders."
The 2014 BIF Annual Meeting & Research Symposium was hosted by the University of Nebraska–Lincoln, the U.S. Meat Animal Research Center and the Nebraska Cattlemen June 18-21 in Lincoln, Neb. The Angus Journal and LiveAuctions.tv provide comprehensive online coverage of the event at www.BIFconference.com. Visit the Newsroom for summaries, proceedings, PowerPoints and audio of the sessions; and the Awards page for announcements of award winners.
Editor's Note: This summary was written under contract or by staff of the Angus Journal.Through an agreement with the Beef Improvement Federation, we are encouraging reprinting of the articles to those who will adhere to the reprint guidelines available on this site. Please review those guidelines or contact Shauna Rose Hermel, editor, at 816-383-5270. PowerPoints are posted with permission of the presenter and may not be reproduced in whole or in part without the express permission of the presenter.
API's coverage of the event is made possible through collaboration with BIF and sponsorship of LiveAuctions.tv. For questions about this site, or to notify us of broken links, click here.
Headquartered in Saint Joseph, Mo., API publishes the Angus Journal, the Angus Beef Bulletin, the Angus Beef Bulletin EXTRA, and the Angus Journal Daily, as well as providing online coverage of events and topics pertinent to cattlemen through the Angus Journal Virtual Library.