Predicting Cow Efficiency
Research looks at heifer intake and feed efficiency as indicators of cow intake and feed efficiency.
by Troy Smith, field editor, Angus Journal®
LINCOLN, Neb. (June 19, 2014) — For the last several years, the beef industry has been abuzz about feed efficiency. According to University of Illinois animal scientist Dan Shike, the reason is fairly obvious. It's because the industry now operates in a new era of feed prices, with increased price volatility. Feed costs are a big deal, considering that expenditures for feed represent 50%-70% of a cow-calf operation's total production costs.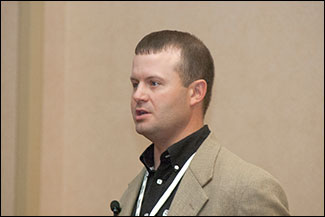 University of Illinois animal scientist Dan Shike.
Speaking during the 2014 Beef Improvement Federation symposium in Lincoln, Neb., June 19, Shike admitted that little progress has been made in improving beef cow feed efficiency. That's because the industry has focused more on increasing output, with increased input requirements as a consequence. However, Shike said studies suggest that the feed intake of a developing heifer is a likely indicator of her intake requirement as a mature cow.
Shike said the feed-to-gain ratio used to measure efficiency in the feedlot has drawbacks when applied to the cow. Selection based on feed conversion is associated with increased growth and larger mature size, and may result in an increased feed requirement and greater total feed costs. Other measures of feed efficiency include residual feed intake (RFI), which represents the difference between an animal's actual feed intake and its expected intake. RFI is independent of growth and mature weight. Residual body weight gain (RBWG) is similar to RFI except that gain is measured instead of intake.
Shike described a study that evaluated groups of heifers for RFI, RBWG and only dry-matter intake, respectively, from their development period, through breeding and delivery of their first calves, and up until heifers in each group were bred for a second time. Each group was evaluated for differences in dam and calf performance. The GrowSafe feeding system was used to measure feed intake.
"Heifers with a favorable RFI (ate less than expected) also ate less as cow, but there were no significant differences in mature size, reproductive performance or calf performance," explained Shike. "By and large, there were no differences when heifers were evaluated for residual gain."
When evaluated for intake, heifers exhibiting low intake during development weighed less at 2 years of age and their feed intake remained lower. The birth weights of their calves also were lower than for higher-intake heifers, but there were no significant differences in calf performance. There were no differences in rebreeding rates between low- and high-intake heifers as 2-year olds.
 "The results suggest that our goal should be to include feed intake in selection indices," said Shike.
The 2014 BIF Annual Meeting & Research Symposium was hosted by the University of Nebraska–Lincoln, the U.S. Meat Animal Research Center and the Nebraska Cattlemen June 18-21 in Lincoln, Neb. The Angus Journal and LiveAuctions.tv provide comprehensive online coverage of the event at www.BIFconference.com. Visit the Newsroom for summaries, proceedings, PowerPoints and audio of the sessions; the Awards page for announcements of award winners; and the Photos page for galleries of photos from the meeting and the tours.
Editor's Note: This summary was written under contract or by staff of the Angus Journal.Through an agreement with the Beef Improvement Federation, we are encouraging reprinting of the articles to those who will adhere to the reprint guidelines available on this site. Please review those guidelines or contact Shauna Rose Hermel, editor, at 816-383-5270. PowerPoints are posted with permission of the presenter and may not be reproduced in whole or in part without the express permission of the presenter.
API's coverage of the event is made possible through collaboration with BIF and sponsorship of LiveAuctions.tv. For questions about this site, or to notify us of broken links, click here.
Headquartered in Saint Joseph, Mo., API publishes the Angus Journal, the Angus Beef Bulletin, the Angus Beef Bulletin EXTRA, and the Angus Journal Daily, as well as providing online coverage of events and topics pertinent to cattlemen through the Angus Journal Virtual Library.