Low-cost Strategies
for Heifer Development
Development systems that incorporate grazing of crop residues develop heifers on feedstuffs they will be maintained on as mature cows.
by Troy Smith, field editor, Angus Journal®
LINCOLN, Neb. (June 19, 2014) — There is cause for concern over low U.S cattle numbers. Cattle feeders are really concerned about the diminished supply of feeder cattle. That, of course, is a result of having too few cows. Rick Funston thinks the nation's cow inventory needs to be rebuilt, but retention of more heifers for breeding can be expensive for cow-calf producers.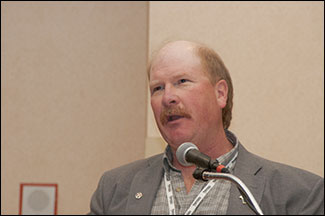 "If there is an alternative, why would we want to lock up our heifers and develop them on the kind of feed they will never see after they enter the breeding herd?" asked NU reproductive physiologist Rick Funston. "It doesn't make much sense."
A reproductive physiologist at the University of Nebraska (NU), much of Funston's research has focused on ways to lower costs associated with developing replacement heifers. He talked about practical and economical heifer-development strategies during the 2014 Beef Improvement Federation Annual Meeting & Research Symposium June 18-21 in Lincoln, Neb. Funston favors low-cost, forage-based development systems over growing breeding heifers in confinement.
"If there is an alternative, why would we want to lock up our heifers and develop them on the kind of feed they will never see after they enter the breeding herd? It doesn't make much sense," stated Funston.
Funston said he and his colleagues are working on heifer-development systems that incorporate grazing of crop residues — cornstalks in particular. Abundant in Nebraska and other grain-producing states, Funston called cornstalks "the cheapest feed we've got." Corn residues also are representative of the type of low-quality forages that comprise winter diets for mature cows.
"I think we do a heifer a huge disservice when we lock her up and feed her to gain 3 or 4 pounds (lb.) per day," Funston stated.
According to Funston, a heifer never has to gain more than 1½ lb. per day during the winter development period. Targeting modest gains from grazed cornstalks and supplemental protein can help contain feed costs. An increased rate of gain after going to green grass in the spring should put heifers in good shape to breed.
"You know that compensatory gain thing that feeders of yearling cattle have known about for years? Well, it works in (replacement) heifers, too," said Funston.
In Funston's opinion, targeting heifer breeding weights that approximate 50%-55% of mature weight is optimum. He sees advantages in having heifers that are managed more like stocker cattle and are lighter by design. For one thing, the percentage of heifers that do not breed during a defined breeding season may be higher. However, Funston's research team has achieved artificial insemination pregnancy rates of up to 86% with heifers developed to lighter weights in low-input systems.
Funston said heifers found open probably shouldn't be cows anyway. Adaptability to the production environment is determined early, and open heifers should still be profitable when sold as yearling feeder cattle.
The 2014 BIF Annual Meeting & Research Symposium was hosted by the University of Nebraska–Lincoln, the U.S. Meat Animal Research Center and the Nebraska Cattlemen June 18-21 in Lincoln, Neb. The Angus Journal and LiveAuctions.tv provide comprehensive online coverage of the event at www.BIFconference.com. Visit the Newsroom for summaries, proceedings, PowerPoints and audio of the sessions; the Awards page for announcements of award winners; and the Photos page for galleries of photos from the meeting and the tours.
Editor's Note: This summary was written under contract or by staff of the Angus Journal. Through an agreement with the Beef Improvement Federation, we are encouraging reprinting of the articles to those who will adhere to the reprint guidelines available on this site. Please review those guidelines or contact Shauna Rose Hermel, editor, at 816-383-5270. PowerPoints are posted with permission of the presenter and may not be reproduced in whole or in part without the express permission of the presenter.
The Angus Journal's coverage of the event is made possible through collaboration with BIF and sponsorship of LiveAuctions.tv. For questions about this site, or to notify us of broken links, click here.
Headquartered in Saint Joseph, Mo., Angus Productions Inc. (API) publishes the Angus Journal, the Angus Beef Bulletin, the Angus Beef Bulletin EXTRA, and the Angus Journal Daily, as well as providing online coverage of events and topics pertinent to cattlemen through the Angus Journal Virtual Library.