Update on Genetic Resources Preservation
Emerging Technologies Committee hears overview of GRIN.
by Troy Smith, field editor, Angus Journal®
LINCOLN, Neb. (June 19, 2014) — Offering an update on development of the national GermPlasm Resources Information Network (GRIN), USDA-Agricultural Research Service research geneticist Harvey Blackburn spoke during an Advancements in Emerging Technology breakout session of the 2014 Beef Improvement Federation (BIF) symposium in Lincoln, Neb. As coordinator of the National Animal GermPlasm Program, Blackburn manages acquisition of animal germplasm in the program's genetic resource repository.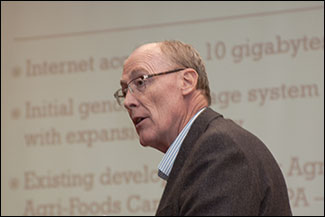 Harvey Blackburn said GRIN is being developed as a means of making repository information databases available to genetic resource users.
Located in Fort Collins, Colo., the repository has collected, evaluated and stored germplasm from essentially all life forms considered important to agricultural production. Among the 35 animal species represented are multiple breeds of beef cattle. Samples of cattle semen, blood and tissue that have been cryogenically preserved to capture and secure biodiversity for potential use by agricultural producers in the future, and for research purposes.
Blackburn said GRIN is being developed as a means of making repository information databases available to genetic resource users. Information related to more than 10,000 species of plants is currently accessible through the GRIN website. Development of a cattle information program began in the fall of 2013.
"We currently are three to four months ahead of schedule and anticipate accessibility in 2015," reported Blackburn.
The 2014 BIF Annual Meeting & Research Symposium was hosted by the University of Nebraska–Lincoln, the U.S. Meat Animal Research Center and the Nebraska Cattlemen June 18-21 in Lincoln, Neb. The Angus Journal and LiveAuctions.tv provide comprehensive online coverage of the event at www.BIFconference.com. Visit the Newsroom for summaries, proceedings, PowerPoints and audio of the sessions; and the Awards page for announcements of award winners.
Editor's Note: This summary was written under contract or by staff of the Angus Journal.Through an agreement with the Beef Improvement Federation, we are encouraging reprinting of the articles to those who will adhere to the reprint guidelines available on this site. Please review those guidelines or contact Shauna Rose Hermel, editor, at 816-383-5270. PowerPoints are posted with permission of the presenter and may not be reproduced in whole or in part without the express permission of the presenter.
API's coverage of the event is made possible through collaboration with BIF and sponsorship of LiveAuctions.tv. For questions about this site, or to notify us of broken links, click here.
Headquartered in Saint Joseph, Mo., API publishes the Angus Journal, the Angus Beef Bulletin, the Angus Beef Bulletin EXTRA, and the Angus Journal Daily, as well as providing online coverage of events and topics pertinent to cattlemen through the Angus Journal Virtual Library.