Genetics + Management = Profitability
Producer panel discusses profitability optimization through genetics and management.
by Kasey Brown, associate editor, Angus Journal®
LINCOLN, Neb. (June 19, 2014) — The beef industry is not an industry known for simplicity. However, producers want simplicity wherever possible, says a panel addressing profitability at the 2014 Beef Improvement Federation (BIF) Annual Meeting and Research Symposium in Lincoln, Neb., June 18-21.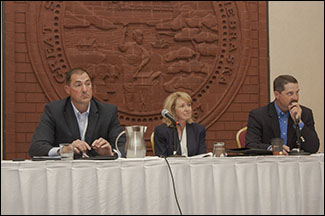 To improve profitability, the producer panel emphasized reproductive traits, longevity and soundness, and easy-to-use selection indexes that work for their environment.
Moderated by Tom Field, director of the Engler Agribusiness Entrepreneurship Program and the Paul Engler Chair of Agribusiness Entrepreneurship at the University of Nebraska–Lincoln, the panel comprised Donnell Brown, R.A. Brown Ranch, Throckmorton, Texas; Lorna Marshall, Marshall Cattle Co., Burlington, Colo.; and J.D. Radakovich, Hoodoo Ranch, Cody, Wyo.
Brown said management changes are easier to quantify than genetic changes. His family has been using selection indexes for 20 years on their operation.
"It is easier to sell what people want to buy than it is to try selling what you want to raise," he said. "It is our duty to help customers get what they need to more efficiently, effectively and profitably produce beef using their available resources."
Marshall emphasized that large commercial ranches expect her family's seedstock operation to take care of logistics and to provide low-risk, no-surprise genetics. Simplicity, risk management and avoiding mistakes are key for large herds, she said, while genetics is relatively low on the list of priorities for large commercial producers.
The industry has done a mediocre job of helping producers objectively select for type traits that affect longevity, Marshall said. However, artificial insemination (AI) is an under-used technology that adds value to the industry.
Radakovich added, "I'm not that interested in sexy technology — just give me a simple, disciplined approach."
Land managers have an inherent obligation to maintain or enhance choices for future generations, he said. Optimization of production systems provides flexibility to respond to changing markets and environments, and he emphasized simplicity.
To improve profitability, the panel emphasized reproductive traits, longevity and soundness, and easy-to-use selection indexes that work for their environment. Brown did grant that many simple tools are already available, like the American Angus Association's Optimal Milk Module, but breeders don't always use them.
To that point, Radakovich emphasized that he worries about genetic maintenance instead of large improvement, "Do I justify making the cows a little more right when they aren't wrong to begin with?"
Marshall added that seedstock producers must be conscious of what commercial customers want — functional bulls with solid genetics.
Brown challenged seedstock breeders to change emphasis from being genetic providers to solution suppliers instead.
The 2014 BIF Annual Meeting & Research Symposium was hosted by the University of Nebraska–Lincoln, the U.S. Meat Animal Research Center and the Nebraska Cattlemen June 18-21 in Lincoln, Neb. The Angus Journal and LiveAuctions.tv provide comprehensive online coverage of the event at www.BIFconference.com. Visit the Newsroom for summaries, proceedings, PowerPoints and audio of the sessions; and the Awards page for announcements of award winners.
Editor's Note: This summary was written under contract or by staff of the Angus Journal.Through an agreement with the Beef Improvement Federation, we are encouraging reprinting of the articles to those who will adhere to the reprint guidelines available on this site. Please review those guidelines or contact Shauna Rose Hermel, editor, at 816-383-5270. PowerPoints are posted with permission of the presenter and may not be reproduced in whole or in part without the express permission of the presenter.
API's coverage of the event is made possible through collaboration with BIF and sponsorship of LiveAuctions.tv. For questions about this site, or to notify us of broken links, click here.
Headquartered in Saint Joseph, Mo., API publishes the Angus Journal, the Angus Beef Bulletin, the Angus Beef Bulletin EXTRA, and the Angus Journal Daily, as well as providing online coverage of events and topics pertinent to cattlemen through the Angus Journal Virtual Library.